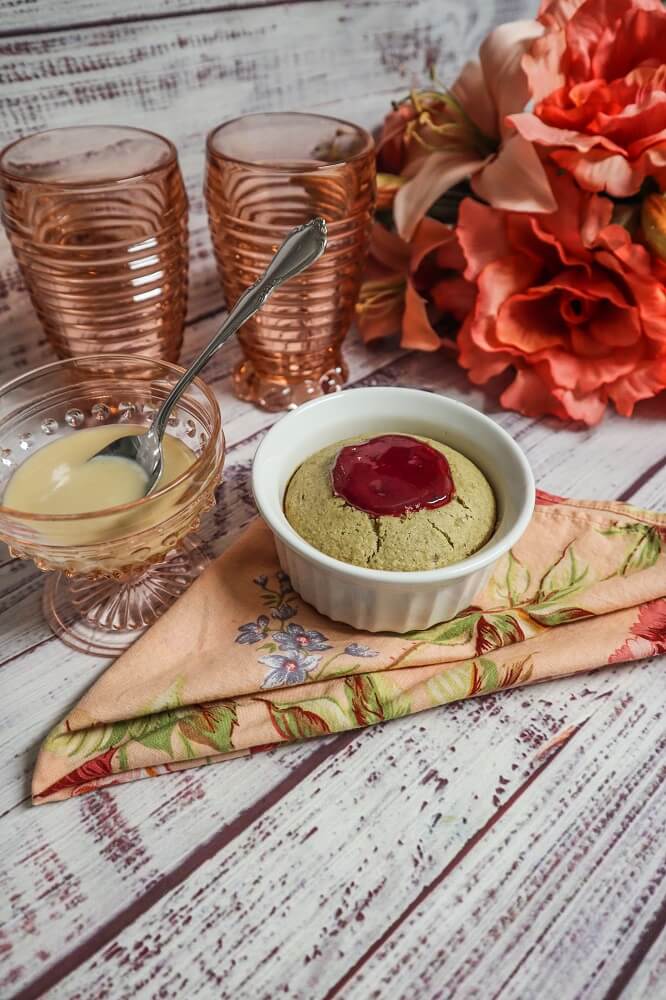 Vegan Raspberry Bismark Cakes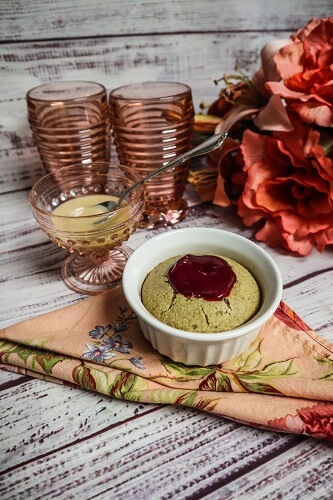 When my Mom would take me to the bakery when I was little, one of our favorite things to get were the raspberry bismarks.  We loved the tart raspberry jam inside of the sweet fluffy doughnuts with a vanilla glaze.  We were talking about them the other day and how we hadn't had any in a really long time.  For me, the last time was probably when I was in high school.  I haven't seen any vegan ones, and eating a giant doughnut can be a bit rich, hence the not having any for that long.  But I thought, why not make something that tastes like them but isn't so heavy and is easy to make at home. Like some mug cakes!  Or cakes in little ramakins the size of a doughnut.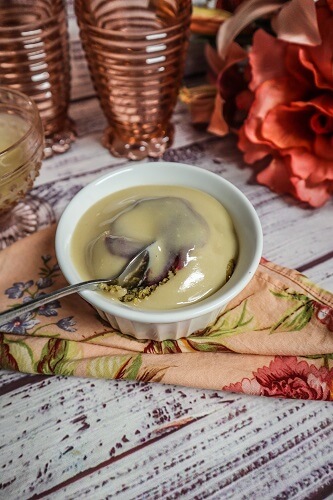 I made 1/4 of my vanilla cake recipe in ramakins.  It is a simple to mix batter that is made rich with coconut milk instead of oil, and it makes a great base for different flavors of cakes but I always love it just as is plain.  In the ramakins, it baked up lovely!  The heavenly scent of vanilla filled my kitchen and I knew these were going to be good!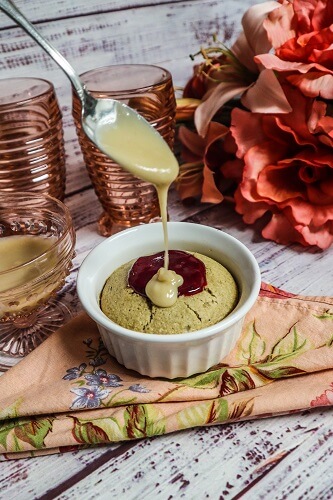 Once they had cooled down a bit, I scooped some of the cake out of the center, and filled it with raspberry jam like the bismarks.  It wasn't just any raspberry jam, it was some that Eric's Dad makes with the raspberries he grows in his yard and it is amazing!  It is the perfect balance of tart and sweet and it was perfect in these cakes!  Yes, I could have spooned the jam in before baking instead of cutting cake out to spoon it in.  But I thought it might affect the texture of the jam and I wanted it to remain gooey and not soak too much into the cake.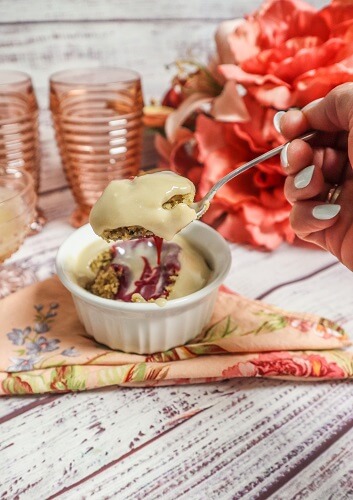 Lastly I made a vanilla glaze for the cakes, like the doughnuts had.  Would they be as good as the doughnuts?  I couldn't wait to try them. They were so heavenly, and definitely as delicious as the doughnuts just with a different texture and less grease of course.  The sweet soft cake was heavenly with the tart sweet jam and vanilla scented glaze!  I shared one with my Mom and she loved it!  She said it tasted just like the bismarks!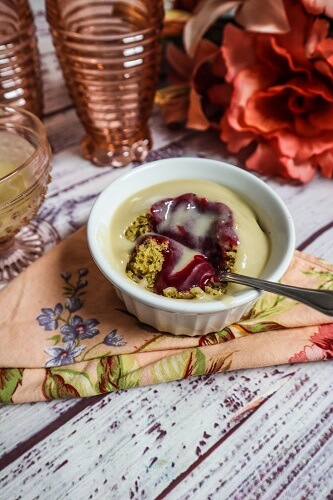 Vegan Raspberry Bismark Cakes 
Makes 2 small cakes
Ingredients:
Two 1 cup ramakins
Cake:
1/4 cup plus 2 Tbsp organic whole wheat pastry flour
1/4 tsp plus 1/8 tsp baking soda
1/4 tsp baking powder
1/8 tsp sea salt
1/4 cup maple sugar
1/2 cup full fat coconut milk (the thick kind, I prefer Thai Kitchen brand) at room temperature
1/2 tsp pure vanilla extract
1 1/2 tsp cider vinegar
2 heaping Tbsp raspberry jam
Glaze:
2 Tbsp coconut butter
1 Tbsp raw cashew butter
1 Tbsp maple syrup
1 tsp pure vanilla extract
1 Tbsp filtered water (or as needed to achieve proper consistency)
Instructions:
Preheat the oven to 350F degrees and position rack in center of oven.
Whisk flour, baking soda, sea salt, and sugar in a large bowl to blend well.
Whisk coconut milk and vanilla extract together in small bowl to blend well, then whisk into the flour mixture until well blended.
Whisk the cider vinegar into the batter.
Transfer the cake batter to 2 1 cup ramakins
Place in the oven, and bake cake until tester inserted into center comes out clean with just a few moist crumbs attached, about 15-20 minutes.
Remove from the oven and let cool.
Scoop about 1 Tbsp of cake from the top of each cake in the center, and fill with raspberry jam.
In a small bowl, whisk together glaze ingredients until smooth (adding a touch more water if it is too thick), and pour this over each cake.
Enjoy!
Notes:
If you would rather use coconut sugar or even just granulated sugar for this, either will work in place of the maple sugar.
(Visited 555 times, 1 visits today)