Vegan Raspberry Banana Cake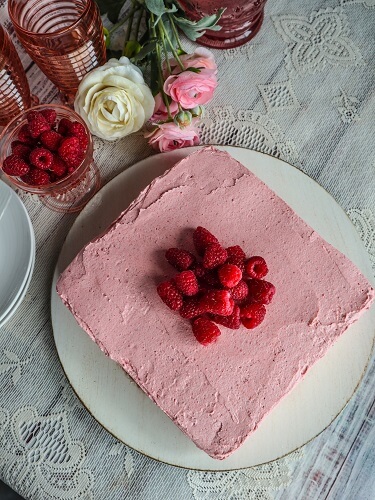 You would think that it being summer and hot outside would deter me from heating up my oven to bake things but it really doesn't at all, because when I get it into my head that I want to bake something I go for it, hot kitchen at all.  I am used to working in a hot kitchen anyway at work, so it's still slightly cooler at home!  I was craving cake last weekend, so I decided to use ingredients that I had on hand and make a Vegan Raspberry Banana Cake!  When I make cakes, I usually do layer cakes, or cupcakes, but this time I decided to do just a simple one layer cake, because I wanted to make a banana cake with a raspberry jam swirl, and I didn't think it would hold up as well in a layer cake type cake. Plus, the last time I made a single layer cake was when I was in high school making a boxed cake mix with pre-made frosting. It was about time I made one as an adult, plus I know not everyone wants to make a layer cake so this will be the perfect recipe to share with anyone who feels that way.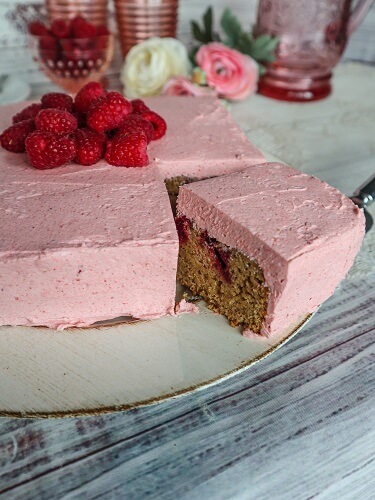 For the cake portion, I used one of my vanilla cake recipes modified with banana, which turned out really well because it was moist and soft but not too heavy.  Also because of the banana it happens to have less oil than it otherwise would.  It is a really simple batter that comes together fast nothing too fussy, but it does require beating it for a minute with an electric mixer (or about 3 minutes if you are whisking by hand). But that is nothing compared to non-vegan cake recipes I used to make that made you separate the eggs and beat in two different bowls and fold in etc. If you wanted to make this cake gluten free, you could use Bob's Red Mill gluten free all purpose baking flour, I have had good success in the past with substituting this specific flour.  Also, if you prefer to make this with all purpose flour instead of the whole wheat pastry, you can swap that in if you prefer that.  I just happen to like whole wheat pastry flour best and it is what I have on hand.
I made a raspberry jam swirl that I wanted to ribbon throughout the cake, and it turned out really well!  It was all jammy and gooey just like I wanted it!  I topped the cake off with a raspberry buttercream frosting, and it was so luscious and creamy!  If you like your frosting a little sweeter, you could add 1/2 cup more powdered sugar, but I liked the sweetness level at 2 1/2 cups.  I tinted it with freeze dried raspberry powder to make it a lovely pink and give it plenty of raspberry flavor.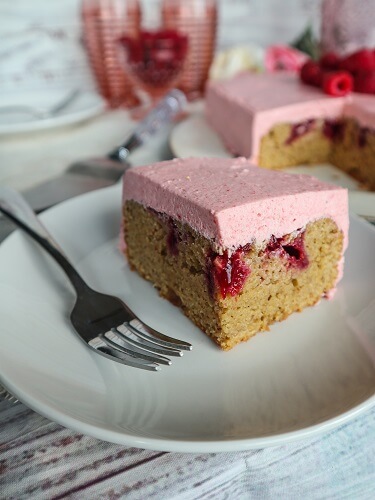 I could not wait to try this cake!  When I finally did it was so heavenly!  The banana cake soft and sweet, the jammy raspberry swirl the perfect thing to add to it, and that luscious raspberry frosting to complete it!  This was much easier to frost than a layer cake, so if you are a bit intimidated by those and want something a bit simpler, give this Vegan Raspberry Banana Cake a try! Or of course if you are just craving cake, that is a good reason too!  No need to wait for a special occasion!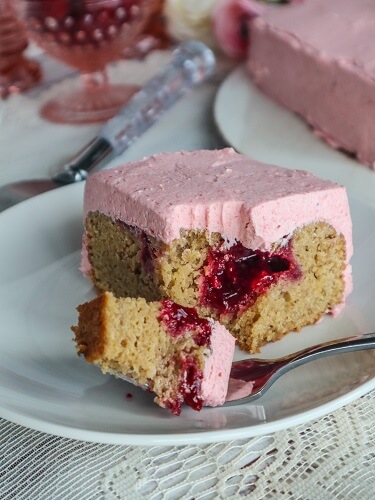 Vegan Raspberry Banana Cake
Makes one 9x9 inch one layer cake
Ingredients:
Cake:
3 cups whole wheat pastry flour
1 1/2 cups maple sugar or brown sugar
1 1/2 tsp baking powder
1 tsp sea salt
1/4 cup ground flax seed
3/4 cup filtered water
1/4 cup avocado oil
1/2 cup mashed banana
1 cup oat milk or other plant based milk
1 Tbsp pure vanilla extract
1/2 cup raspberry jam
1/2 cup fresh raspberries
Frosting:
1 cup vegan butter, I used Earth Balance (at room temperature)
1-2 Tbsp oat milk (I used Planet Oat, but you can use whatever plant based milk you prefer)
1 tsp pure vanilla extract
1/2 cup freeze dried raspberries, blended in a blender until they are fine powder
2 1/2 cups powdered sugar
Raspberries for topping
Preheat oven to 350F degrees, and line a 9x9 inch square cake pan with parchment on the bottom and oil the sides.
In a large bowl, combine the flour, sugar, baking powder and sea salt and whisk to blend.
Mix together the ground flax seed, and water.
Add the flax mixture, avocado oil, banana, oat milk, and vanilla to the flour mixture and beat with an electric mixer for about a minute (or a little longer if doing it by hand with a whisk).
Pour the cake batter into the prepared pan.
Mix the raspberries together with the jam, mashing them up so it is like a chunky jam.
Drop the jam by the Tbsp over the top of the cake, spacing the jam out evenly and then swirl with a knife.
Place the cake in the oven and bake for about 40-45 minutes until the cake is done in the center (you are able to insert a toothpick into the center and it comes out almost clean with a few moist crumbs).
Remove from the oven and let cool 20 minutes, then remove the cake from the pan by cutting around the sides, placing a plate on top then inverting it and tapping on it.  Allow the cake to cool completely once it is out of the pan.
To make the frosting, beat the butter with the milk, and vanilla until fluffy.
Add the raspberry powder and the powdered sugar 1 cup at a time, and beat until completely mixed and light and fluffy (if the frosting is too stiff add that other Tbsp of milk).
Spread the on the top and down the sides of the cake evenly.
Top with raspberries.
Serve the cake and enjoy!
(Visited 1,905 times, 1 visits today)