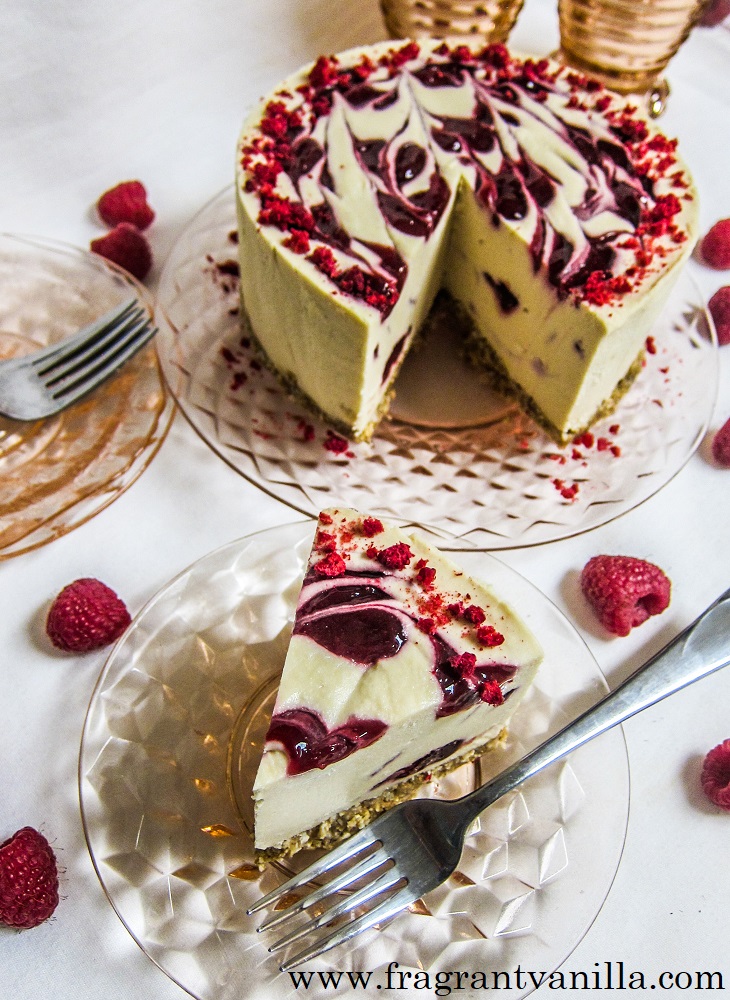 Vegan Raspberry Swirled Vanilla Cheesecake (Nut Free)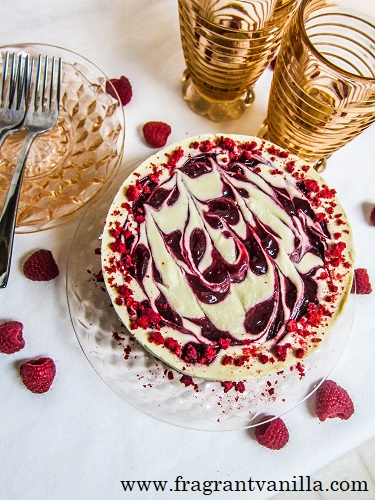 I have probably made over 200 cheesecakes since I started to love them at a young age.  I enjoyed them as a kid, but I never ate them very often because they were for special occasions in my family.  Then by the time I was in college, I was buying a slice at a local co-op bakery every weekend as a treat after my cross country races as a treat because they were so good.  I was hooked.  But then I thought to  myself, I like to bake.  Why not make my own?  So I did, and the weekend tradition was baking a cheesecake.  My cheesecakes were the best I had ever had too and I loved that I could make whatever flavor I felt like at the time.  Then I decided to go vegan and I thought I would never enjoy it again.   Boy was I wrong though.  One of my friends asked me to make him a raw cheesecake, and I was skeptical that it would be as good as the dairy ones I was used to in the past.  But it turned out amazing!  I started making cheesecakes again, and I was in love with vegan cheesecake.  In fact I have over 150 recipes for cheesecake in various forms on my blog, all of which are vegan.  So that just tells you how much I have to have it  in my life.  I don't make it every weekend now, because I try to branch out and make other fabulous things like regular cakes and pies.  But when I do make it, I get pretty excited.  I have been wanting to make a nut free cheesecake for a while now, since before the Holidays and I finally got a chance last weekend.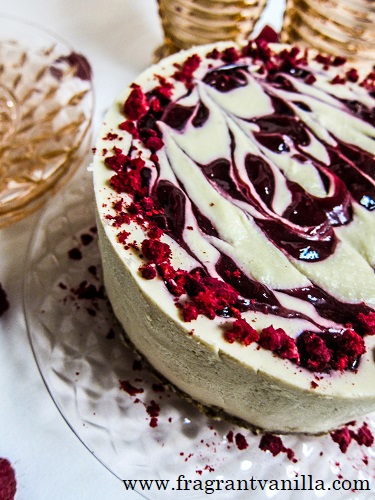 I do have some other nut free cheesecakes on my blog, and they are super delicious but they are raw cheesecakes and require the cracking open of coconuts.  Which I know not all of you want to do, and those darn coconuts can get spendy.  You need about 4 per cake and it is a lot of work.  So, I wanted to come up with a different nut free cheesecake base.  I came up with chickpeas and canned coconut milk.  Ok, I know it sounds like a weird and disgusting combination but trust me on this one.  Chickpeas work wonders in creating a silky smooth texture if you have a high speed blender.  I actually got the idea when I was making dessert hummus.  And, I have used chickpeas in an ice cream cake before so I knew it would work.  You can not taste them at all, and in fact, when mixed with the coconut milk, coconut butter, maple syrup and vanilla it tastes just like delicious vanilla cream.  I thought about making a plain vanilla cheesecake and just topping it off with berries, but instead I decided to swirl the berries in.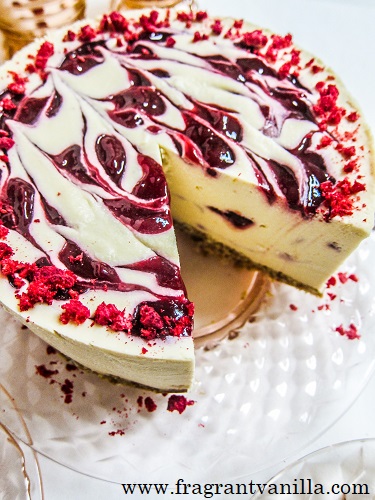 Because then you get delicious hidden bites of berries throughout the cake.  I used a raspberry jam this time, because it is Winter here and fresh berries are super expensive.  Plus, Eric's Dad gave us some of the best tasting raspberry jam ever and I wanted to use it in something special like this cake.  I just made a simple oat coconut date crust as a base for the cake and it was perfect!  The cheesecake turned out so good you would not even know it was vegan or had chickpeas in it.  The tart raspberry was the perfect partner for the sweet luscious vanilla scented creamy cheesecake!  The best part about this cake is it doesn't require baking and it is relatively easy if you have a high speed blender.  So, if you are in the mood for cheesecake, give this baby a try!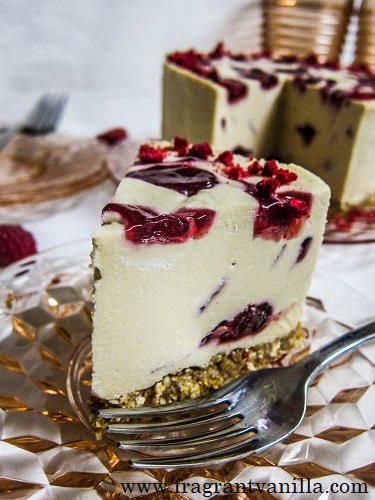 Vegan Raspberry Swirled Vanilla Cheesecake (Nut Free)
Makes one 8 inch cake
Crust:
1/2 cup finely shredded coconut
1/2 cup gluten free organic rolled oats
1/2 cup pitted medjool dates (if not soft, soak them in filtered water first and drain well)
1/4 tsp sea salt
Filling:
Instructions:
Oil an 8 inch spring form pan, and line the bottom with parchment paper.
To make the crust, place all ingredients in a food processor, and process until crumbs and starting to hold together (if they are not holding together when squeezed, add a few tsp filtered water and blend). Press into the bottom of the prepared pan.
Meanwhile, to make the filling, combine all ingredients but the jam in a high speed blender or food processor and blend until smooth.
Pour the 1/3 of filling over the prepared crust, then drop 1/4 cup of the jam over that by the tsp spreading it out so you have even little circles of it.  Swirl with a knife. Pour half the remaining filling over that, then another 1/4 cup of jam, dropping it in the same manor you did with the last 1/4 cup.  Pour the last 1/3 of the filling over that, and repeat with the jam, swirling it to make the top pretty.
Place cheesecake in the freezer to set for about 4-5 hours (or overnight in the refrigerator if you are not in a hurry).
Remove from the freezer, un-mold, and enjoy!  Store any leftover cake in the refrigerator.
*I use Thai Kitchen full fat coconut milk.  If you are using a different brand, just make sure it is the thick type, 2/3 of the can at least should be very thick.
**Make sure your jam is vegan and does not contain gelatin.  If your jam is too thick to be swirled into the cake with a knife, add a little water to it until it is.  Alternatively, if you do not want to use jam, you can make your own raspberry puree with 1 1/2 cups fresh or frozen (thawed and drained) raspberries, and 1 Tbsp maple syrup, blended in the blender.
(Visited 2,356 times, 2 visits today)