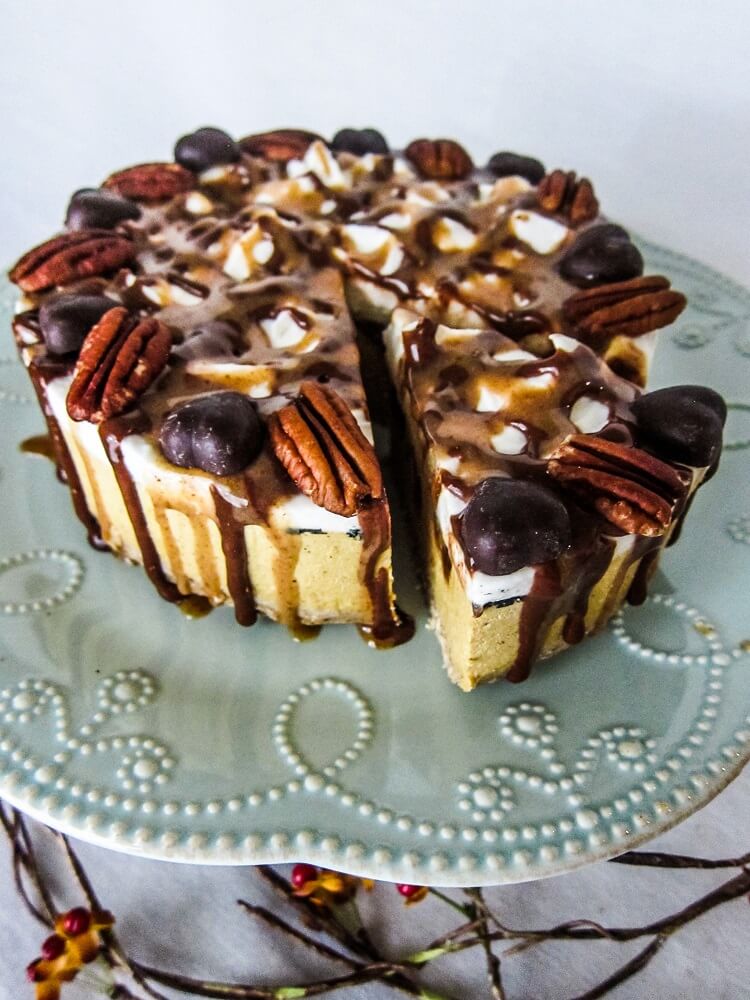 Vegan Pumpkin Turtle Cheesecake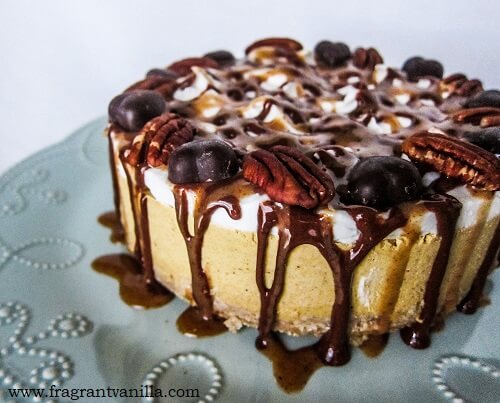 I see food items and recipes all the time that I say to myself I would like to veganize.  There was a magazine next to the checkout line when I was at the store and said it was all pumpkin desserts.  On the cover was the most glorious looking pumpkin turtle cheesecake.  But of course it was not vegan.  So I said to myself and to the cashier, I have to veganize this!  It looks sooo good! That was about a month ago, and I told myself I would wait until October to make it, but hey it was a couple of days away so close enough for me!  I get kind of excited about pumpkin stuff, because it means that we are in the midst of my favorite season, not to mention it is so good!  Especially the desserts that involve spices.  Like the Pumpkin Spice Caramel Lava Cakes I made recently.  This cheesecake won't be the last pumpkin thing I make this year by any means, I am just getting started.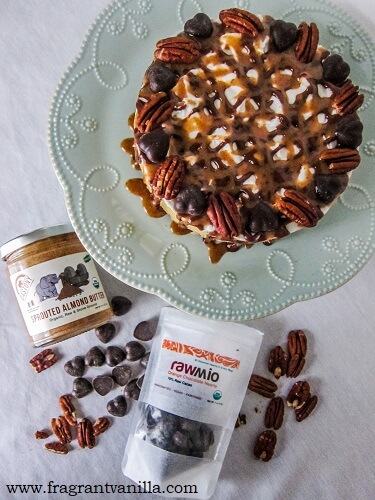 I have actually made a pumpkin turtle cheesecake in the past, but it was a raw cheesecake. This one is a bit easier because it doesn't require cracking open any coconuts, just a few steps in the food processor and some whisking to make the caramel and fudge.  Although I love date caramel, sometimes I want a quicker option so I reach for the almond butter and make a simple quick caramel with maple syrup whisked into it with a little vanilla and sea salt.  It seriously tastes like caramel, is a lot easier to make, and you can make it as sweet (or not sweet) as you like by adjusting the maple syrup amount.  For the fudge on this cake, I whisked some cacao powder into half the caramel.  So easy and so good!  Luckily Raw Guru recently sent me a box that contained some really good quality Dastony Sprouted Almond butter to make my caramel and fudge for this cake with.  It is silky smooth with a sweet nutty flavor and is honestly some of the best almond butter I have tried and it worked perfectly for this recipe!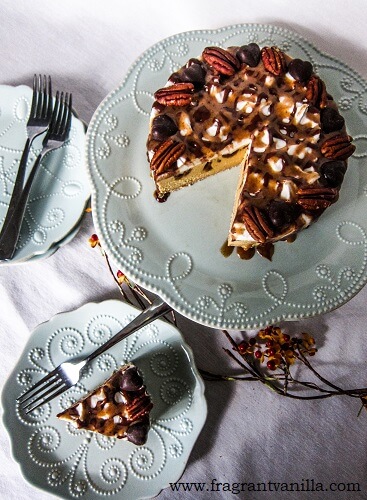 The cake had a smooth, creamy lightly spiced pumpkin cheesecake filling, and I swirled the caramel, fudge and pecans into it. Then I topped it off with a coconut whipped cream, more caramel, fudge and pecans plus some really adorable Rawmio Dark Chocolate Hearts I also received in the box from Raw Guru.  The cake was super delicious!  I was very pleased with how it turned out and my family loved it as well!  If you are looking for a decadent Fall treat, give this a try! If you would like some of the Dastony Raw Sprouted Almond Butter or Rawmio Dark Chocolate Hearts for yourself, you can find them on their website!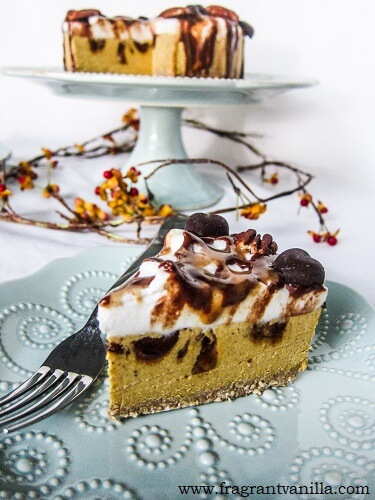 Vegan Pumpkin Turtle Cheesecake 
Makes one 6 inch cake
Crust:
1/4 cup finely shredded coconut
1/4 cup organic rolled oats or you may use almond meal for gluten free
1/4 cup pitted medjool dates (if not soft, soak them in filtered water first and drain well)
1/8 tsp sea salt
1/4 tsp cinnamon
Filling:
3/4 cup (about half a 15 oz can) Thai Kitchen full fat coconut milk* (make sure you shake the can before you measure)
1/2 cup pumpkin puree
1/4 cup maple syrup
1 tsp cinnamon
1 tsp ginger
1/8 tsp cloves
1/8 tsp nutmeg
1 tsp pure vanilla extract
1/8 tsp sea salt
3/4 cup Dastony raw coconut butter (NOT OIL), warmed to liquid
Caramel and Fudge:
3 Tbsp maple syrup
1/4 tsp sea salt
1 tsp pure vanilla extract
filtered water as needed
1 1/2 Tbsp Raw Guru raw cacao powder
1/4 cup raw pecans, chopped
Topping:
3/4 cup (about half a 15 oz can) Thai Kitchen full fat coconut milk*
2 Tbsp maple syrup
1/8 tsp sea salt
1/4 cup plus 2 Tbsp Dastony raw coconut butter (NOT OIL), warmed to liquid
For topping:
Instructions:
Oil a 6 inch spring form pan, and line the bottom with parchment paper.
To make the crust, place all ingredients in a food processor, and process until crumbs and starting to hold together (if they are not holding together when squeezed, add a few tsp filtered water and blend). Press into the bottom of the prepared pan.
Meanwhile, to make the filling, combine the coconut milk, pumpkin, maple syrup, spices, vanilla and sea salt in a high speed blender or food processor and blend until smooth.  Add the coconut butter and process until smooth.  Set aside.
To make the caramel and fudge, whisk together the almond butter, maple syrup, and sea salt until smooth, then add 1 Tbsp filtered water (or a little more if it is too thick to be a pour-able caramel consistency) and whisk until smooth.  Divide between 2 bowls, and whisk the cacao powder and 1 Tbsp filtered water into one (or a little more water if too thick to be pour-able fudge).
To assemble the cake, pour the filling over the crust, then drop some of the caramel and fudge (about half of each) over it by the tsp, sprinkle the 1/4 cup pecans over it and swirl with a knife.
Place cheesecake in the freezer while you make the cream.
To make the cream, blend all ingredients in a blender until smooth, then pour into a bowl and place in the freezer (whisking about every 5-10 minutes) until it thickens to the consistency of heavy cream.  At that point spoon it over the top of the cake and smooth to the edges.  Place back in the freezer for 4 hours (or until set) or you can place it in the refrigerator (covered) overnight.
Once cake is set, un-mold, and drizzle it with the rest of the caramel and fudge, and decorate with pecans and dark chocolate hearts. Serve!
Store any leftover cake in the refrigerator.
*I use Thai Kitchen full fat coconut milk.  If you are using a different brand, just make sure it is the thick type, 2/3 of the can at least should be very thick.
(Visited 872 times, 1 visits today)