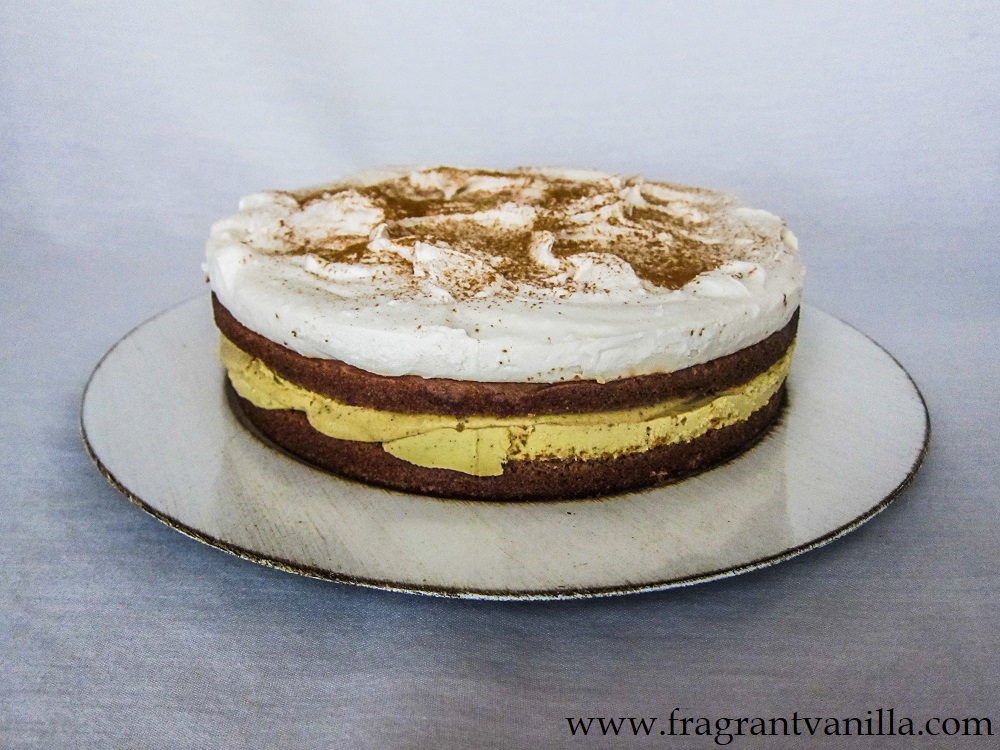 Vegan Pumpkin Tiramisu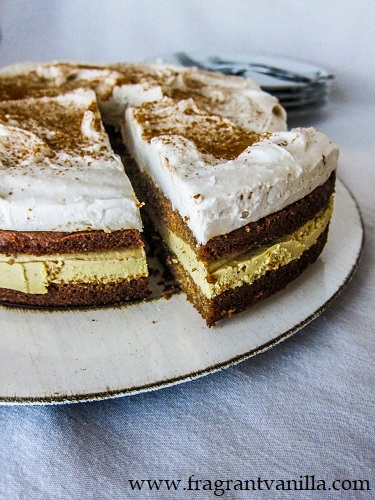 I have been wanting to make pumpkin tiramisu for years now, and this last weekend I finally made some! I was always a fan of the traditional tiramisu (even though I don't drink coffee), and since people are obsessed with pumpkin spice lattes I figured pumpkin tiramisu would be amazing.  I have never actually had a pumpkin spice latte, and it has been years since I have bought coffee, but I can see how warming fall spices would be delicious in a coffee drink...or in this case a coffee dessert.  I had seen some on Pinterest a while back and told myself I was going to veganize it.  It was a little cooler here the last few days, feeling more like Fall, and so I figured it was the perfect time to make it. I don't know about you, but I am obsessed with anything pumpkin lately.  You can use canned pumpkin for this recipe, but I actually cooked my own, because I was making it for another recipe.  Don't you just love when you can cook something and give it multiple uses?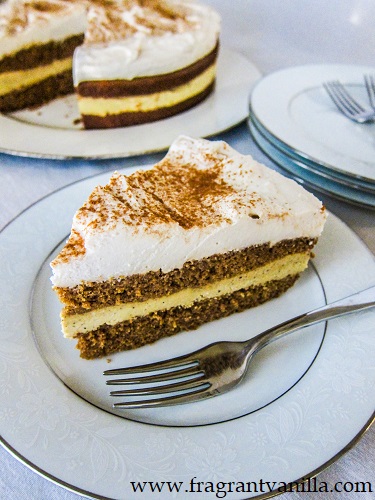 I made pumpkin cake instead of using lady fingers in this because I prefer it, and that is just how I roll, making home made stuff instead of store bought add ins.  For the cake, I made my classic simple one bowl, mix and bake cake enhanced with pumpkin and spices.  The batter was super delicious even before I baked it. Yes, I taste all of my cake batter to make sure it is good. I have saved myself this way because one time I forgot to add the sugar.  We all have those days, but it isn't so bad if you can fix your mistake and not have it be a baking disaster.  This cake smelled amazing while baking.  Just like Fall and spice cakes.  It reminds me actually of going to the apple orchard and smelling the doughnuts that are being made.  I never buy any because I am sure they are not vegan but it is an amazing smell.  I love being able to recreate that at home with something I know I can dive into.  Anyways, this home made tiramisu turned out amazing.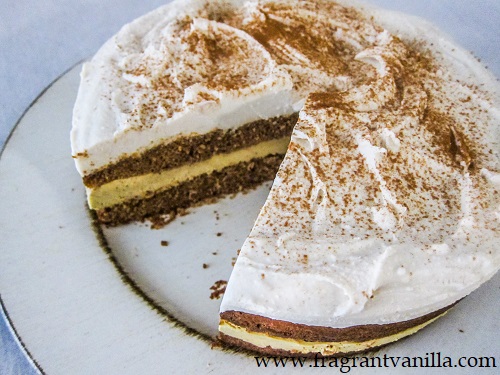 Instead of the usual zabligone which is mixed into whipped cream for the filling, I made a vegan pumpkin spice cream that was simply heavenly!  And, to top off the cake, I made a coconut cashew whipped cream and topped it off with cinnamon.  Once assembled it was so good!  This Fall variation of tiramisu is simply heavenly!  If you are looking for a delicious way to use that leftover pumpkin, this is it!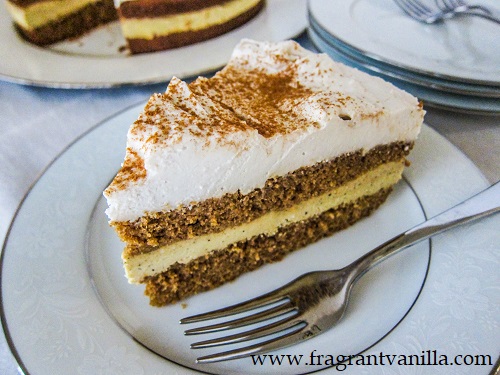 Vegan Pumpkin Tiramisu
Serves 8-10
Cake:
1 1/2 cups Bob's Red Mill gluten free all purpose flour
1 cup coconut sugar
2 Tbsp cinnamon
2 tsp ground ginger
1/2 tsp ground nutmeg
1/4 tsp cloves
1 tsp baking soda
1 tsp baking powder
1/2 tsp sea salt
3/4 cup pureed pumpkin (canned is fine)
1/4 cup avocado oil or olive oil
1 Tbsp pure vanilla extract
1/2 cup + 2 Tbsp strong brewed  coffee
2 Tbsp apple cider vinegar
Cream:
2 15 oz can full fat organic coconut milk, at room temperature
1 cup raw cashew butter
1/2 cup maple syrup
2 tsp pure vanilla extract
1/2 tsp sea salt
1 1/2 cups melted coconut butter (NOT OIL) (warmed to liquid), divided
1/4 cup plus 2 Tbsp pumpkin puree
1 Tbsp espresso powder or finely ground coffee
1 tsp cinnamon
1 tsp powdered ginger
1/4 tspcloves
1/4 tsp nutmeg
To soak:
1/4 cup strong brewed coffee
1 Tbsp bourbon (optional)
1 Tbsp maple syrup
Instructions:
For the cake, preheat the oven to 375 degrees and position rack in center of oven. Line one 9-inch-square cake pan with 3-inch-high sides with parchment paper. Coat parchment paper and pan sides with nonstick spray.
Whisk flour, baking soda, spices, salt, and sugar in a large bowl to blend well.
Whisk pumpkin, oil, maple extract, vanilla extract, and coffee together in small bowl to blend well, then whisk into the flour mixture until well blended. Whisk in cider vinegar until pale swirls form in the batter and it is well combined.
Transfer cake batter to prepared pan and bake cakes until tester inserted into center comes out clean, about 25-30 minutes.
Cool cake completely in pan on rack, about 1 hour. Cut around sides of pan to loosen. Turn cake out onto platter; peel off parchment paper. Slice in half horizontally being careful not to break the cake (I find that chilling it for a few hours first helps it be less fragile).
To make the cream, combine the coconut milk, cashew butter, maple syrup, vanilla, sea salt and 1 1/4 cups of the coconut butter in a blender and blend until smooth and combined. Divide between 2 bowls, and whisk the pumpkin puree, espresso powder, spices and remaining 1/4 cup coconut butter into one of them until smooth.  Place both bowls in the freezer until the cream in each of them firms up, about 30-45 minutes depending on how warm they have gotten.  Place in the refrigerator until you are ready to assemble the cake.
To make the soaking liquid, whisk together the coffee, bourbon, and maple syrup. Brush this over each cake layer.
To assemble, place one cake layer on a plate, spread pumpkin cream over the first cake layer.  Place the other cake layer over that, and spread the plain cream over that.  Dust the top of the cake with cinnamon.  Let sit for a few hours before serving.
(Visited 1,149 times, 1 visits today)