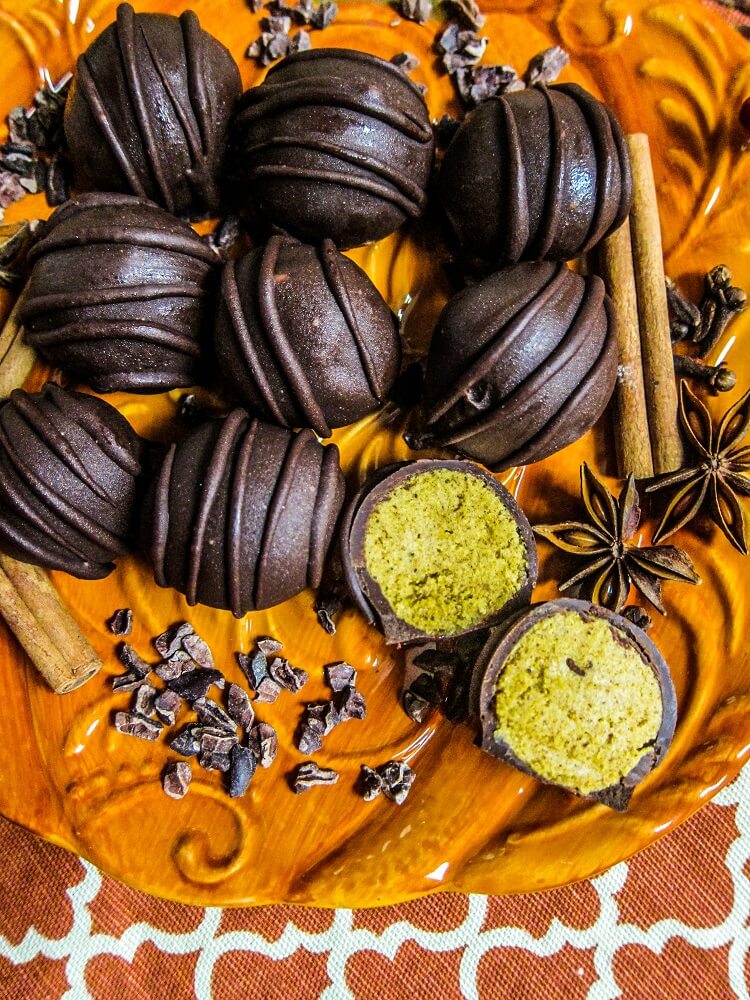 Vegan Pumpkin Spice Truffles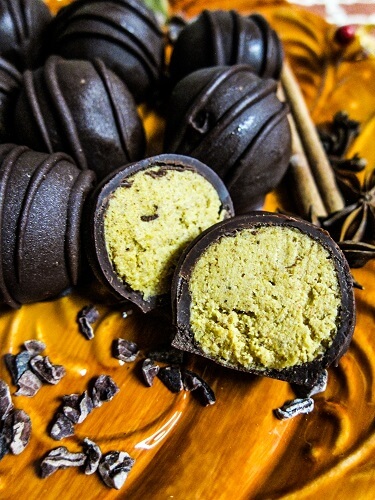 This is the time of year when I always keep canned pumpkin on hand.  It is so useful.  You can make pancakes, or cake, or pumpkin spice overnight oats, or make a pasta sauce etc.  All of which require partial cans, so inevitably I am left with some to use up in another recipe.  I made some pumpkin cheesecake last weekend and had some leftover and decided to make something new with it instead of whisking it into my oatmeal or something. I decided on pumpkin spice truffles.  They just sounded good.  Yes, I know you can buy this sort of thing in the store, but I would much rather make it!  I added a special ingredient to these ones as well, some Sunbiotics Vanilla Probiotic with Prebiotics Powder that Raw Guru recently sent me.  Because why not get your daily dose of probiotics when you enjoy a delicious truffle!  Not only that, they have a lovely vanilla flavor, so I didn't need to add vanilla extract to these.  This powder is also good stirred into your morning oatmeal, which is how I tried it first.  They are good quality, and have 20 billion probiotics per serving, so I was excited to try them since I have been looking for a new one to use. They worked out perfect in the truffles.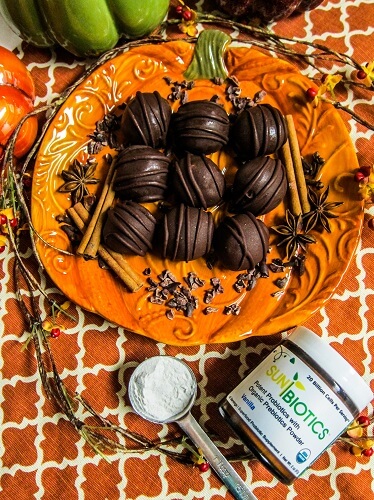 I made them Sunday when it was a bit chilly outside.  I had been out for a walk and wanted to warm up doing something fun.  And, what better thing to do on a chilly day to warm up than make deliciousness in the kitchen!  So I put on some cozy PJs, made myself some warm tea and got to work.   These are pretty easy to make, which is always a win.  For the filling, I used a mixture of pumpkin, almond butter and coconut butter sweetened with a little maple syrup and seasoned with classic pumpkin pie spices.  The combination is rich and delicious!  It kind of reminded me of a pumpkin pie frosting before I chilled it and rolled it into the truffles.  I like making truffles because I feel like a little kid when I roll them out.  Kind of the way I enjoy decorating cakes, because I feel like that is fun and playful too.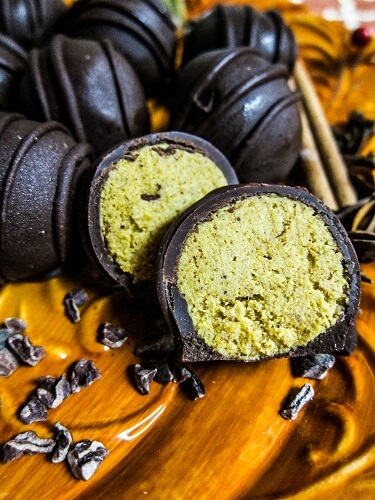 After the filling was all set, I melted some dark chocolate to dip them in. Because dark chocolate is amazing with pumpkin.  They turned out so cute! But more importantly they were delicious.  The filling tastes like pumpkin pie cream.  I say cream because it is richer than actual pumpkin pie and better then pumpkin pie (in my opinion). It pairs so well with the chocolate which balances out the sweetness.  If you are in the mood for something pumpkin but don't want to make a pie, give these a go!  If you don't prefer to use the probiotics powder in them, you can make them without it and they will still turn out.  I just love the fact that I can get a daily dose of probiotics with my sweet dessert.  I hope you all are having a wonderful Fall so far!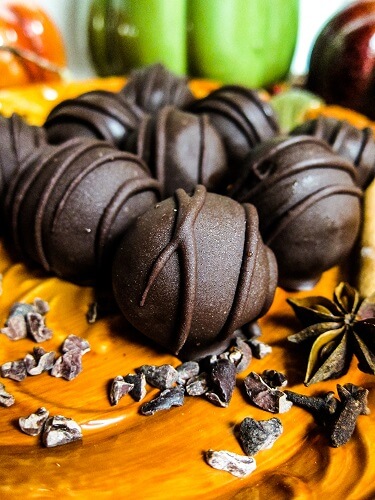 Vegan Pumpkin Spice Truffles
Makes 18
Ingredients:
Instructions:
In a bowl, whisk together the pumpkin, almond butter, coconut butter, maple syrup, probiotic powder, spices and sea salt until smooth.  Place the bowl in the freezer until it starts to firm up to the consistency of dough (about 30-45 minutes) and scoop-able.
Scoop the filling out by the Tbsp, and roll into balls.  Place them on a parchment lined tray, and place the tray in the freezer until the balls are completely firm.
Melt the dark chocolate in the top of a double boiler, and dip each filling ball into it (letting the excess drain off, I like to set it on a fork for this), and place back onto the tray. When they are all dipped, place back in the freezer for a few minutes to harden the chocolate.
Enjoy!  Store any leftover truffles in the refrigerator.
(Visited 120 times, 1 visits today)