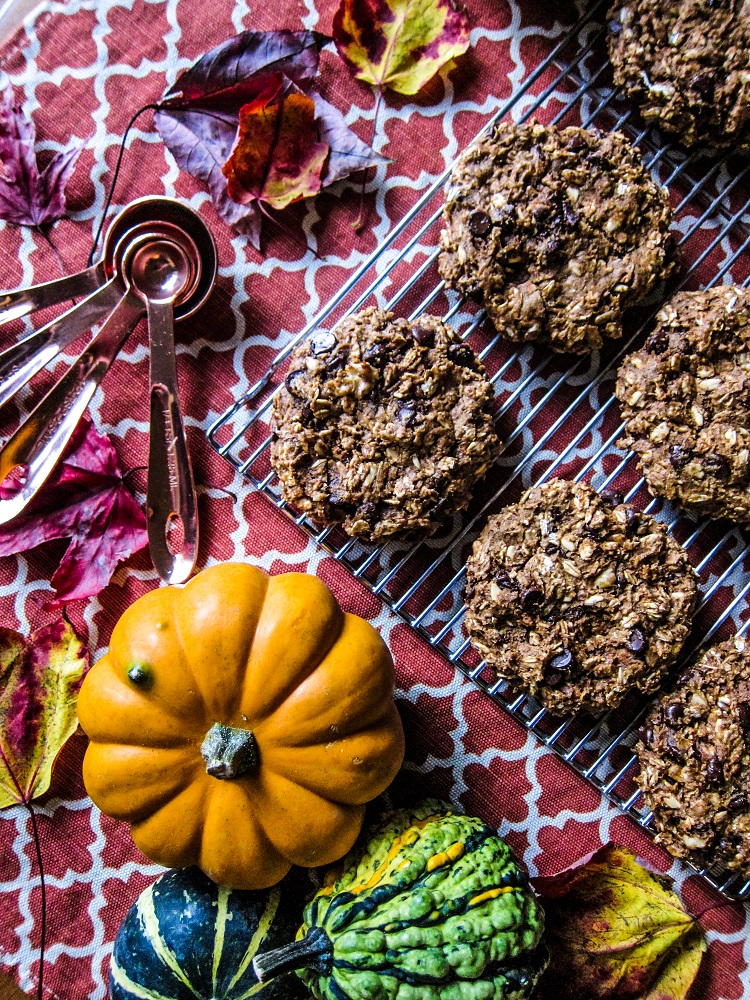 Vegan Pumpkin Spice Oatmeal Cookies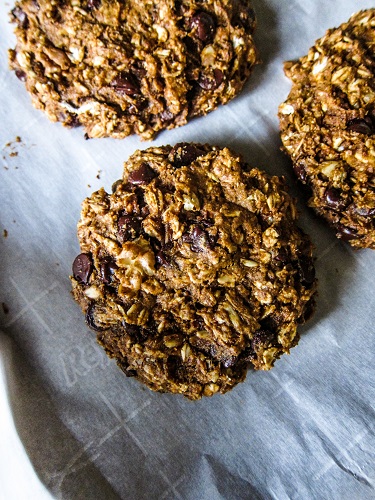 I don't know about you, but I can't get enough of pumpkin goodies this year.  I like apple treats and Halloween candy too, and I have been making those as well this October, but pumpkin seems to be the favorite.  Thank goodness for canned pumpkin though!  Back in the day, I used to like to roast off the pumpkin myself (and sometimes I would just use squash instead for pumpkin puree because it was easier), but now I am a lot more busy and appreciate the organic canned pumpkin. I would however like to still carve a pumpkin this year!  The thing about opening a can of pumpkin is that you have to use it up (or portion it out and freeze it) within a week.  Luckily there are plenty of things you can make on a whim with it.  Pumpkin bread, pumpkin cake, pancakes, waffles, a soup base, or just be weird like me and eat the puree plain (yes, I do that sometimes). Or in the case of last weekend make pumpkin cookies!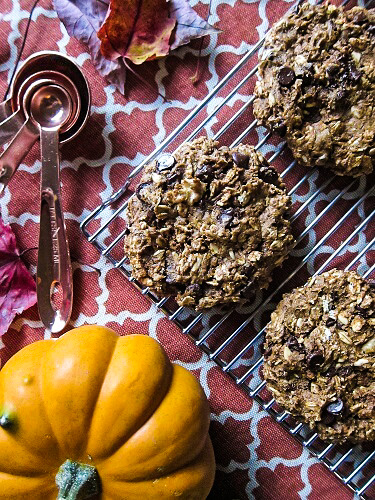 I actually had already made pumpkin cookies this year, but not pumpkin oatmeal cookies.  Some soft, chewy oatmeal cookies with pumpkin spice and goodies stirred in sounded fabulous!  My Mom always said when I was little that oatmeal cookies are the healthiest because they have plenty of good fiber from the oats and are less processed.  I have to agree, at least in the case of these cookies, which happen to be pretty packed with fiber in various forms.  Don't worry, they don't taste like healthy cookies.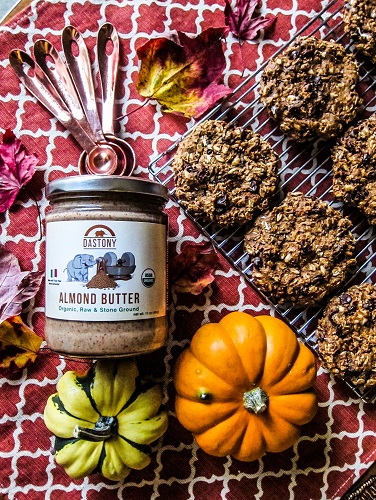 Even if they had healthy ingredients added. I added Dastony almond butter from Raw Guru, pumpkin puree, and flax eggs to keep these cookies moist and chewy, plus pumpkin pie spices and plenty of oats in both oat flour and rolled oat form!  Also, I stirred in some cranberries and walnuts for a few fall flavors plus vegan dark chocolate chips because I couldn't resist!  The dough was so good I could not stop eating hunks of it.  I am one of those people who loves cookie dough even more than actual baked cookies so this is something that happens often and why I love baking cookies.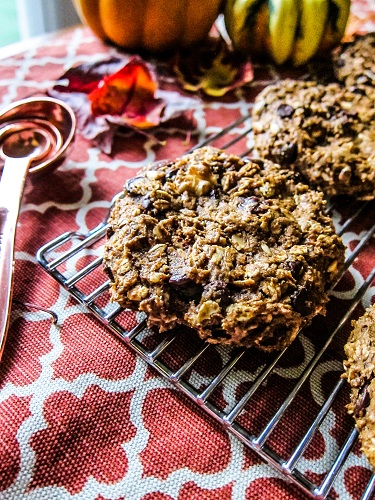 They baked up nicely and filled my kitchen with the heavenly aroma of pumpkin spices!  I could not wait to try one, and of course I waited until they were just cool enough but still warm to try one!  They were soft and chewy, sweet and aromatic with the flavor of the spices, and they gooey chocolate chips, cranberries and crunchy pecans were so good with the pumpkin and oats!  If you are a fan of pumpkin or have some extra canned pumpkin on hand, give these a try!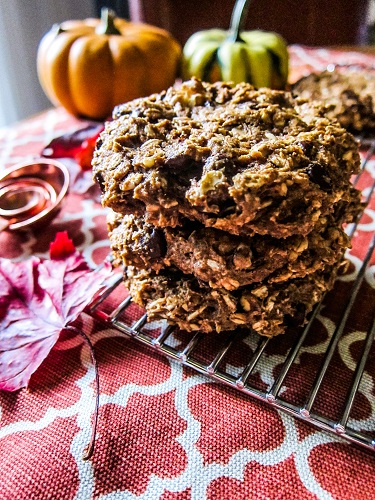 Vegan Pumpkin Spice Oatmeal Cookies
Makes 16 large cookies
Ingredients:
1/2 cup pumpkin puree
1/2 cup Dastony almond butter
1 1/2 cups coconut sugar
2 Tbsp ground flax seed mixed with 1/4 cup plus 2 Tbsp filtered water, allowed to sit 15 min. before using
1 Tbsp pure vanilla extract
1 1/2 cups gluten free oat flour
2 tsp cinnamon
1 tsp ginger
1/4 tsp nutmeg
1/4 tsp cloves
1 tsp baking soda
3/4 tsp sea salt
3 cups gluten free old fashioned rolled oats
1/2 cup dried cranberries
1/2 cup vegan dark chocolate chips
1/2 cup chopped walnuts or pecans
Directions:
In a large mixing bowl, mix together the pumpkin, almond butter and sugar until well blended. Add flax eggs, vanilla, and beat until well combined (the mixture will become very thick).
Mix in the flour, soda, spices and sea salt until well blended. Mix in the oats until well combined, then add chocolate chips, cranberries and walnuts and mix until evenly distributed throughout the dough.
Heat the oven to 350 degrees with the rack set at the middle position. Line 2 baking sheets with parchment paper.
Roll the dough into 16 large balls (the dough will be sticky, it's ok), and spread them out on the 2 cookie sheets with plenty of room in between, pressing down on them slightly. Bake for 15-18 minutes or until golden, but not over baked. Let cool on sheet a few minutes, then remove to a wire rack lined with parchment to cool.
Enjoy!
(Visited 412 times, 1 visits today)