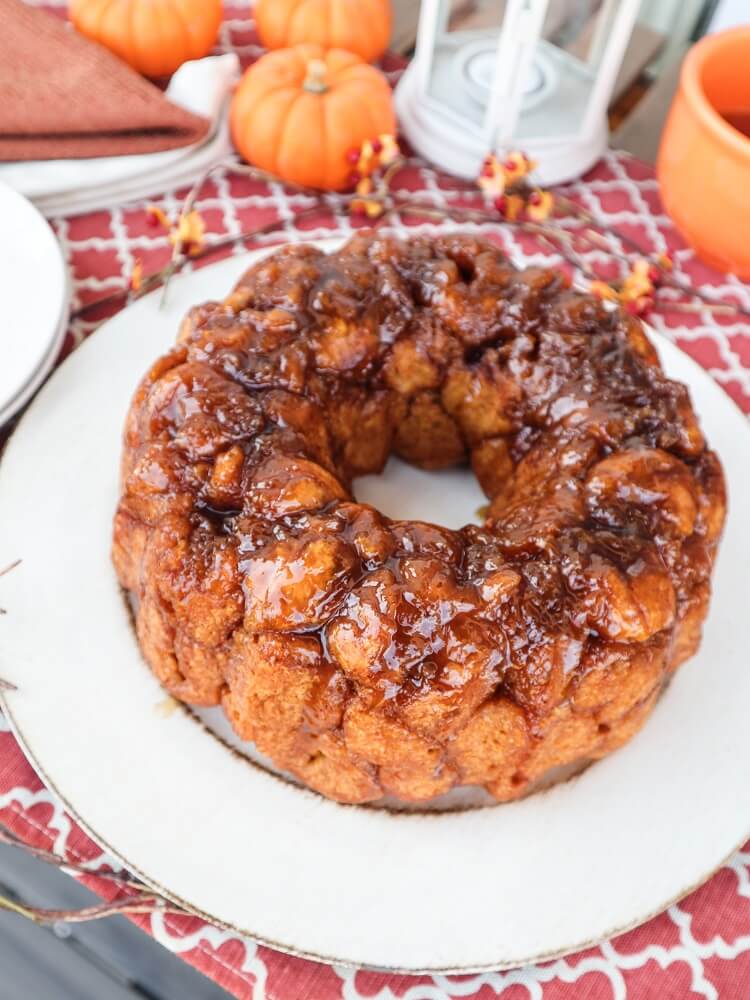 Vegan Pumpkin Spice Monkey Bread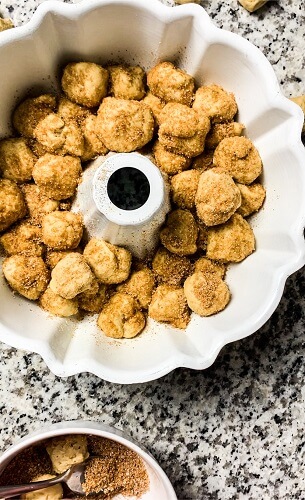 When I was little, my Grandma was an amazing baker!  Everything she made was so delicious and when I walked into her house and smelled something baking I knew I was in for a treat.  Or even better, when she let me help her make things!  One of my favorite things ever was her monkey bread or pull apart bread.  It was always so rich, gooey and delicious!  Especially when it was still warm and fresh from the oven, but of course I would eat it all day long even if it had cooled down.  I hadn't really tried recreating a veganized version as an adult until now.  I have been telling myself I should make some for a while because it sounded really good, and I finally got around to it last weekend!  I decided to put a seasonal twist on it and make Vegan Pumpkin Spice Monkey Bread!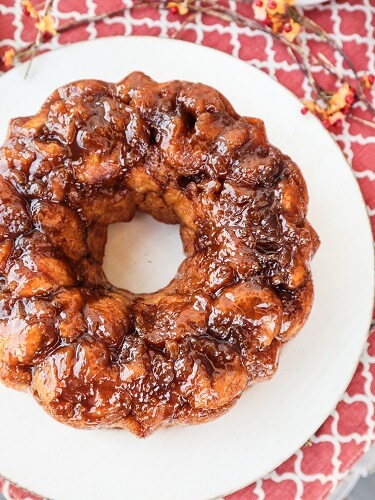 She used refrigerated bread dough for hers usually but I am more of a DIY person when it comes to that stuff so I made my own.  Plus, where are you going to find pumpkin spice bread dough that you can buy?!  I find it kind of relaxing mixing and kneading dough anyhow, it is the perfect thing to do to de-stress.  Very satisfying because of the bread texture and how it feels.  And to think, back in the day I was intimidated my bread dough because of the yeast and rising time and whatnot.  It is really no big deal and if you don't have as much time, you can buy rapid rise (in this recipe if you use that it takes about half as much time to rise).  And also, if you don't think you have the time to make it all in one go, just prep this recipe and do the first rise and shaping (up to when the dough is in the balls in the pan and the syrup is poured over) and cover and refrigerate overnight.  Then the next day you take it out for one hour and bake it as specified in the recipe.  I actually do this a lot of times with cinnamon rolls.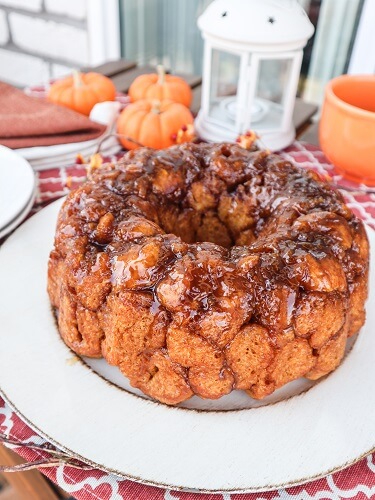 Anyways, back to the recipe.  I added pumpkin to my sweet roll dough as well as pumpkin spices to make it worthy of fall and super delicious and it was perfect!  It kneaded and shaped nicely, and after the dough was all made then came the fun part, cutting it up into many little balls and rolling them in cinnamon sugar then arranging them in a bundt pan.  I don't think I have used my bundt pan in over 10 years but it got use with this recipe!  What makes this bread so delicious isn't just the cinnamon sugar though, it gets a maple syrup and vegan butter "caramel" poured over it!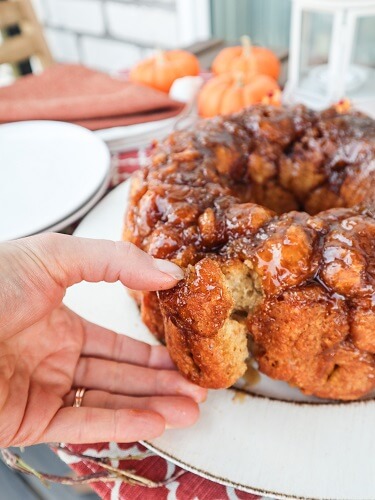 I am telling you this smells so amazing while it bakes!  It is super delicious, the bread dough is soft and light and tender, lightly scented with pumpkin spice, and the cinnamon sugar creates a little bit of a coating on the outside, which is covered in a buttery gooey maple caramel that will make you swoon!  This is totally crave worthy and so good served warm with a cup of coffee!  If you want a really special weekend brunch treat, definitely make this Vegan Pumpkin Spice Monkey Bread!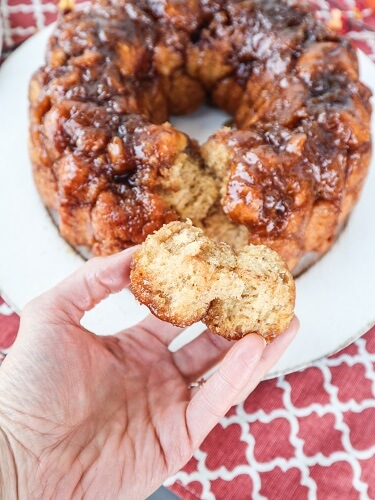 Vegan Pumpkin Monkey Bread

Makes 12
Dough:
1/4 oz active dry yeast
1/2 cup warm water ( 105-110F degrees)
1/2 cup warm coconut milk (I warmed it up on the stove)
1/2 cup canned pumpkin
1/4 cup maple sugar or coconut sugar
1 tsp vanilla extract
1 tsp sea salt
1 Tbsp ground flax seed, mixed with 3 Tbsp filtered water
1 tsp ground cinnamon
1 tsp ground ginger
1/4 tsp ground nutmeg
1/4 tsp ground cloves
3 3/4 cups whole wheat pastry flour or as needed
Caramel:
1/2 cup vegan butter (1 stick, 0r 8 Tbsp)
1/2 cup maple syrup
1/4 tsp sea salt
1 tsp pure vanilla extract
For coating dough:
 3/4 cup maple sugar or brown sugar
1 tsp cinnamon
Instructions:
To make the dough, combine the yeast and the warm water plus a pinch of maple sugar and stir to dissolve. Let sit 5-10 minutes until it starts to foam.
In a large bowl, combine the coconut milk, pumpkin, maple sugar, vanilla extract, salt and flax mixture and mix together to combine.
Add the yeast, spices and 2 cups of flour and mix to combine.
Add the remaining 1 3/4 cups of flour and mix until you have a smooth dough (you may need to use your hands at the end to mix it in).
Turn out onto a lightly floured surface, and knead for 5-10 minutes until smooth and supple. If it is too sticky add a little more flour but you want to add as little as possible because if you add too much the dough gets tough.
Place in an oiled bowl, and cover. Let rise for about 1 1/2 hours until doubled in size.
Meanwhile to make the caramel, combine the butter, maple syrup and salt in a sauce pan.  Bring to a boil (stir to combine while it is melting), then remove from heat and add vanilla.  Stir until incorporated, then set aside.
When the dough is ready, mix cinnamon and sugar together in a bowl.  Turn the dough out onto the counter or a board and roll into a 2 inch rope.  Cut into 8 pieces then cut those into 8 more pieces.
Roll each dough ball in the cinnamon sugar and place into an oiled 10 inch bundt pan.  Repeat until the balls are all in the pan, then drizzle the maple syrup mixture over them evenly, being sure to get the sides of the pan as well. Cover and let rise 45 minutes or until the bread has doubled in size.
Meanwhile heat the oven to 350F degrees.
When the rolls have risen for 45 minutes, place them in the preheated oven and bake for about 35-40 minutes until starting to brown and cooked through.
Remove from the oven and let cool 5 minutes.  Then put a plate over the bundt pan (open end) and invert onto the plate carefully.
Serve warm.
These keep covered at room temperature for up to 3 days, or refrigerated for up to 1 week.
(Visited 510 times, 1 visits today)