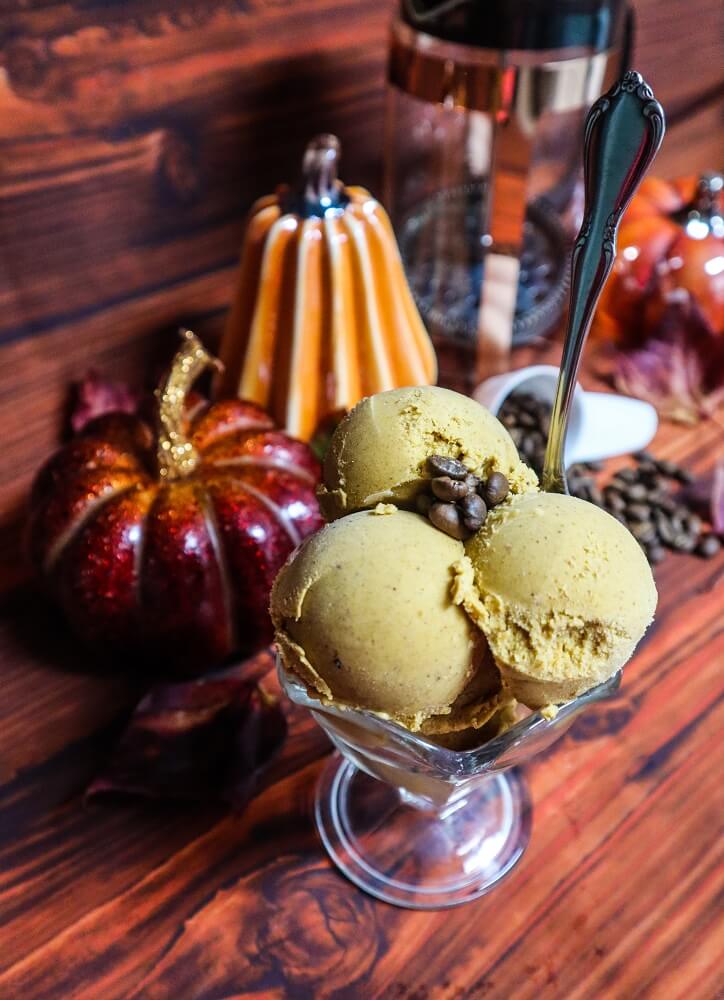 Vegan Pumpkin Spice Latte Ice Cream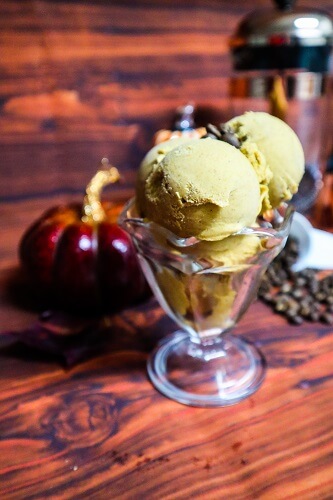 I know a lot of people hate all of the hype of pumpkin spice lattes, and I get it.  There are many chain coffee shops that just use a mix that doesn't even contain real pumpkin and isn't that good.  But once you have had one at a coffee shop that makes their own artisan drinks with real pumpkin and spices it is hard not to love them.  Or if you make your own like I do sometimes. I actually love them as long as they are good quality.  I love getting fall themed coffee with Eric at one of our favorite local shops and going for a walk, sipping it as we go.  It is one of my favorite things ever!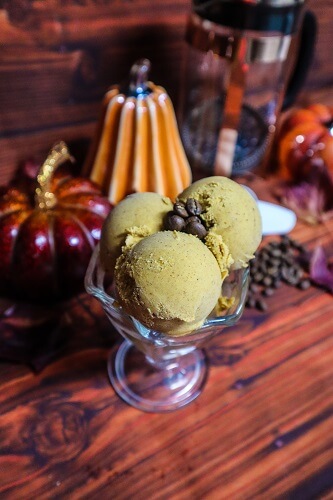 I also love making pumpkin spice latte flavored things.  I have made a few cakes, and candies.  But I thought some pumpkin spice ice cream would be amazing!  So I whipped some up last week.  I have my ice cream maker in the freezer at all times ready to go in case the need to make it strikes, and I use it pretty often because I always have to have some ice cream on hand even in the cooler months.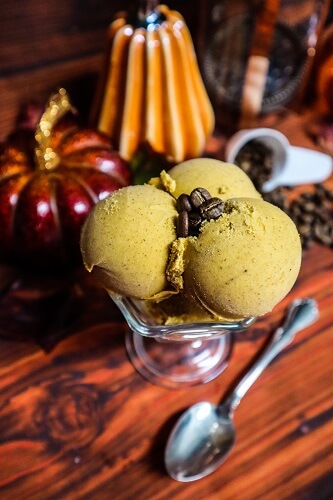 I usually start with coconut milk as my base, because it always turns out so rich and creamy.  For this one, I combined it with cashew butter to give it almost a cheesecake like quality.  If you are not a fan of cashew butter though, feel free to substitute almond butter.  I combined the base with a good amount of pumpkin and pumpkin pie spices plus dates.  I like sweetening it with dates because they give it a caramel like flavor and don't add as much moisture as liquid sweetener does. If you would prefer to use maple syrup instead though, you can it will just freeze a little harder.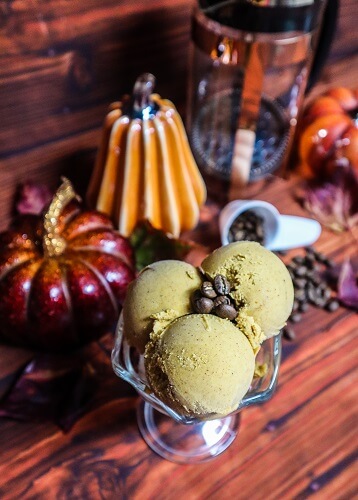 To make this coffee flavored, I added some ground espresso powder.  If you like it strong you can use two Tbsp or if you just like a light coffee flavor just use one.  The base for this tasted sooo good I could not wait to try it once it was churned.  It was totally heavenly!  Sweet, creamy and rich with all of the pumpkin spice coffee flavored goodness!  This would actually be really good as affogato (with coffee poured over it).  If you are a pumpkin spice latte fan, give this a try!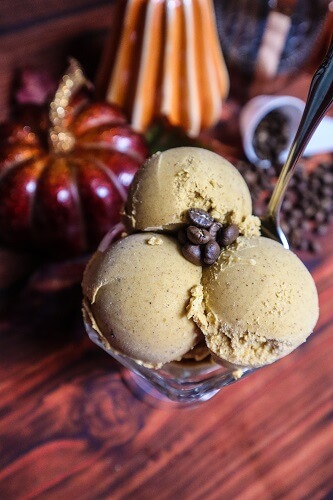 Vegan Pumpkin Spice Latte Ice Cream 
Makes 3 cups
Ingredients:
1 15 oz can full fat organic coconut milk or coconut cream (unsweetened)
1/2 cup raw cashew butter or almond butter
1 cup pumpkin puree (or canned pumpkin)
1/2 cup soft, pitted medjool dates (if they are not soft, soak them in filtered water for 30 minutes before using)
1-2 Tbsp espresso powder  (depending on how much coffee flavor you like)
2 tsp pure vanilla extract
1/2 tsp cinnamon
1/2 tsp ginger
1/4 tsp cloves
1/8 tsp nutmeg
1/4 tsp sea salt
Instructions:
Combine all ingredients in a blender and blend until smooth.
Pour into an ice cream maker and process according to directions.  Alternatively, if you do not have an ice cream maker, pour it into a bowl, and whisk every half hour until it is to the consistency of a thick malt.
Pour into a freezer safe container with a lid, and continue to freeze until firm enough to scoop (at least 4 hours or overnight). If it becomes too firm, simply let it sit out for 15 minutes before serving.
(Visited 661 times, 1 visits today)