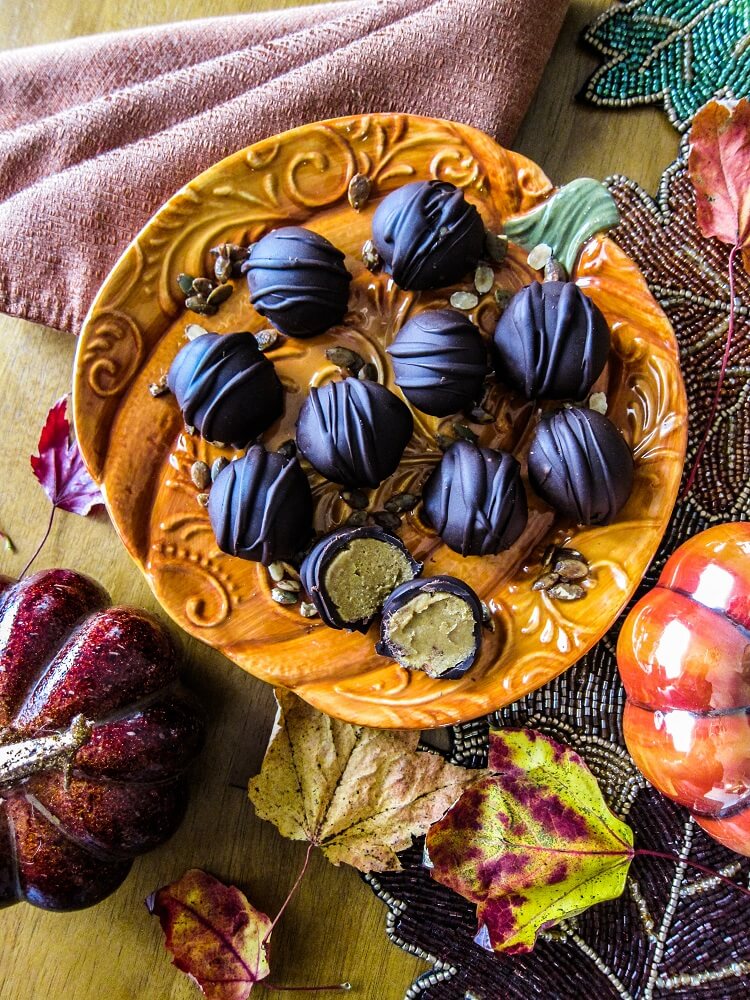 Vegan Pumpkin Spice Latte Caramels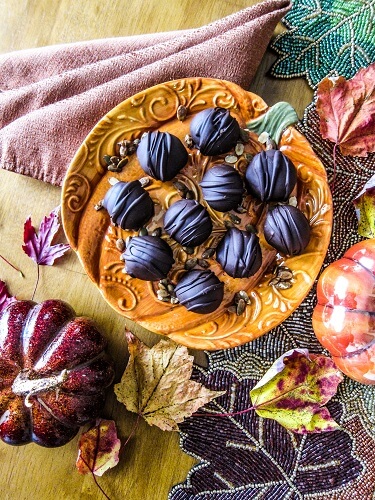 Halloween just a few short weeks away, and up until a few days ago I hadn't made any candy this year yet! I always make peanut butter cups, and I need to get around to those, but this week, the first thing I made was some pumpkin spice latte caramels.  I am not usually a coffee drinker, but I have had a couple of pumpkin spice lattes this year just because I wanted to see what all of the hype was about, and because I wanted something a little different than my usual tea and I ended up loving them.  These were not your standard chain coffee shop fake pumpkin spice flavor in your coffee lattes though, we got them from a local shop that makes their own pumpkin spice syrup, and they made mine with oat milk which froths really well.  It has inspired me to make my own at home, which I will do soon, but until then, I made these truffles.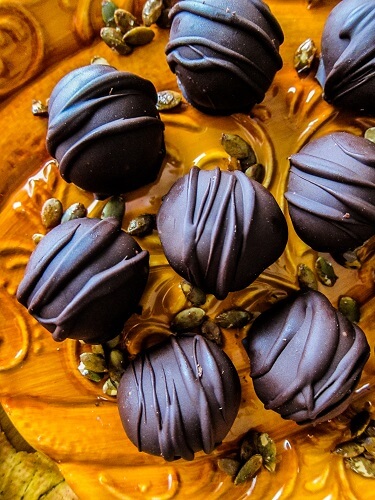 I made caramel the other day for caramel rolls, and decided that it would be wonderful with pumpkin and spices in it.  Drizzled over cake, or on its own covered in chocolate.  I chose to make the latter this time.  I made my usual caramel recipe but with pumpkin and all of the spices I add to my pumpkin pie.  To thicken it enough to shape, I added in some coconut butter as well and it worked perfect!  Of course since it was a supposed to taste like a pumpkin spice latte, I added in a bit of espresso powder as well.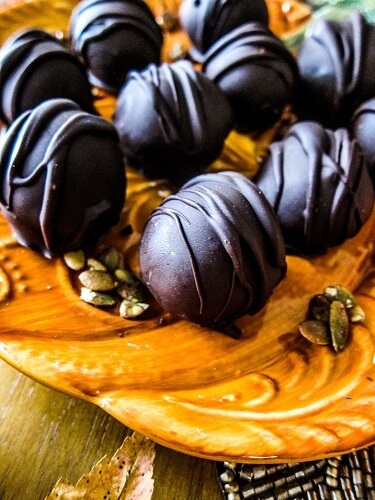 It was divine just like that.  Like I could eat it with a spoon on its own good.  And I did,  a little because I had to make sure it was good about three times *wink* *wink*.  Once covered in chocolate though, it was delicious! The caramel is sweet, with just the right amount of pumpkin and spice, a hint of coffee and perfect when paired with the dark chocolate shell.  I debated whether or not I should share it, and I think I am going to save most of them for myself lol.  These would be perfect to enjoy with a pumpkin spice latte, just sayin.
The classic Halloween candy is good, and of course I have my old standbys like the peanut butter cup, and I do plan on making a few more varieties, but if you are looking for something a little different, and you are a caramel fan like me, test out these babies!  What is your favorite Halloween candy?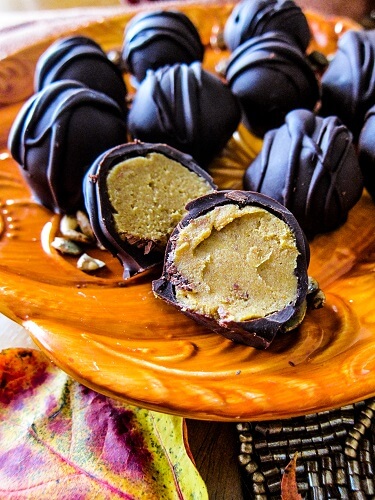 Vegan Pumpkin Spice Latte Caramels
Makes 12  truffles
Caramel:
1 1/4 cups packed soft medjool dates, pitted
1/2 cup pumpkin puree (canned is fine)
1/4 cup coconut butter, warmed to liquid
2 tsp espresso powder
1 tsp ginger
1 tsp cinnamon
1/4 tsp nutmeg
1/4 tsp cloves
1/4 tsp sea salt
2 tsp pure vanilla extract
Chocolate:
1 1/2 cups chopped vegan dark chocolate or chocolate chips
Instructions:
To make the caramel, combine all ingredients in a food processor and process until smooth. Pour into a bowl, and place in the freezer for about 15-20 minutes or until it has thickened up enough to roll into balls.  Roll into 12 balls, place on a parchment lined tray, and place back in the freezer for at least 30 minutes until more firm.
Melt the chocolate in the top of a double boiler, stirring until it is all melted.  Dip each chocolate into the chocolate (I like to place mine on a fork) and let the excess drain off, then place back on the tray. Place in the freezer to harden for about 15 minutes, and enjoy!
*Store in the fridge in an airtight container for up to 1 month.
(Visited 497 times, 1 visits today)