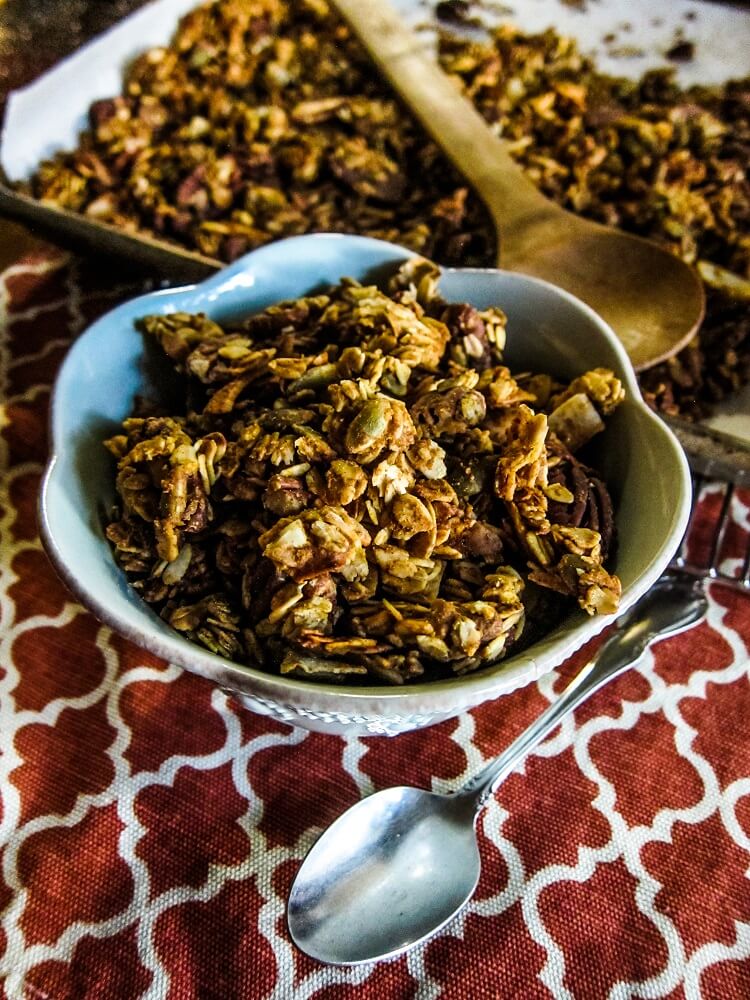 Vegan Pumpkin Spice Granola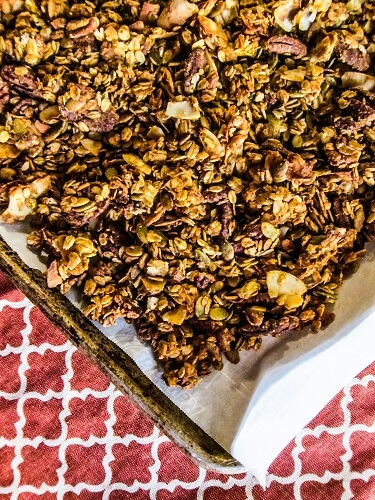 Fall is officially here, so I had to make something pumpkin spice.  I know everyone makes fun of people that like pumpkin spice and pumpkin spice lattes and whatnot, and while I agree that some things should not be pumpkin spice flavored (like certain savory items), most pumpkin spice is darn delicious and I love it.  Mostly I love making it at home though in the form of pumpkin treats.  Pumpkin treats make me happy, as does running through the crunchy leaves on crisp fall mornings, warm sweaters and bon fires. Which is why this is my favorite season. So back to that thing that I made.  I decided to whip up a batch of granola last weekend.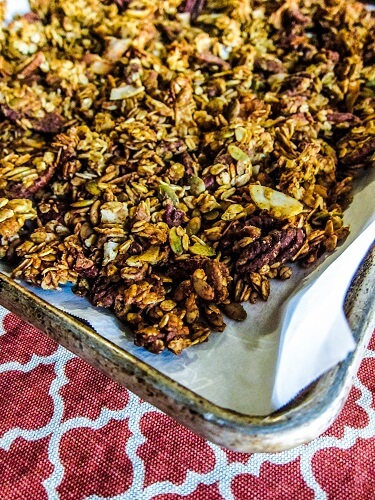 Granola is something that I like to keep on hand at all times for snacking, and although I have my standard recipe that I usually make, being that I am excited for fall, I went with the pumpkin spice. I love that granola is such a blank palate for making delicious new flavors.  For this one I used oats as the base, added in pecans and pumpkin seeds, plus a bit of large flake coconut for crunch.  I know coconut might not be considered fall like but it is one of my favorite add ins for granola because it gets so nice and crispy and it is a little sweet.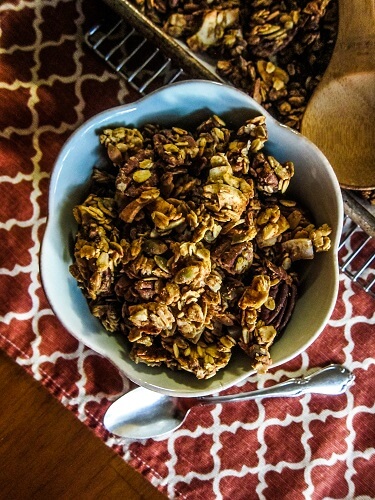 For the mixture to coat everything with I started with pumpkin of course, then added in maple syrup for sweetness and pecan butter for richness.  It might sound like an odd ingredient the pecan butter, but it is what I use to replace the oil because it is plenty rich (but you could use almond butter if you did not have it on hand or were not able to get it).  This granola does happen to be oil free!  I have been experimenting with a lot of oil free recipes lately with good results and turns out granola doesn't actually need oil to be good and crispy.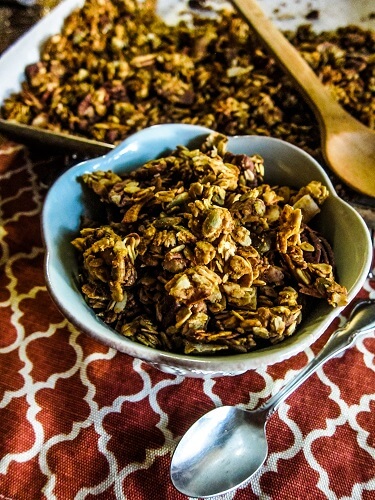 Lastly I added plenty of pumpkin spices into this granola, ginger, cinnamon, nutmeg, and cloves.  It smelled amazing while baking.  Like pumpkin pie crossed with spice cake or something.  I so could not wait to try it!  Luckily granola doesn't have to set up, or cool so it doesn't stick to the pan or anything so I didn't have to wait long to try it.  It was amazing while still warm and fragrant!  Crunchy, crave worthy and delicious with just the right amount of spice and pumpkin flavor!  Do yourself a favor and whip up a batch to enjoy! Happy Fall!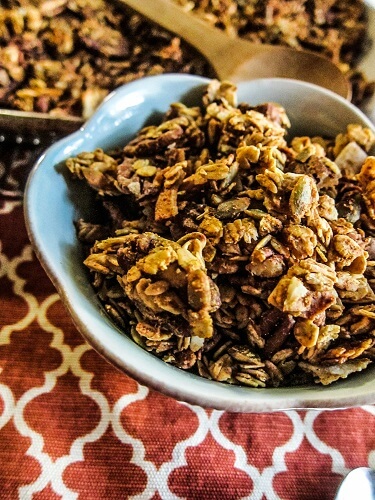 Vegan Pumpkin Spice Granola
Makes 6 cups
Ingredients:
3 cups organic gluten free old fashioned rolled oats
1 1/2 cups raw pecans
1 cup raw pumpkin seeds
1 cups finely shredded, dried unsweetened coconut
1/2 cup organic canned pumpkin
1/4 cup maple syrup
1/2 cup pecan butter or almond butter
1 tsp cinnamon
1 tsp ginger
1/2 tsp cloves
1/4 tsp nutmeg
1/2 tsp sea salt
1 tsp pure vanilla extract
Instructions:
Line a large baking sheet with non-stick foil, and spray with cooking spray.
Preheat the oven to 350F and set rack at the medium position
In a large bowl, combine oats, nuts, and coconut, and set aside.
In another bowl, whisk together pumpkin, maple syrup, nut butter, spices, sea salt, and vanilla extract until well combined, then pour over oat mixture and toss to coat until completely blended.
Pour out onto prepared baking sheet, and spread out evenly.
Bake for 35 minutes, stirring about every 10 minutes or so until the granola is evenly browned. Remove from oven and let cool.
(Visited 137 times, 1 visits today)