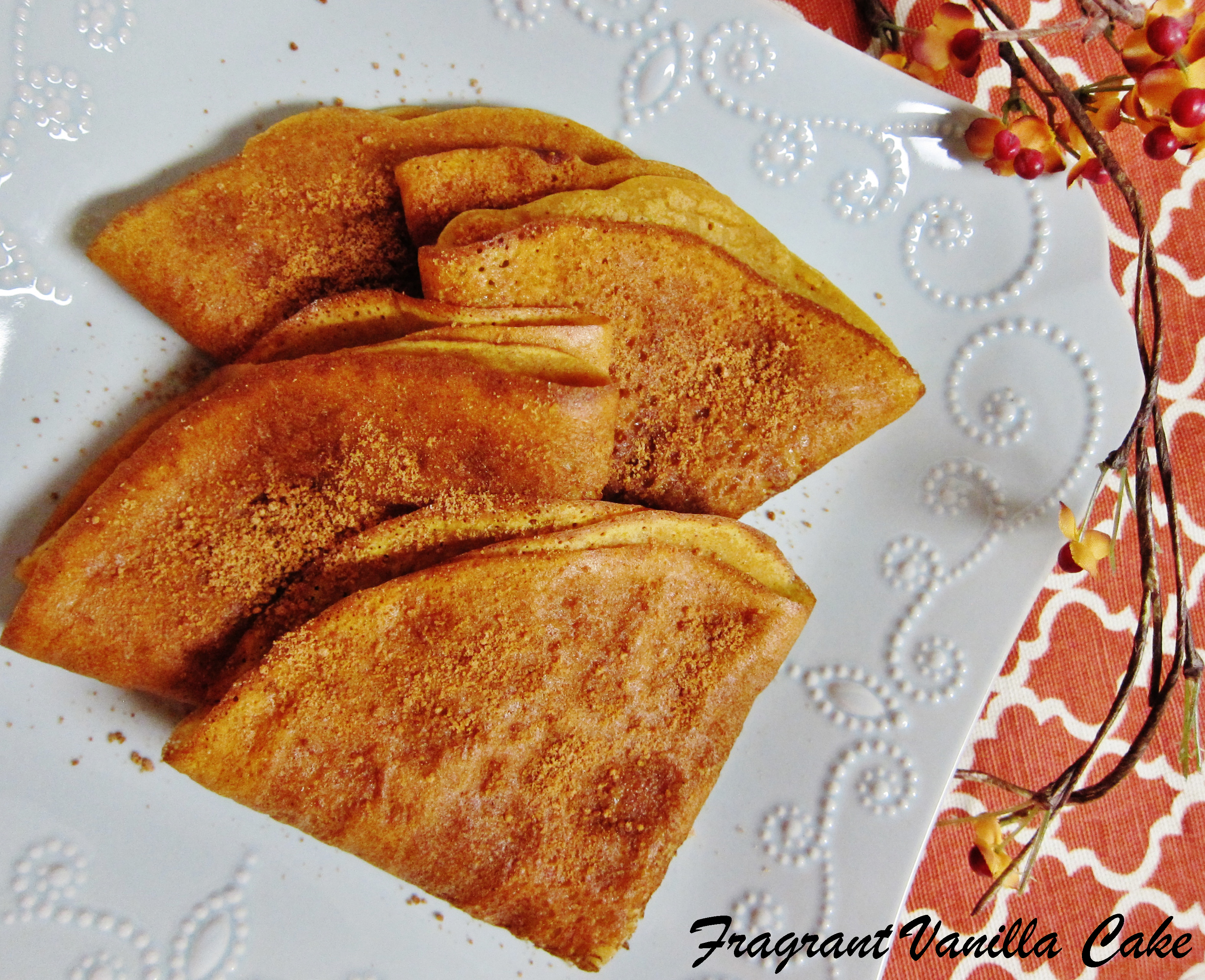 Vegan Pumpkin Spice Crepes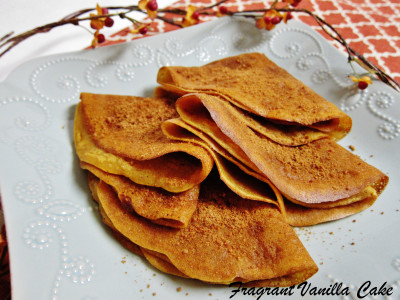 Eric has been telling me I should make cinnamon sugar crepes for months now, and I was a bit stubborn saying that they sounded boring, and they did a little to me...until I realized it is now fall, and I could make pumpkin crepes with cinnamon sugar!  Because that makes ALL the difference, at least in my mind. Pumpkin anything and I am all for it.  I am loving this whole Fall thing, every minute of it.  There is just something special about snuggling in cozy sweaters and running on crisp Autumn mornings that I love so much. So anyways, back to the crepes.  I didn't have a whole lot of time the night I decided to make these, but they whipped up in no time!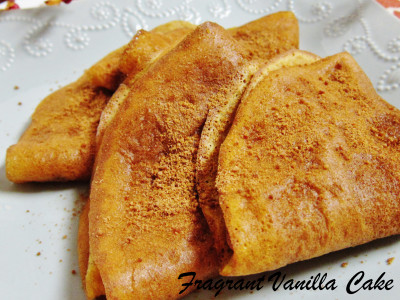 I used my usual cake batter, but adjusted it to the extra moisture from the pumpkin and added in the spices I consider essential to pumpkin pie...ginger, cinnamon, nutmeg and cloves.  They smelled wonderful, but tasted even better warm, dusted off with cinnamon coconut sugar. Eric was onto something with that...these are seriously a form of comfort food.  A lazy Saturday morning on a crisp Autumn day would be perfect to enjoy them!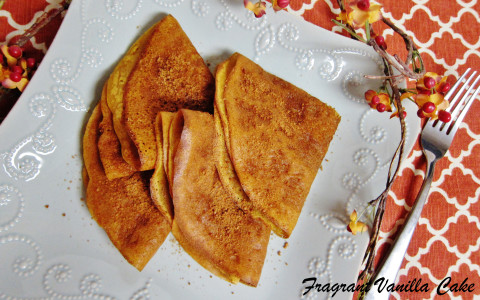 Vegan Pumpkin Spice Crepes
Makes about 14
Crepes:
1/4 cup ground flaxseed
3/4 cup filtered water
1 1/2 cups gluten free all purpose flour
3 Tbsp coconut sugar
2 tsp cinnamon
2 tsp ginger
1/4 tsp nutmeg
1/4 tsp cloves
pinch sea salt
1/4 cup melted coconut oil
1 cup filtered water
1 cup pumpkin puree
1 tsp pure vanilla extract
Cinnamon sugar:
1/4 cup coconut sugar
1 tsp cinnamon
To make the crepes, mix together the flaxseed and water in a bowl, and set aside in the refrigerator for 15 minutes until it is the consistency of egg whites.
Meanwhile, whisk together the coconut sugar, flour, spices and sea salt in a bowl, then whisk in the coconut oil. Slowly whisk in the water and pumpkin little by little to make sure the mixture stays free of lumps. Next, whisk in the vanilla, followed by the flax mixture you had set aside.
Mix together the coconut sugar and cinnamon together in a bowl and set aside.
Heat a non-stick 6 inch pan over medium heat, then pour in 1/3 cup batter, and swirl the pan so that it spreads out to the edges.  Cook for about 3 minutes on the first side, then flip over and cook the second side. Once the crepe is done, set aside on a plate.  Repeat with the remaining batter, separating the crepes with parchment paper on the plate so that they don't stick together. Sprinkle the crepes with the cinnamon sugar and fold up.  Serve!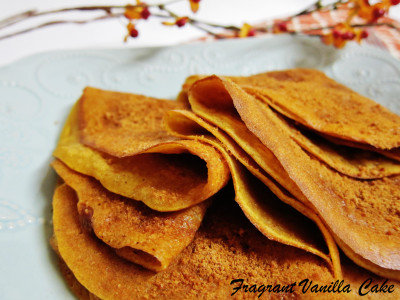 (Visited 196 times, 1 visits today)