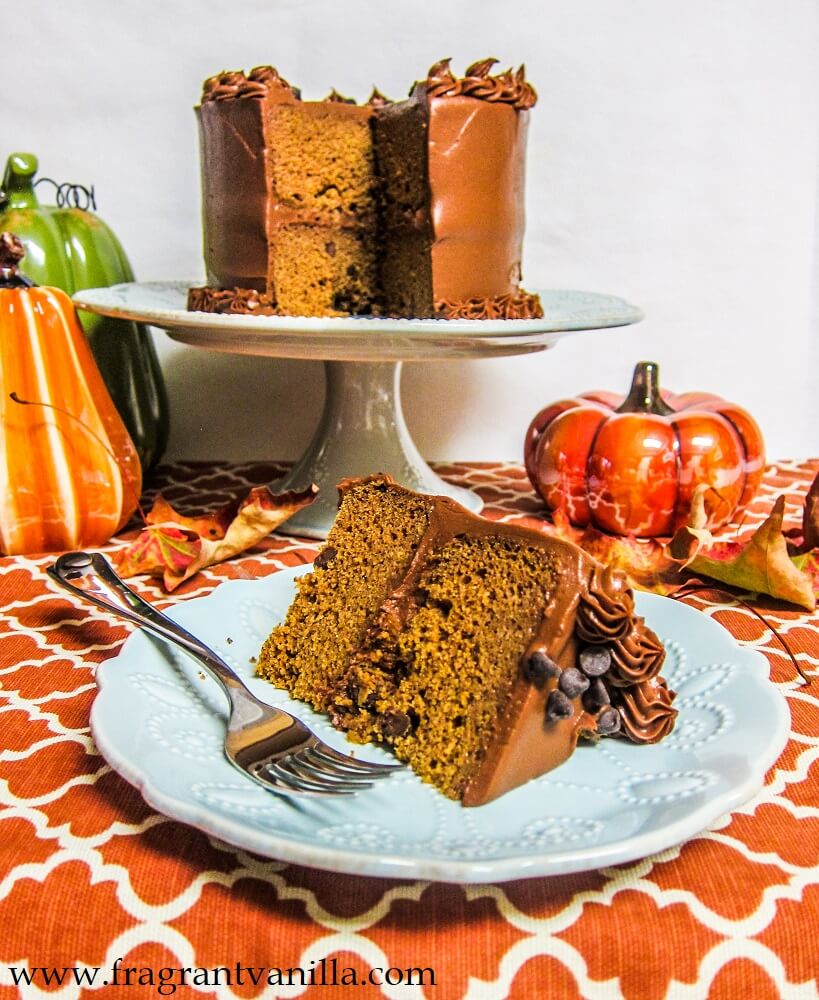 Vegan Pumpkin Spice Chocolate Chip Cake with Fudge Frosting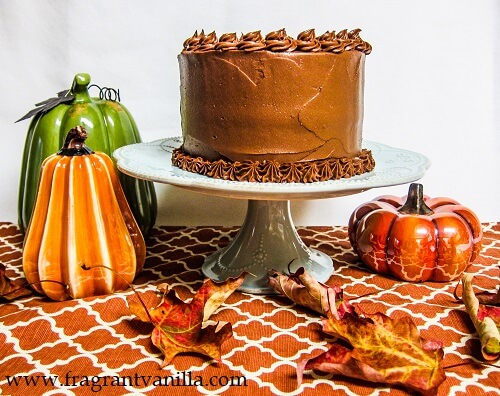 I hate to waste things.  So, I have little containers in my freezer a lot of the time with odds and ends like extra strawberry puree, canned pumpkin or that 1/2 can of coconut milk in a container I had leftover.  I find uses for it all too!  Sometimes it  doesn't even make it to the freezer though, I just randomly come up with something to make with it.  I made a recipe last week that required only about 1/4 cup of pumpkin puree so I needed something to do with the rest of the can. I thought long and hard.  I almost made a chocolate tart with a pumpkin swirl, but what I ended up making was a pumpkin chocolate chip cake with fudge frosting.  I don't know if you have ever had pumpkin bread with chocolate chips but it is darn delicious.  I loved that stuff as a kid!  Sunday was kind of a damp chilly day here so it was just the sort of day to enjoy a cake.  I went out for a 30 mile bike ride in the morning and I spent some time outdoors with Eric going for a long walk later and by the time the evening rolled around I just wanted to be warm in my PJs and be all warm and cozy with my cake.  Because if you are at home, why not be all warm and cozy with your cake and watch a movie or something?
In case you can't tell I am an introvert and that is my kind of evening.  Anyways, back to the actual cake.  I wanted it to taste indulgent and delicious but I also wanted it to have some healthy aspects so I made it completely fruit sweetened with dates. Cake batter made with dates is my all time favorite.  It stays nice and moist and has almost a brown sugar like flavor too.  Add in the pumpkin and plenty of the spices you find in pumpkin pie and you have a delicious cake. The batter tasted good even before baking.  That is one of my favorite parts of making cake, the bowl licking (frosting and batter) so I don't waste a drop.  It filled my kitchen with a heavenly Fall aroma as well.  There is nothing better than walking into someone's house and being greeted with the scent of something sweet baking.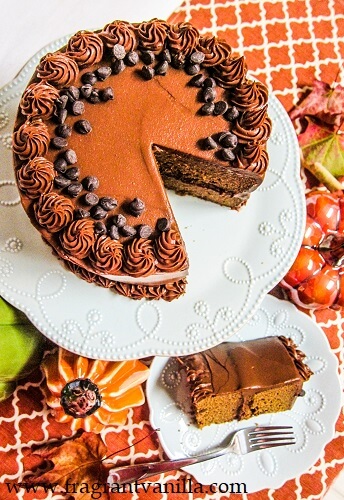 A cake this good deserved a delicious frosting, so I made a luscious fudge frosting to top it off.  It has a secret ingredient, sweet potatoes!  But don't worry, you would not even know that they are there. They just add a smooth texture and slight sweetness to the frosting, as well as give you some extra vitamins along with this cake.  In fact, you get your fiber and vitamins because of the sweet potatoes, dates and pumpkin!  I love hiding veggies in desserts.  But shhh!  When you serve this to people don't tell them, just let them enjoy the rich tasting cake that is actually healthy.  If you are still craving pumpkin this far into the season (I know I am), give this delicious cake a try!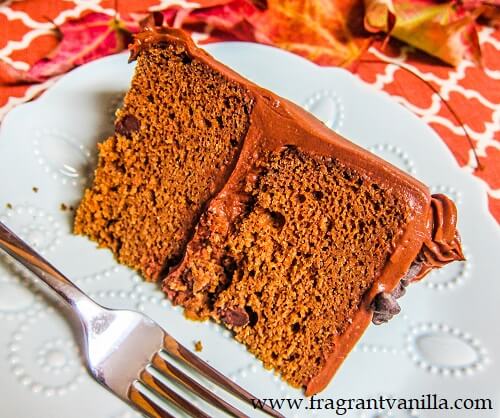 Vegan Pumpkin Spice Chocolate Chip Cake with Fudge Frosting 
Makes 1 6 inch 2 layer cake
Ingredients:
2 6 inch cake pans
Cake:
1 1/2 cups quinoa flour (or all purpose gluten free flour)
1 1/2 tsp baking soda
1 tsp baking powder
1/2 tsp sea salt
1 Tbsp cinnamon
1 tsp ginger
1/2 tsp nutmeg
1/2 tsp cloves
1/4 tsp chipotle powder
1 1/4 cups packed soft medjool dates, pitted, soaked in water for 30 minutes and 1 cup of the soaking water reserved
1/4 cup almond butter
1 Tbsp pure vanilla extract
1 cup pumpkin puree*
2 Tbsp apple cider vinegar
3/4 cup vegan chocolate chips
Frosting:
1 1/4 cups mashed Japanese sweet potatoes*
1  cup soft pitted medjool dates (soaked in water for 30 minutes and drained before using if not soft)
1/3 cup almond butter
1/2 cup filtered water (or as needed)
1/2 cup unsweetened cocoa powder
1 tsp pure vanilla extract
1/4 tsp sea salt
Directions:
Preheat the oven to 375F degrees and position rack in center of oven. Line two six-inch-diameter cake pans with 2-inch-high sides with parchment paper. Coat parchment paper and pan sides lightly with oil so that the cake doesn't stick and line the bottom of the pan with a piece of parchment fit to the pan.
Whisk flour, baking powder, baking soda, spices and sea salt in a large bowl to blend well.  Set aside.
Place dates, reserved water, almond butter, pumpkin puree, and vanilla extract into a blender, and blend until smooth, then whisk this blended mixture into the flour mixture until well blended. Whisk in the cider vinegar until bubbles form. Fold in the chocolate chips.
Transfer cake batter to prepared pans and bake cakes until tester inserted into center comes out clean, about 30-35 minutes. Cool cakes completely in pan on rack, about 1 hour. Cut around sides of pan to loosen. Turn cakes out onto plates, and peel off parchment paper. Set aside, covered so that it doesn't dry out.
To make the frosting, combine all ingredients in a blender and blend until smooth (adding water a little at a time if you think it is too thick).  Set aside.
To assemble, place one cake layer on a plate, and spread about 3/4 cup frosting over it.  Place the other cake layer over that, then spread the remaining frosting on the top and down the sides of the cake.
*If you are using home made pumpkin puree and not canned, make sure it is thinned out a little so it is the same consistency as canned (applesauce consistency).
***If you would like a 2 layer 9 inch cake, double this entire recipe and bake in two 9 inch cake pans.  It will take longer to bake, about 50 minutes to 1 hour.
(Visited 183 times, 1 visits today)