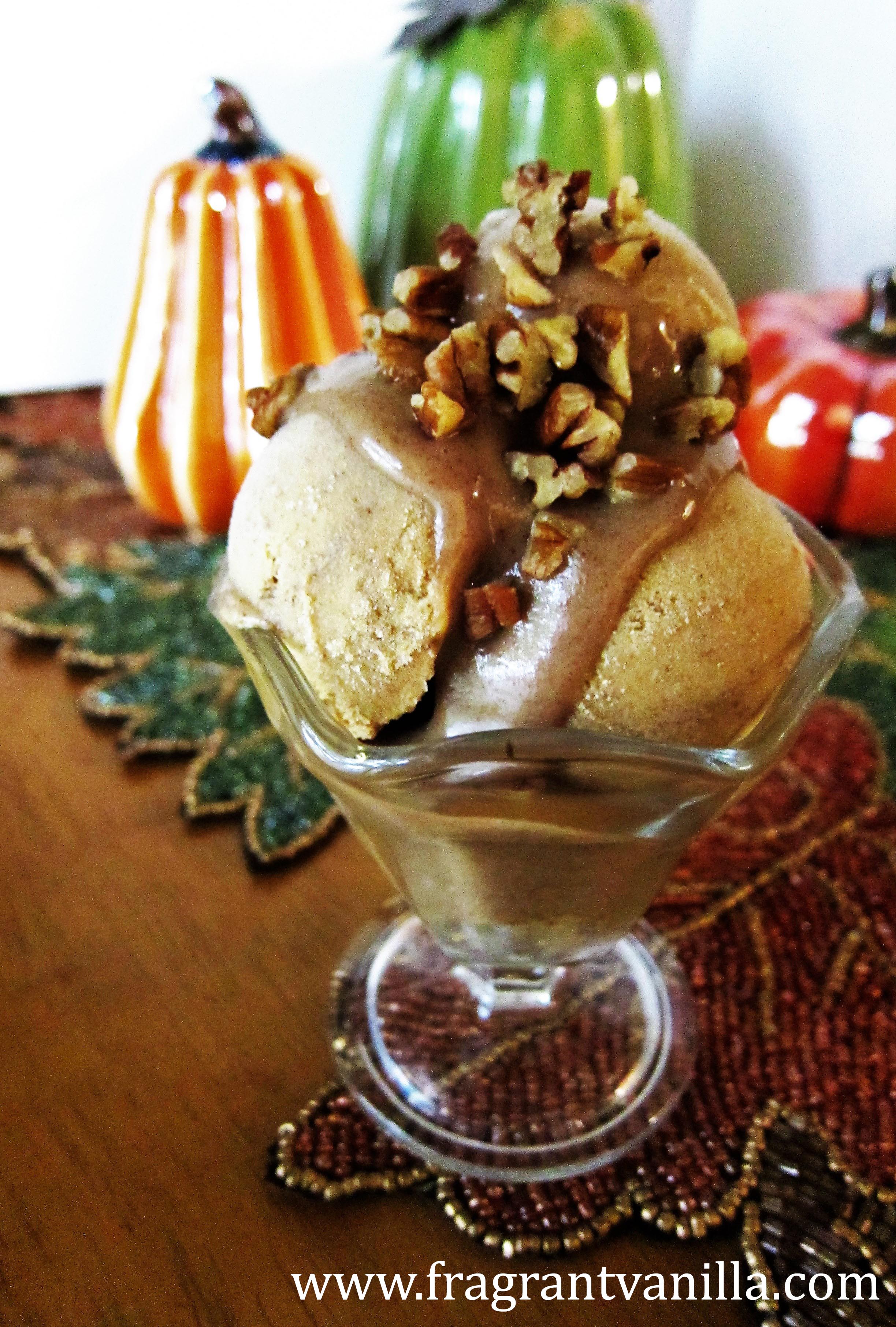 Vegan Pumpkin Spice Caramel Ice Cream
This time of the year gets me excited.  It makes me happy to be able to wake up on a cool morning, run through the crunchy leaves, eat some warm oatmeal when I get home and drink a warm matcha latte while dreaming up some fall baking recipes.  That is my ideal weekend morning actually.  Don't even get me started about wearing warm sweaters and going for moonlit walks with Eric with the scent of bonfire in the air.  I love Fall.  it is my favorite season.  For the weather, for the experiences, and for the food of course!  Pumpkins and apples are highly anticipated at my house.  Especially since you can buy them locally at the orchards.  I am always a fan of buying local produce.  So, I am diving into the fall recipe creating full force.  I don't care if it is not technically fall, I am one of those people that thinks of September as the beginning of fall, even if it is not official.  Some people do things like put up their Christmas decorations early, well I like to start the Fall festivities early.  I bought some pumpkin puree last Friday, and decided to make some Vegan Pumpkin Spice Caramel Ice Cream.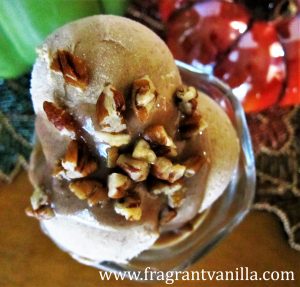 I am not a fan of really sugary pumpkin spice stuff like those syrupy lattes that you find in a lot of coffee shops with no real pumpkin. What I am a fan of is real, home made pumpkin desserts with healthy ingredients.  So, that is what I was going for with this.  For the base I blended coconut milk with almond butter for a silky base with pumpkin puree and added the spices I like to use in my pumpkin pies.  It tasted wonderful!  I sweetened it with dates, because they are actually my favorite sweetener of choice.  I mean, it doesn't get any more natural than using a dried fruit (unaltered of course with no preservatives) as a sweetener in your dessert.  I could have left this ice cream just plain pumpkin spice and it would have been good, but I decided to add caramel to it as well.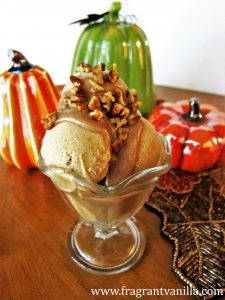 The caramel had a date base too, because dates are like nature's caramel candy.  This ice cream ended up being simply heavenly!  Back when I was in college, I went to a Ben and Jerry's Ice Cream store when I was visiting Boston for a 10k race, and I had some pumpkin ice cream.  I thought it was the cat's meow and the most delicious pumpkin thing I had eaten.  Well, guess what?  This ice cream trumps that!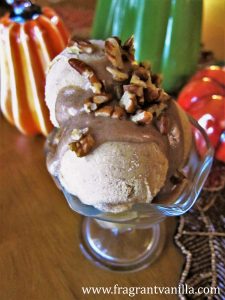 Vegan Pumpkin Spice Caramel Ice Cream
Makes about 3 ½ cups
Ingredients:
Ice Cream Base:
1 15 oz can organic full fat coconut milk
1 cup organic pumpkin puree
1/2 cup almond butter
1/3 cup pitted medjool dates (if they are not soft, soak them in filtered water 30 minutes and drain well before
using)
¼ tsp sea salt
2 tsp cinnamon
2 tsp ground ginger
1/4 tsp nutmeg
1/4 tsp cloves
2 tsp pure vanilla extract
Caramel:
3/4 cup pitted medjool dates (soaked as above if not soft)
2 Tbsp almond butter
1 tsp pure vanilla extract
1/8 tsp sea salt
¼ cup filtered water (or as needed)
Directions:
To make the ice cream base, blend all ingredients in a high speed blender until smooth.  Pour into an ice cream machine, and process according to package directions.  Or, if you do not have an ice cream maker, pour into a bowl, place in the freezer and stir every 30 minutes until the consistency of soft serve.
Meanwhile, to make the caramel, combine all ingredients in a blender and blend until smooth adding a little more water if needed if the caramel is too thick.
Once the ice cream has finished churning, spoon some of it into a container with a lid, then some of the caramel, then more ice cream, then more caramel then more ice cream.  Swirl with a knife, and tap on the counter.  If you have extra caramel it is ok, just serve it with the ice cream.  Place the ice cream in the freezer and allow it to freeze until firm enough to scoop.
(Visited 75 times, 1 visits today)