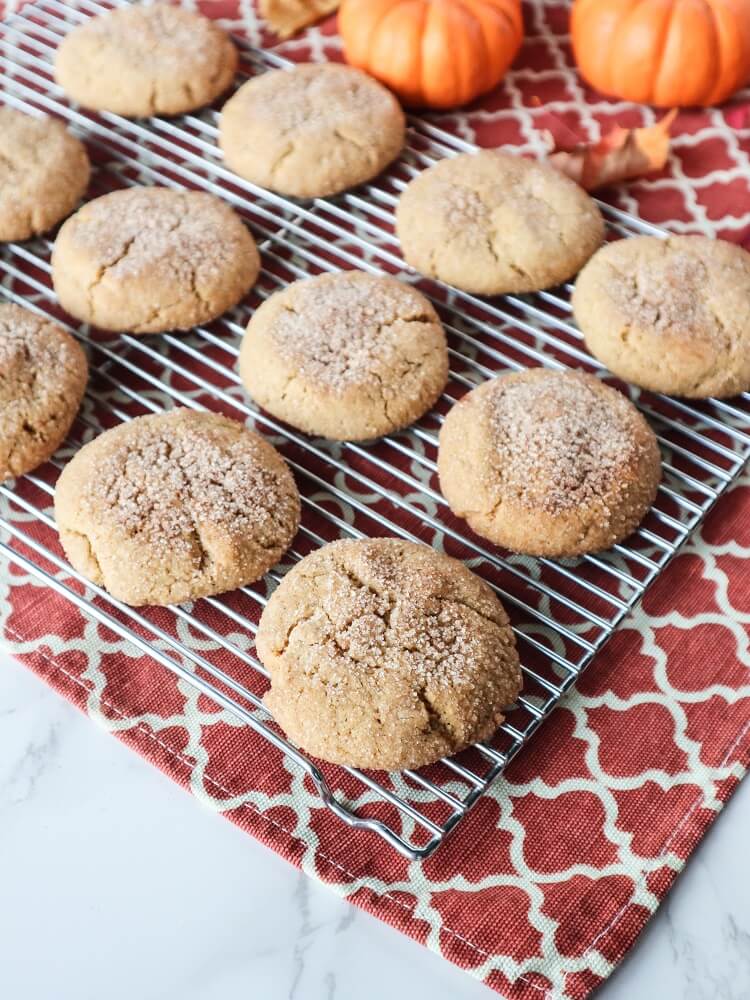 Vegan Pumpkin Snickerdoodle Cookies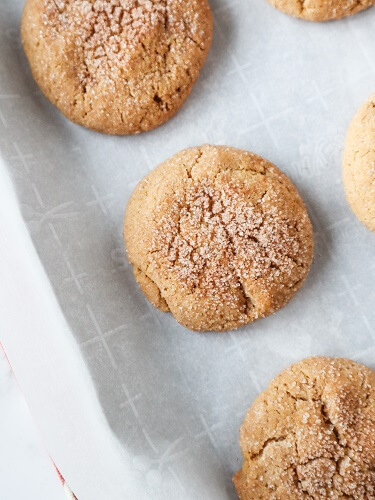 It has been darn near perfect outside here for the past few days, so I have been spending a lot of time out there enjoying the beautiful leaves, sunshine and cooler temps, but when I get back home I am definitely craving some fall treats! So, I decided to bake some cookies last weekend!  Snickerdoodle cookies are delicious, and so is pumpkin spice, so I thought I would combine the two for a delicious seasonal treat and make Pumpkin Spice Snickerdoodle Cookies!  I thought they would be perfect for enjoying with my coffee for a mid morning treat.  On the weekends, I look forward to relaxing and enjoying a cup with something sweet.  It is always nice to not be in a rush and just enjoy your day in the moment. Or of course after a hike is a good time for cookies too which is what inspired them in the first place!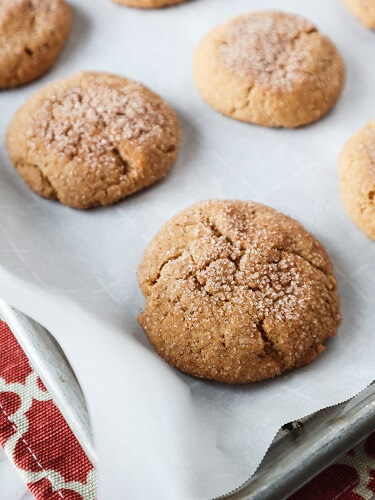 These are actually pretty easy to make, and not fussy.  I used a snickerdoodle cookie base that I have made in the past, and swapped out the apple sauce (the other ones had apple sauce to make the texture just right) for pumpkin and they turned out perfect!  I already had a can of pumpkin open, I feel like I always do this time of year because a recipe rarely calls for the whole can, so it was the perfect way to use some up!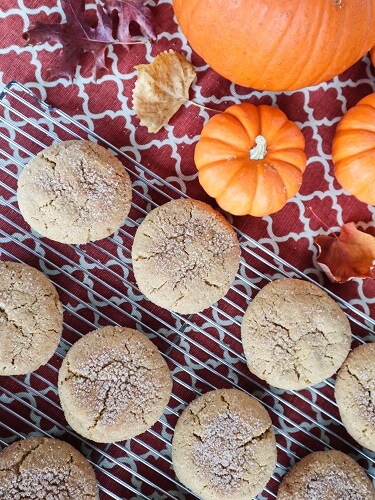 These contain coconut oil to make them rich and melt in your mouth and I like to use either maple sugar or brown sugar in them for the caramel like flavor those two sugars give baked goods.  I added a little vanilla like in classic snickerdoodles, but then I also added pumpkin pie spices to give them that fall vibe and the dough was perfect!  I sampled it and it was even delicious before it was baked.  Cookie dough is one of my favorite things ever and one of the reasons I love making cookies!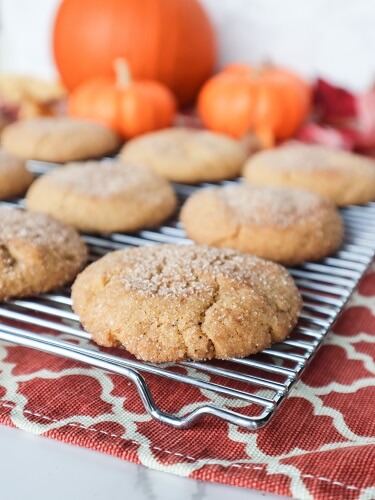 I rolled them in cinnamon sugar, and could not wait to try the finished product!  They smelled amazing while baking, I love the aroma of warming fall spices!  These were so good warm from the oven!  They  are soft and pillowy with a nice crunchy sugar crust on the outside and they are scented with pumpkin and vanilla!  If you are in the mood for all things pumpkin like me, definitely give these Pumpkin Snickerdoodle Cookies a try!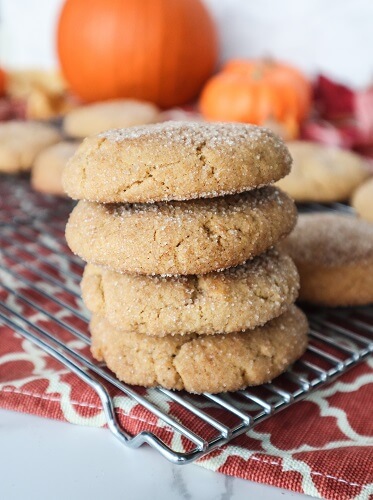 Vegan Pumpkin Snickerdoodle Cookies
Makes 16
Ingredients:
3/4 cup melted coconut oil
1 1/2 cups brown sugar or maple sugar
1/2 cup pumpkin puree
1 tsp pure vanilla extract
1 tsp sea salt
1 tsp baking soda
1/2 tsp baking powder
2 tsp pumpkin pie spice
2 1/2 cups whole wheat pastry flour or all purpose flour (for a lighter colored cookie)
3/4 cup granulated sugar mixed with 2 tsp cinnamon for coating
Instructions:
Preheat the oven to 350F degrees, and line two sheet pans with foil.
In a large bowl, mix together the coconut oil, sugar, pumpkin and vanilla extract until well blended.
Mix in the salt, baking soda and baking powder, pumpkin pie spices then the flour until smooth.
Place the cinnamon and sugar mixture in a bowl.
Form the dough into 1 1/2 inch balls, roll them in the cinnamon sugar mixture, and place on the cookie trays about 2 inches apart.
Press the dough balls down slightly and sprinkle with additional cinnamon sugar.
Place the pans in the oven and bake for about 7 minutes, then rotate them and bake another 7 or so until the cookies are done and lightly brown at the edges.
Remove from the oven and let cool at least 15 minutes before enjoying.
(Visited 473 times, 1 visits today)