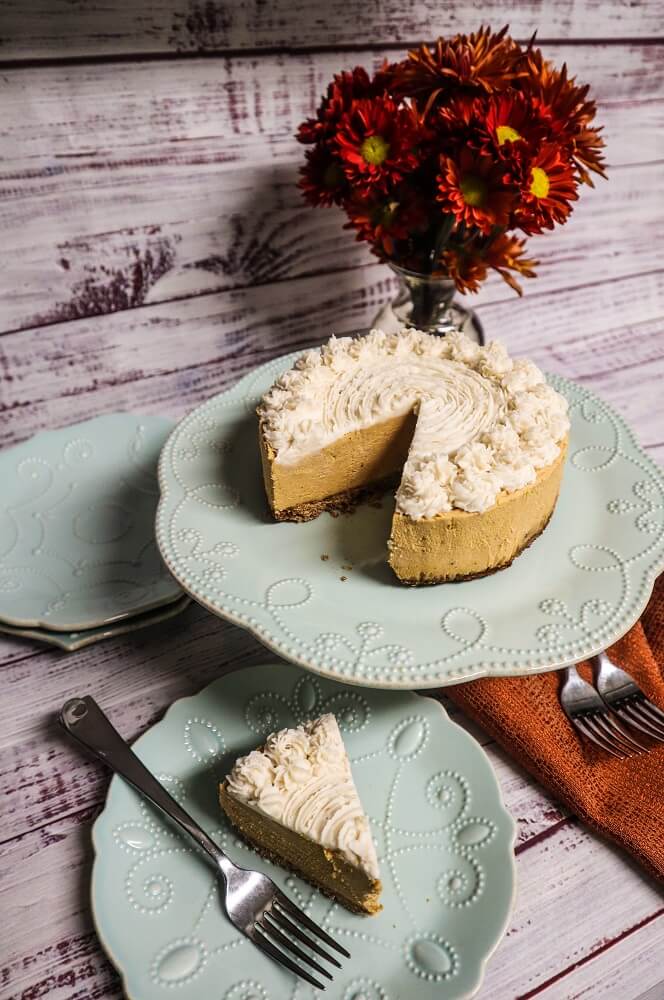 Vegan Pumpkin Pie Cheesecake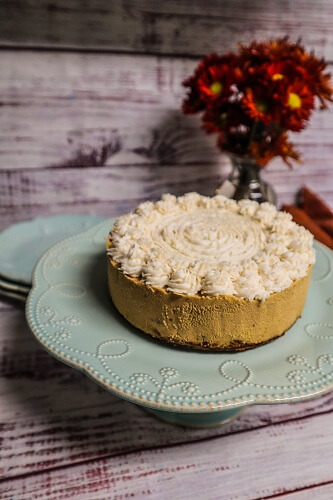 For Thanksgiving, part of the tradition at my house is to always have some fabulous desserts. Pumpkin pie is traditional, but sometimes I like to switch it up a little bit with the pumpkin desserts.  I made some pumpkin creme caramel before and pumpkin cakes, and this year I decided that a vegan pumpkin pie cheesecake would be amazing!  Cheesecake happens to be one of my all time favorite desserts after all, so why not combine it with the classic Thanksgiving dessert!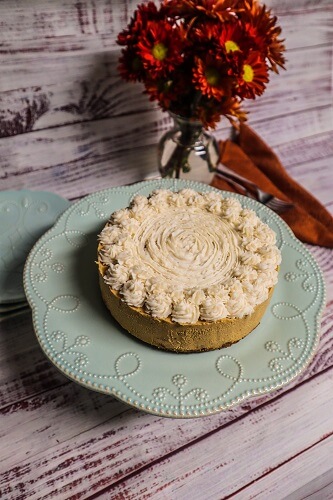 I have had pumpkin cheesecake before, but it was less pumpkiny and more just cheesecake flavored.  Which there is nothing wrong with, but I really wanted this one to taste like creamy pumpkin pie.  So, there would be plenty of pumpkin and spices in it!  For the crust, usually for my no bake cheesecakes, I use a no bake oat crust, but this time I decided to make a pie crust style one.  Just to kind of go with the pumpkin pie theme.  It was hard to stop sampling!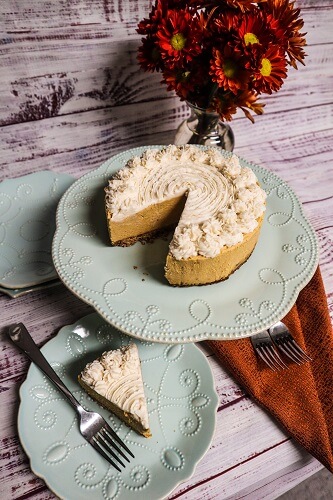 Once the cheesecake was all set up, I topped it off with a coconut cream.  I piped mine on, but you could just spread it on if you wanted and it would be just as good! This cheesecake was sooo good!  It tasted like pumpkin pie but in cheesecake form, and the amount of aromatic spices was perfect!  The crust was nice and buttery and crunchy which I loved with the cheesecake as well!  If you are looking for a delicious dessert to make for Thanksgiving consider this cheesecake!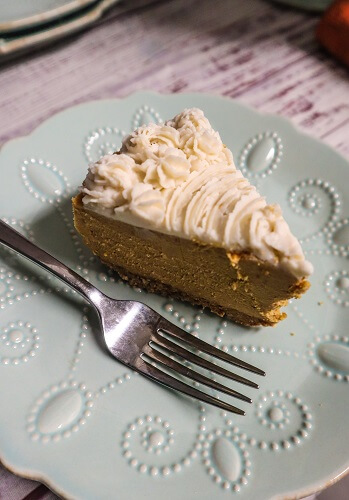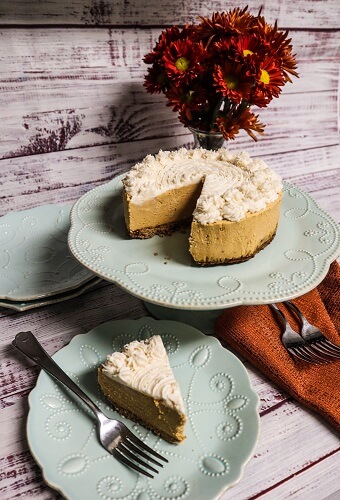 Vegan Pumpkin Pie Cheesecake
Makes 1 6 inch cheesecake
Ingredients:
Crust:
1/4 cup plus 2 Tbsp organic whole wheat pastry flour*
2 Tbsp tapioca flour (or cornstarch would work as well)
2 Tbsp maple sugar
pinch tsp sea salt
3 Tbsp vegan butter (such as Earth Balance)
Filling:
1 cup full fat coconut cream (I used the thick part of a can of Thai Kitchen organic full fat coconut milk*)
3/4 cup canned pumpkin
1/4 cup maple syrup
1 tsp pure vanilla extract
1/8 tsp sea salt (or to taste
3/4 cup melted coconut butter
Topping:
1 1/4 cups canned full fat coconut milk (you want to use a brand that is at least 3/4 of the can thick cream or it will not work for this recipe, I like Thai Kitchen brand)
2 Tbsp maple syrup
1/8 tsp sea salt
1/4 cup plus 2 Tbsp melted coconut butter (not coconut oil), warmed to liquid
Instructions:
Preheat oven to 375F degrees.
To make the crust, in a large bowl, mix together flour, tapioca flour,  sugar, and sea salt. Mix in butter and stir (or use your hands and knead) until a smooth dough is created. Press into the bottom of a 6 inch round spring form pan.
Place in the oven and bake for 25-30 minutes or until just starting to brown and set.  Remove from the oven, and let cool completely.
Meanwhile, to make the filling, combine all ingredients in a high speed blender or food processor and blend until smooth.
Pour the filling over the prepared crust and smooth the top.
Place cheesecake in the freezer until it is set for about 4 hours (or overnight in the refrigerator if you are not in a hurry).
Remove from the freezer, and set in the refrigerator while you make the topping.
To make the topping, combine all ingredients in a high speed blender and blend until completely smooth.  Pour into a bowl and place in the freezer until the consistency of stiffly whipped cream (about 30-45 minutes depending on how warm it has gotten).
Pipe or spread the topping over the cake.
un-mold and enjoy!  Store any leftover cake in the refrigerator.
*I use Thai Kitchen full fat coconut milk.  If you are using a different brand, just make sure it is the thick type, 2/3 of the can at least should be very thick cream or it will not work in this recipe.
(Visited 992 times, 1 visits today)