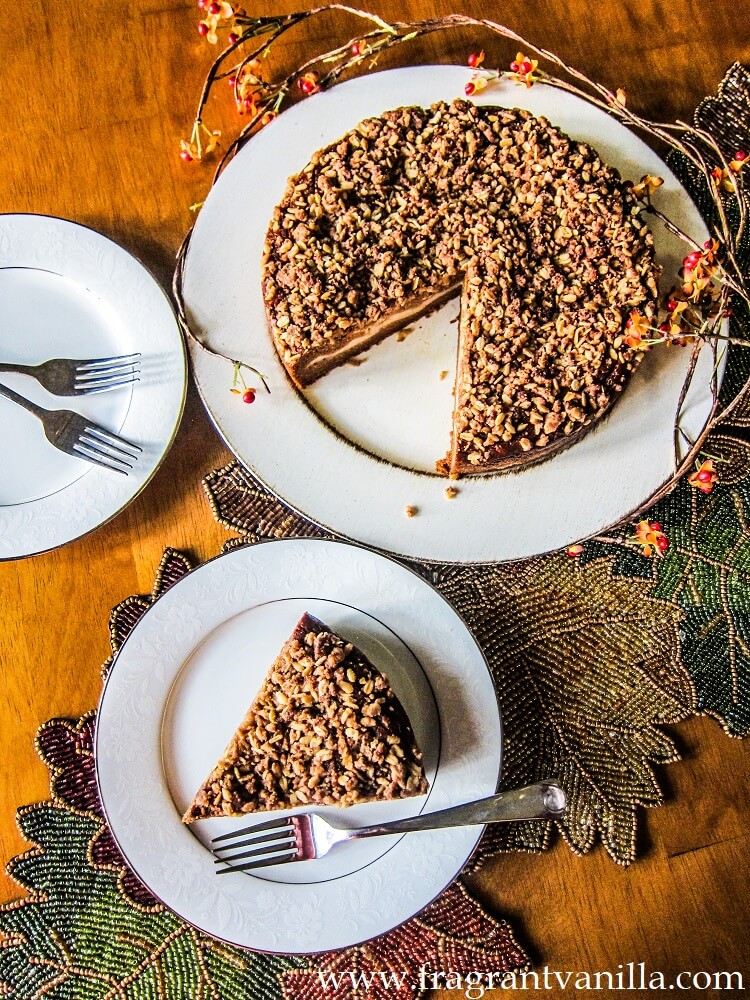 Vegan Pumpkin Patch Coffeecake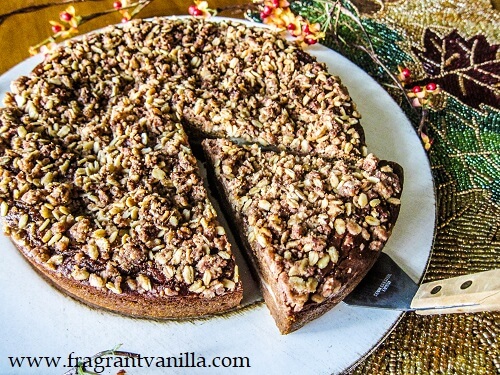 When I was little, my Mom found this delicious Fall coffeecake recipe in the local newspaper, and she made it her own by adding oats to the topping, extra spices and swapping out a portion of the oil with more pumpkin.  I always looked forward to it, it was so good!  Like something that you bake on a lazy Saturday morning and eat for brunch.  I totally would beg to eat it for my meal instead of other food.  I have no idea where that recipe went, but I remember how it tasted!  So I decided that I needed to create a veganized version of it so I could enjoy it again.  After all, I am getting all excited about anything pumpkin right now!  I don't buy pumpkin spice lattes, but pumpkin desserts I am all over.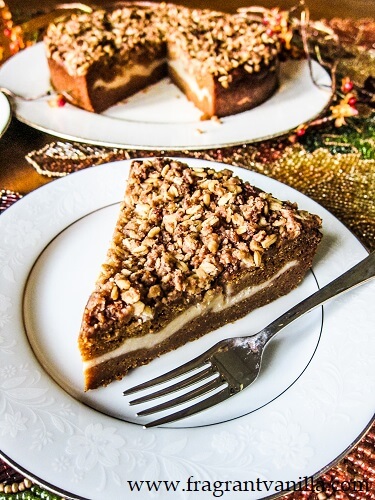 For the cake batter, I used a date sweetened base with plenty of pumpkin and aromatic spices that you would find in pumpkin pie.  Cinnamon, ginger, nutmeg and cloves were a must!  It tasted good even before I baked it.  Yes, I always taste my cake batter to make sure it is good before baking it, because once I left something out and tasting it had saved me.  Now, the original cake did not have a cream cheese layer in it, but I had to put one in, simply because it sounded so good.  I have always been a sucker for coffeecakes with cream cheese ever since I was little.  I made a simple cashew coconut cream cheese and it baked up beautifully.  Lastly, I topped it off with a crunchy oat streusel like my Mom's cake.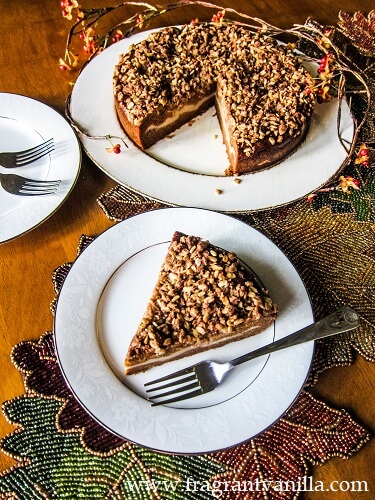 It smelled amazing while baking.  Like Fall, the aromatic spices putting me in a good mood.  Whenever I have not had the best day, baking something always makes me feel better.  One can not be unhappy while smelling delicious cake baking after all, especially knowing you can devour a nice big piece later.  It baked up just as I had imagined, and it tasted wonderful.  I had to share some with my Mom of course, since the cake she made inspired it and she loved it as well.  So, the next lazy Fall Saturday you have, you should definitely bake this cake, it is the perfect brunch sort of thing.  But of course I wouldn't limit it to that, it was a late night snack for me too.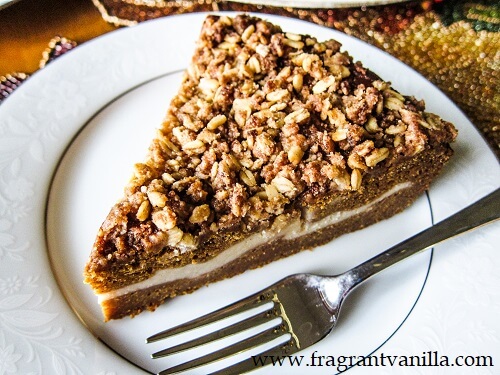 Vegan Pumpkin Patch Coffeecake
Makes 1 9 inch round cake
Streusel:
1/2 cup gluten free rolled oats
1/4 cup coconut sugar
1/4 cup all purpose gluten free flour
1/8 tsp sea salt
3 Tbsp pecan butter or almond butter
Cream Cheese:
3/4 cup raw cashew butter
1/3 cup coconut milk
2 Tbsp  maple syrup
pinch sea salt
1 tsp pure vanilla extract
Cake:
1 1/2 cups all purpose gluten free flour
1 1/2 tsp baking soda
1 tsp baking powder
1/2 tsp sea salt
1 Tbsp ground cinnamon
2 tsp ground ginger
1/2 tsp ground nutmeg
1/4 tsp ground cloves
1 cup packed soft medjool dates, pitted, soaked in water for 30 minutes and 1/2 cup of the water reserved
1/4 cup pecan butter or almond butter
1 Tbsp pure vanilla extract
1 cup canned pumpkin
2 Tbsp apple cider vinegar
Instructions:
For the streusel, combine all ingredients in a bowl, and mix and squeeze together with your hands until it forms little clumps.  Set aside.
For the cream cheese, combine all ingredients in a high speed blender until smooth (if it seems too thick, add a little more water.  You want to be able to pour and spread it over the bottom layer of cake).  Set aside.
Preheat the oven to 375F degrees and position rack in center of oven. Line a 9 inch round cake pan with 3-inch-high sides with parchment paper. Coat parchment paper and pan sides lightly with oil so that the cake doesn't stick to the pan.
Whisk flour, baking powder, baking soda, and sea salt, in a large bowl to blend well. Place dates, reserved water, oil, water, and vanilla extract into a blender, and blend until smooth, then whisk this blended mixture into the flour mixture until well blended. Whisk in the cider vinegar until bubbles form.
Pour the cake batter to the prepared pan then pour cream cheese mixture over that (kind of pouring slowly and not just in one spot so it evenly distributes).  Sprinkle the streusel over the top.
Place in the oven and bake cake until tester inserted into center comes out clean, about 1 hour. Cool cake completely in pan before un-molding and serving.
(Visited 1,238 times, 1 visits today)