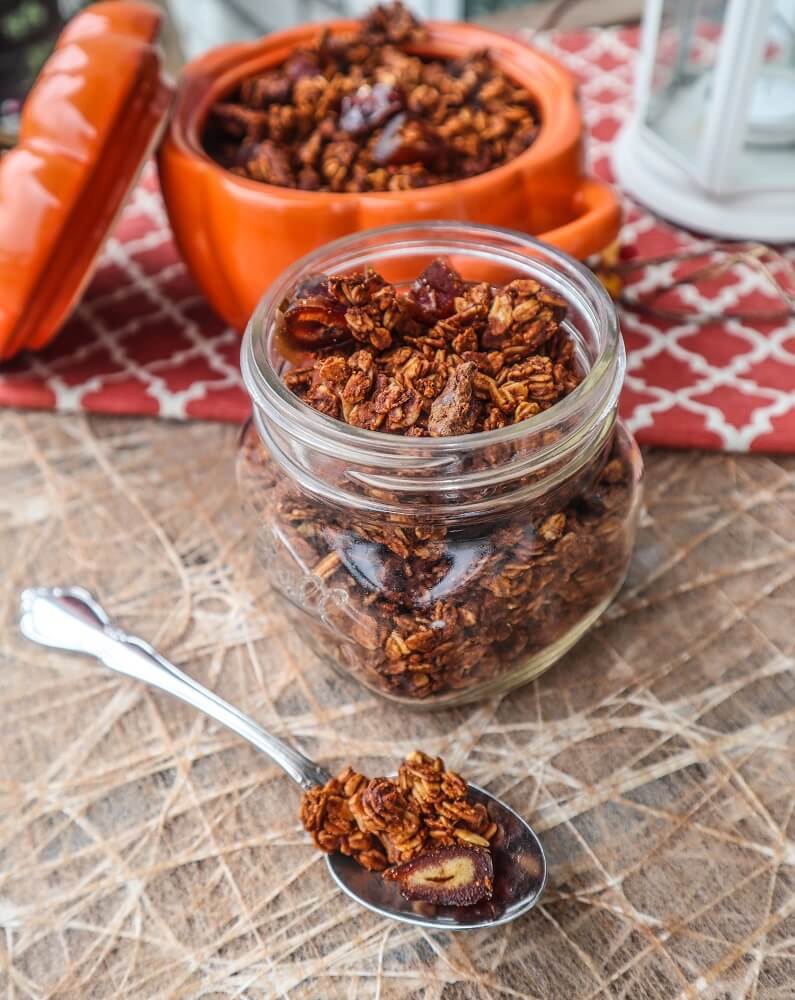 Vegan Pumpkin Maple Date Granola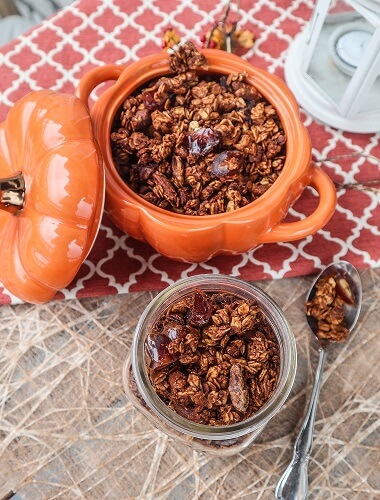 You can feel fall in the air even if it is not technically fall yet.  The overly hot days are gone, replaced with cool mornings and moderate temperatures. I love it though!  This is my favorite time of year and running outside on a cool morning is refreshing!  I have also gotten into baking fall goodies involving things like pumpkin and apples!  Like this Vegan Pumpkin Maple Date Granola I recently made since I had a can of pumpkin open from another recipe.  Eric and I love home made granola!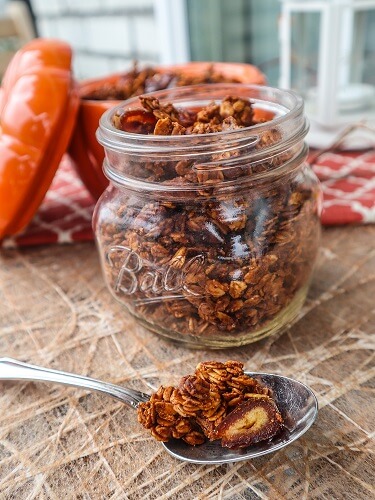 This granola is easy to make, just mix and bake and it happens to be oil free since I use nut butter in place of the oil.  I used almond butter this time because it was what I had on hand but I think pecan butter would be lovely as well.  I make my own nut butters in the vitamix so the type I have varies sometimes.  I made a sort of batter with canned pumpkin, the nut butter, pumpkin pie spices maple syrup, vanilla, maple extract and sea salt (salt is very important in granola since you get the salty sweet combo that way) and tossed it with the granola and it was perfect once baked up!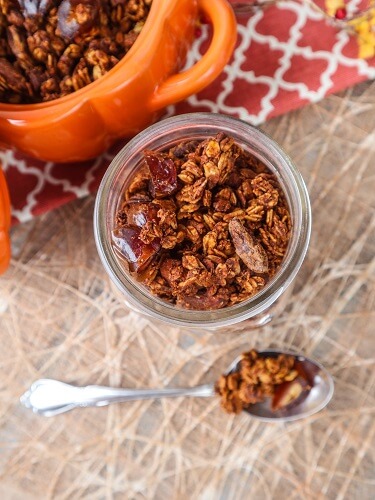 For the add ins on this I used pecans, almonds, coconut and dates.  The dates provide a chewy caramely element, and the coconut provides sweetness.  If you wanted to switch up the combo of nuts I think pumpkin seeds or walnuts would also be good!  I used thick rolled oats for this, but you could also use old fashioned.  I just use what I have on hand usually because who wants to make an extra trip to the store?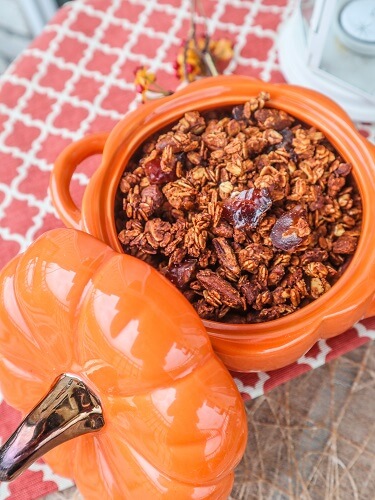 This smelled amazing while baking!  I could not wait to try it!  And once I did it was pretty darn addicting, I could not stop snacking on it while it was cooling!  It was satisfyingly crunchy, salty and sweet, scented with maple pumpkin spices and vanilla and the bits of chewy dates were awesome!  If you are craving a crunchy snack, definitely give this a try!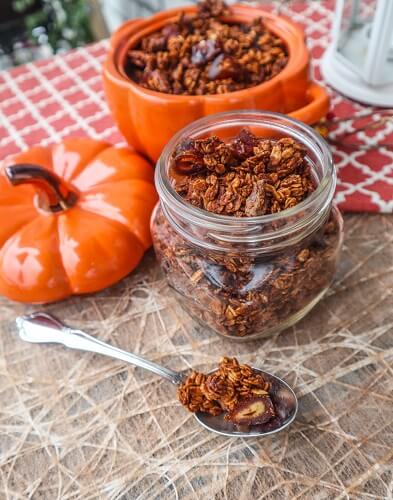 Vegan Pumpkin Maple Date Granola
Makes 6 cups
Ingredients:
3 cups organic gluten free old fashioned rolled oats
1 1/4 cups raw pecans
1 1/4 cups raw almonds
1 cups finely shredded, dried unsweetened coconut
1/2 cup organic canned pumpkin
1/4 cup maple syrup
1/2 cup almond butter
1 tsp cinnamon
1 tsp ginger
1/2 tsp cloves
1/4 tsp nutmeg
1/2 tsp sea salt
1 tsp pure vanilla extract
1 tsp maple extract
1 1/2 cups soft, pitted medjool dates, cut into pieces
Instructions:
Line a large baking sheet with non-stick foil, and spray with cooking spray.
Preheat the oven to 350F and set rack at the medium position.
In a large bowl, combine oats, nuts, and coconut, and set aside.
In another bowl, whisk together pumpkin, maple syrup, nut butter, spices, sea salt, vanilla and maple extracts until well combined, then pour over oat mixture and toss to coat until completely blended.
Pour out onto prepared baking sheet, and spread out evenly.
Bake for 35 minutes, stirring about every 10 minutes or so until the granola is evenly browned. Remove from oven and let cool.
Stir in dates and enjoy!
Keeps for 2 weeks in an airtight container at room temperature, or 6 months in the freezer.
(Visited 192 times, 1 visits today)