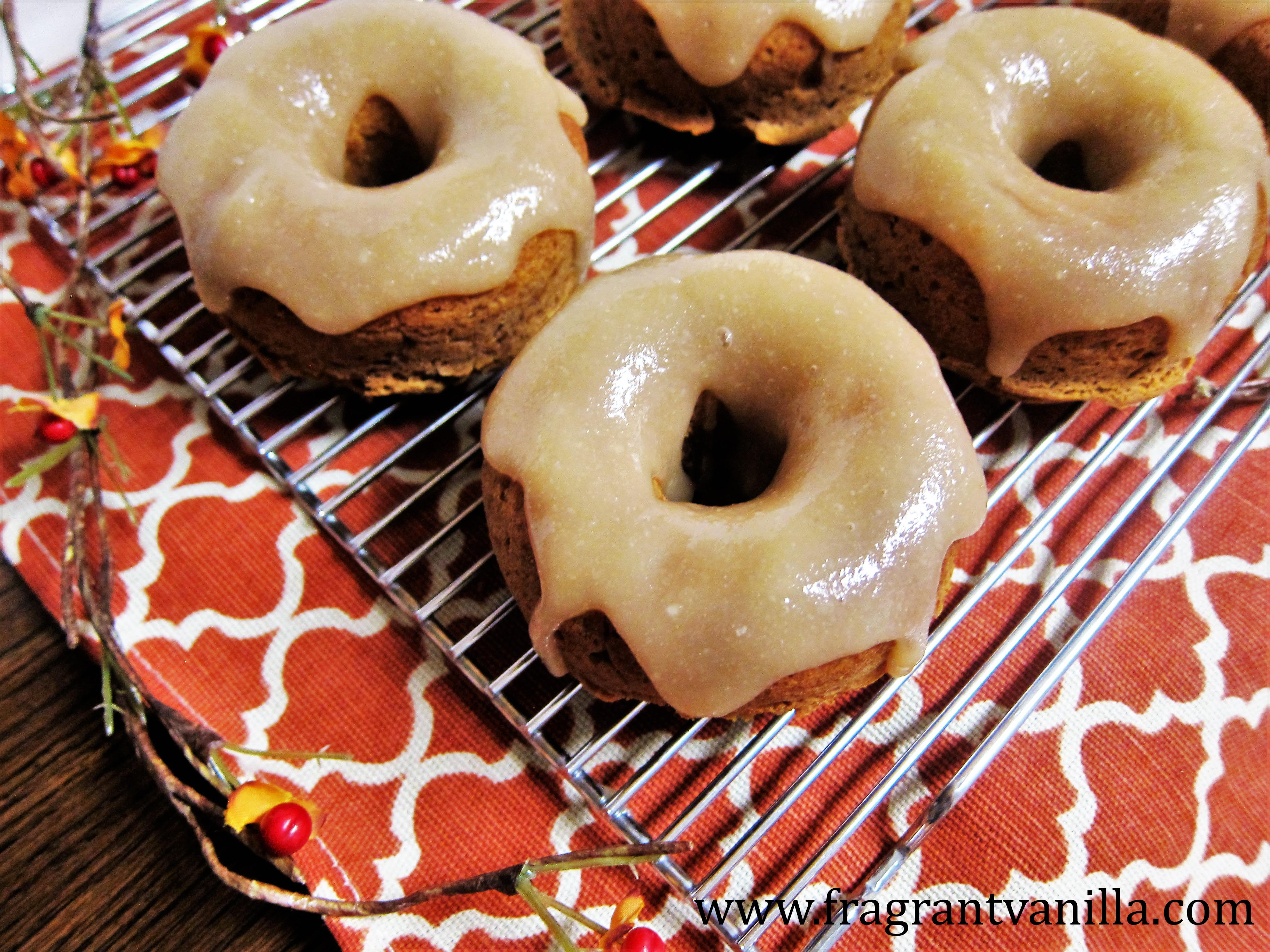 Vegan Pumpkin Doughnuts with Maple glaze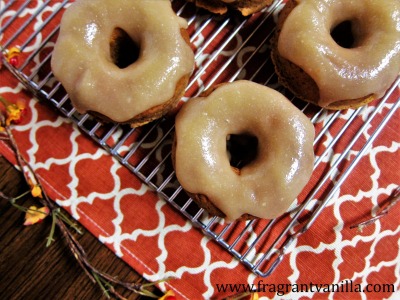 When I was little, my Mom and I used to go to a local bakery and get doughnuts every once in a while.  My favorite were these ones with maple glaze.  They were sooo good!  I haven't had one since I was probably 10 years old, but I still remember exactly how they tasted, and smelled.  Because the aroma was wonderful!  So, my coworker at the deli was glazing some pumpkin cookies with a sweet maple glaze that smelled just like those doughnuts, and I thought to myself, how good would pumpkin doughnuts with maple glaze be?!
So, I decided to make some when I got home.  For the doughnut part, I chose to use a batter similar to my pumpkin cake batter, because it is the perfect balance of sweet and spiced, and has the perfect soft texture.  It is also sweetened with dates, which gives it almost a caramel note in the flavor. These doughnuts smelled amazing while baking!  I love the aroma of spice and sweets in the air, and warming up my kitchen with the oven on a cool day!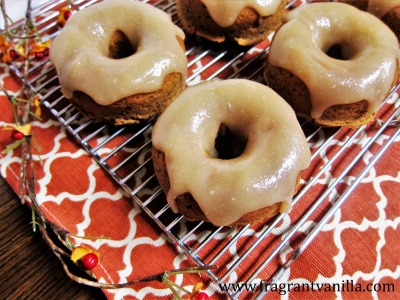 Once they had cooled, I make a maple glaze, like the one mentioned earlier.  However, mine would not contain the large amounts of powdered sugar that one did, I used coconut butter laced with maple syrup and thinned out a little and it was perfect!  These doughnuts smell and taste wonderful!  If you are looking for a healthier fall doughnut give these a go!  I can guarantee they will leave you feeling better than if you ate the sugary fried ones from the bakery.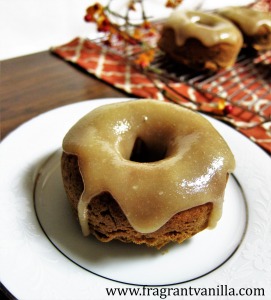 Vegan Pumpkin Doughnuts with Maple glaze
Makes 6 large doughnuts
Ingredients:
Doughnut Pan (mine is large size)
Cake:
3/4 cups quinoa flour (or all purpose gluten free flour)
3/4 tsp baking soda
1/2 tsp baking powder
1/4 tsp sea salt
1/2 Tbsp cinnamon
1/2 tsp ginger
1/4 tsp nutmeg
1/4 tsp cloves
1/2 cup packed soft medjool dates, pitted, soaked in water for 30 minutes and ½ cup of the soaking water reserved
2 Tbsp almond butter
1 ½ tsp pure vanilla extract
1/2 cup pumpkin puree
1 Tbsp apple cider vinegar
Glaze:
1/3 cup coconut butter, warmed to liquid
1 ½ Tbsp maple syrup
1 ½ Tbsp filtered water or as needed
Pinch sea salt
½ tsp maple extract (optional)
Directions:
1.      Preheat the oven to 375F degrees and position rack in center of oven. Oil a 6 hole doughnut pan.
2.      Whisk flour, baking powder, baking soda, spices and sea salt in a large bowl to blend well.  Set aside.
3.      Place dates, reserved water, almond butter, pumpkin puree, and vanilla extract into a blender, and blend until smooth, then whisk this blended mixture into the flour mixture until well blended. Whisk in the cider vinegar until bubbles form. Transfer batter to prepared pan and bake cakes until tester inserted into center comes out clean, about 15-20 minutes (depending on your oven). Cool completely in the pan, about 1 hour. Remove from pan.
4.      To make the glaze, whisk together all ingredients until smooth (adding more water if too thick, you want it to be pourable but not too thin).  Spoon over the doughnuts, allowing it to drip down the sides.  Let set until dry (which happens faster if you put them in the refrigerator for 15 minutes).  Enjoy!
(Visited 190 times, 1 visits today)