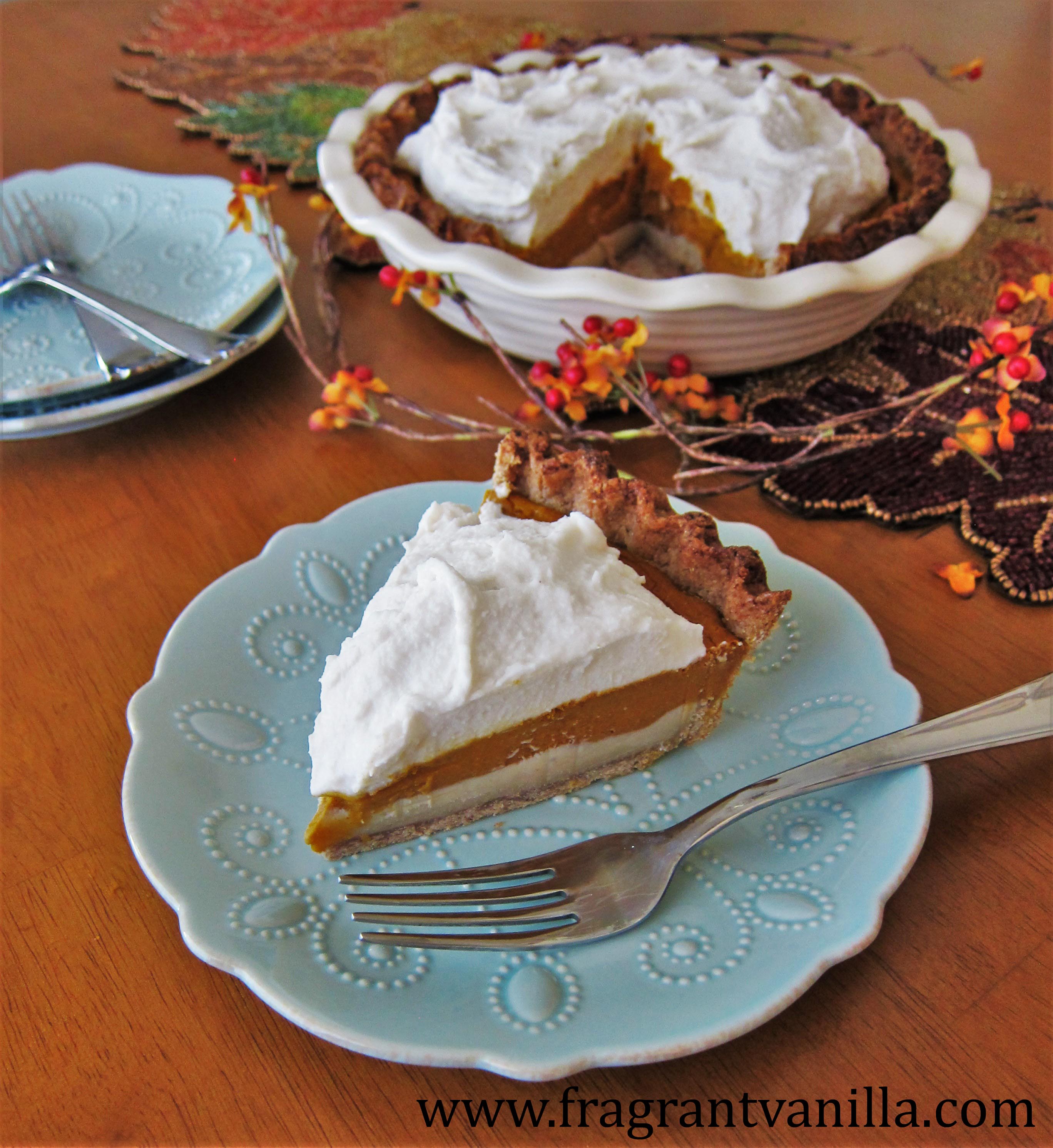 Vegan Pumpkin Cream Cheese Pie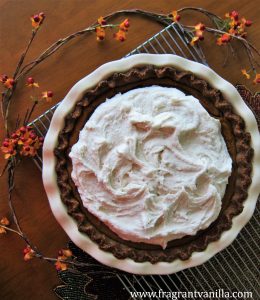 I can not believe how beautiful it has been here lately!  It was 60F degrees yesterday, and normally it is 40.  I will take it, the snow will fly here soon enough! It is Minnesota after all. So, I took full advantage yesterday, a nice 10 mile run to enjoy the beautiful morning and rising sun, and a nice hike at a local state park in the afternoon with Eric.  It is kind of nice to get off of the paved trails sometimes and walk through the woods with all of the fallen crunchy leaves.  All of that activity made my hungry, so luckily the day before I had made a delicious pie to indulge in later that night.  It was a new pie recipe, indulgent, and to be honest, it would be just perfect for Thanksgiving.  It was a special pumpkin pie with a layer of cream cheese, then a layer of regular pumpkin pie, and topped off with fluffy billowy whipped cream.  OMG was it GOOD!!!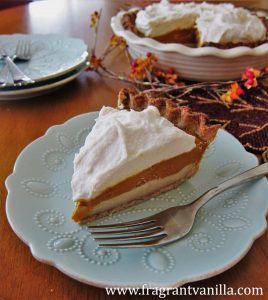 I had seen a photo of a pie like this on Pinterest, and it looked amazing and perfect, but it was not vegan or healthy by any stretch.  It was filled with things like cool whip (i.e. chemicals and fake stuff), dairy, loads of sugar and butter.  So, I decided that I needed to make this beautiful pie vegan and healthier so I could enjoy it!  It was not hard to make, I just used my classic pie crust recipe, usual pumpkin pie filling, and a coconut milk and cashew mixture for the cream cheese, and topped it off with the whipped cream I always make (one that doesn't melt so much at room temperature).  Yes, it is a few steps, but I made the bottom part  the night before, and the topping the next day to make it easier (and this is what I would do if I were serving it for the Holidays too).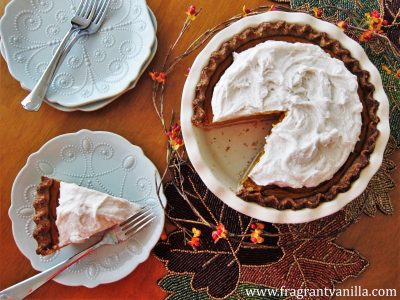 OMG was it ever heavenly!  It was even better than I had dreamed, and I am sure way better than that pie in the picture was.  I love veganizing stuff!  If you are looking for the perfect Thanksgiving pie, give this a try.  You and your guests will be happy you did!  to be honest, when I was little pumpkin pie was never my favorite at Thanksgiving, but this pie would have won me over and changed my mind.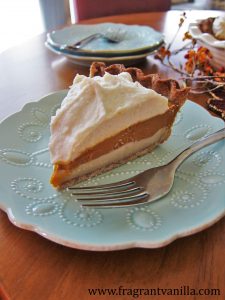 Vegan Pumpkin Cream Cheese Pie
Makes one 9 inch pie
Crust:
2 Tbsp coconut sugar or maple sugar
1/4 tsp sea salt
1/4 cup plus 2 Tbsp coconut oil in its solid state
about 3-6 Tbsp cold water
Cheesecake:
3/4 cup thick organic coconut milk (from the top of a chilled can)
3/4 cup cashew butter
2 Tbsp maple syrup
1/8 tsp sea salt
1 tsp pure vanilla extract
1/2 tsp cider vinegar
2 Tbsp arrowroot starch or cornstarch
Filling:
2 cups organic cooked pumpkin (canned is ok too), packed
1/3 cup pure maple syrup
3/4 cup full fat organic coconut milk
2 tsp coconut oil
1 1/4 teaspoon ground cinnamon
1 teaspoon ground ginger
1 /4 teaspoon ground nutmeg
1/4 tsp ground cloves
1/4 teaspoon salt
1 1/2 tablespoons cornstarch
3/4 teaspoon agar powder
Coconut Whipped Cream:
1 15 oz can full fat organic coconut milk, chilled*
3 Tbsp maple syrup
pinch sea salt
1 tsp pure vanilla extract
1/2 cup plus 2 Tbsp coconut butter, warmed to liquid
To make the crust, in a large bowl, mix together flour, sugar, sea salt, and spices. Cut in coconut oil with a pastry blender or 2 knives until it is in pea sized pieces. Mix in  just enough water to create a smooth dough that holds together but isn't too sticky. Add more water if needed, and knead slightly until a smooth dough is created. Roll out into a 10 inch circle on a sheet of parchment paper, then use the paper to help you transfer it to an 8 inch pie dish.  Flute the edges, and set aside in the refrigerator.
Pre-heat the oven to 375F degrees.
To make the cream cheese, whisk together all ingredients until smooth and set aside.
To make the pumpkin filling, place all ingredients in the blender and blend until smooth.
To assemble the pie, pour the cheesecake layer over the crust, then pour the filling over that.
Place in the pre-heated oven and bake for about  50 min. until the edges of the crust are lightly brown, and pie is set.  Allow to cool completely.
For the whipped cream, combine all ingredients in the blender and blend until smooth, then pour into a bowl. Place in the freezer, and allow to chill for about 30-45 minutes until the consistency of whipped cream.
Spoon the whipped cream on top of the cake and spread almost to the sides.  Serve!  Store any leftovers in the refrigerator.
*If your coconut milk is especially runny (since some brands vary in texture), you may want to add a few Tbsp more coconut butter.
(Visited 1,143 times, 1 visits today)