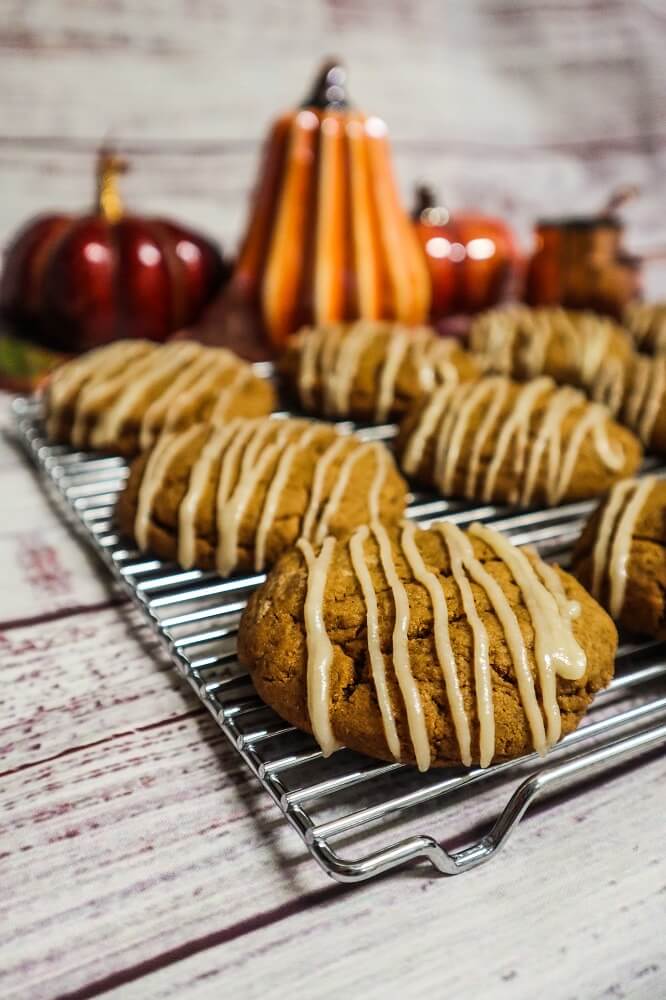 Vegan Pumpkin Cookies with Maple Glaze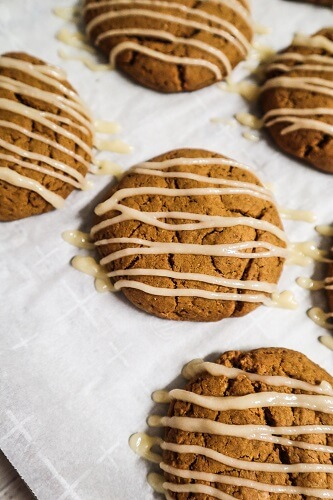 In the deli I work in, we usually make pumpkin cookies.  They are soft, with a maple glaze and just the right amount of pumpkin spices.  I tried one years ago before I was vegan, and they were delicious!  They are a seasonal item that is made every year, and everyone loves them!  I have never really made a veganized version at home, but I decided it would be fun to this year when I had some leftover canned pumpkin from another recipe. Also I wanted to test a vegan version out in case I would like to make some at work, since I have made vegan baked goods there for about a year now, but that involves making new recipes since we didn't have any before.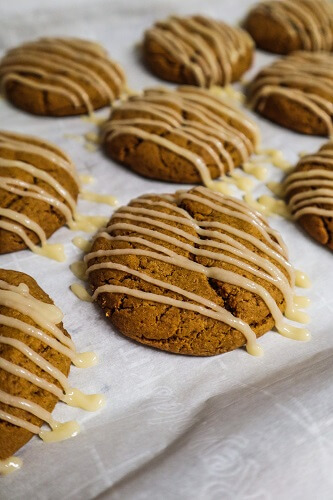 I based this recipe off of a chocolate chip cookie recipe that I use for work with a few tweaks like adding in the pumpkin and spices!  This dough is really easy to make, and not fussy.  It uses melted coconut oil as the fat in the dough, which gives them a nice texture once baked!  They do need to chill a little bit if the dough is really warm and sticky, but other than that they are just roll, press down and bake!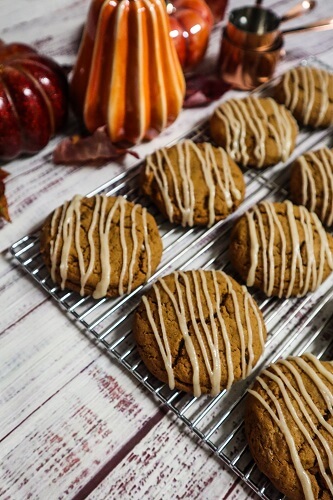 I could not stop sampling the dough, it was sooo good!  I am a sucker for cookie dough, and honestly it is my favorite part of the cookie baking process.  You have to make sure it is good after all, or you didn't miss an ingredient. One time I forgot the sugar in my cookie dough, and it was a really good thing I tasted it so I didn't mess up the whole batch. Anyways, this time I was testing for the spices to see if they had the proper amount and they were perfect!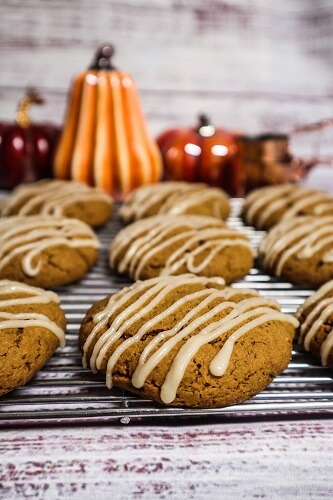 The cookies smelled so good while baking!  Once they had been removed from the oven and cooled down a bit, I gave them a sweet maple glaze like the ones at work. I did not use powdered sugar though, I used a mixture of coconut butter and maple syrup which is my go to glaze.  The cookies were super delicious!  Soft and sweet with aromatic pumpkin spices, and that maple scented glaze was the perfect touch!  These ones are just as good as the ones at work, and honestly less fussy to make (I have watched my coworker make the other ones).  If you are a pumpkin cookie fan, give these a try!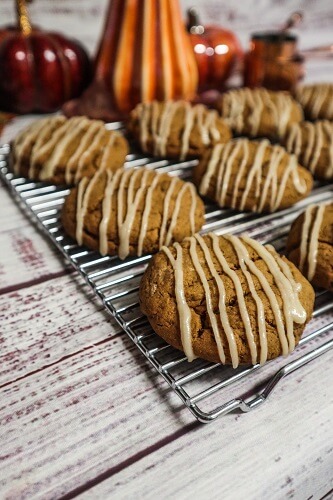 Vegan Pumpkin Cookies with Maple Glaze 
Makes 12 large cookies
Ingredients:
3/4 cup coconut oil, warmed to liquid
1 1/2 cups maple sugar coconut sugar
1/2 cup pumpkin puree or canned pumpkin
2 tsp pure vanilla extract
1 tsp maple extract (optional)
2 1/2 cups organic whole wheat pastry flour
1 1/2 tsp ground ginger
1 1/2 tsp ground cinnamon
1/2 tsp cloves
1/4 tsp nutmeg
1/2 tsp sea salt
1 tsp baking soda
1/2 tsp baking powder
Glaze:
2 Tbsp coconut butter, warmed to liquid
1 Tbsp maple syrup
pinch sea salt
3 Tbsp filtered water (or as needed)
Instructions:
Preheat the oven to 350F degrees, and line 2 sheet pans with parchment.
In a large bowl, mix together the coconut oil, coconut sugar, pumpkin puree and vanilla until well combined.
Mix in the flour, spices, sea salt, baking soda and powder, until smooth.
Put the dough in the refrigerator until it is a little more firm, about 30 minutes.
Roll the dough into 12 balls (about 2 inches round), and place on the baking sheets, spread a few inches apart and flatten slightly.
Place in the oven and bake until starting to brown at the edges, about 12 minutes.
Remove from the oven and let cool on a rack.
To make the glaze, whisk together all ingredients until smooth adding more water if necessary to create a pourable glaze.  Drizzle over the cookies, and allow to set (you may pop them in the freezer for about 5 minutes to make it set faster).
Cookies keep in an airtight container at room temperature for up to 1 week, or frozen for up to 4 months.
*If you wish to make these gluten free, you can swap the whole wheat flour 1:1 for Bob's Red Mill Gluten Free All Purpose Baking Flour.  I have tried this flour and know it works well.
(Visited 641 times, 1 visits today)