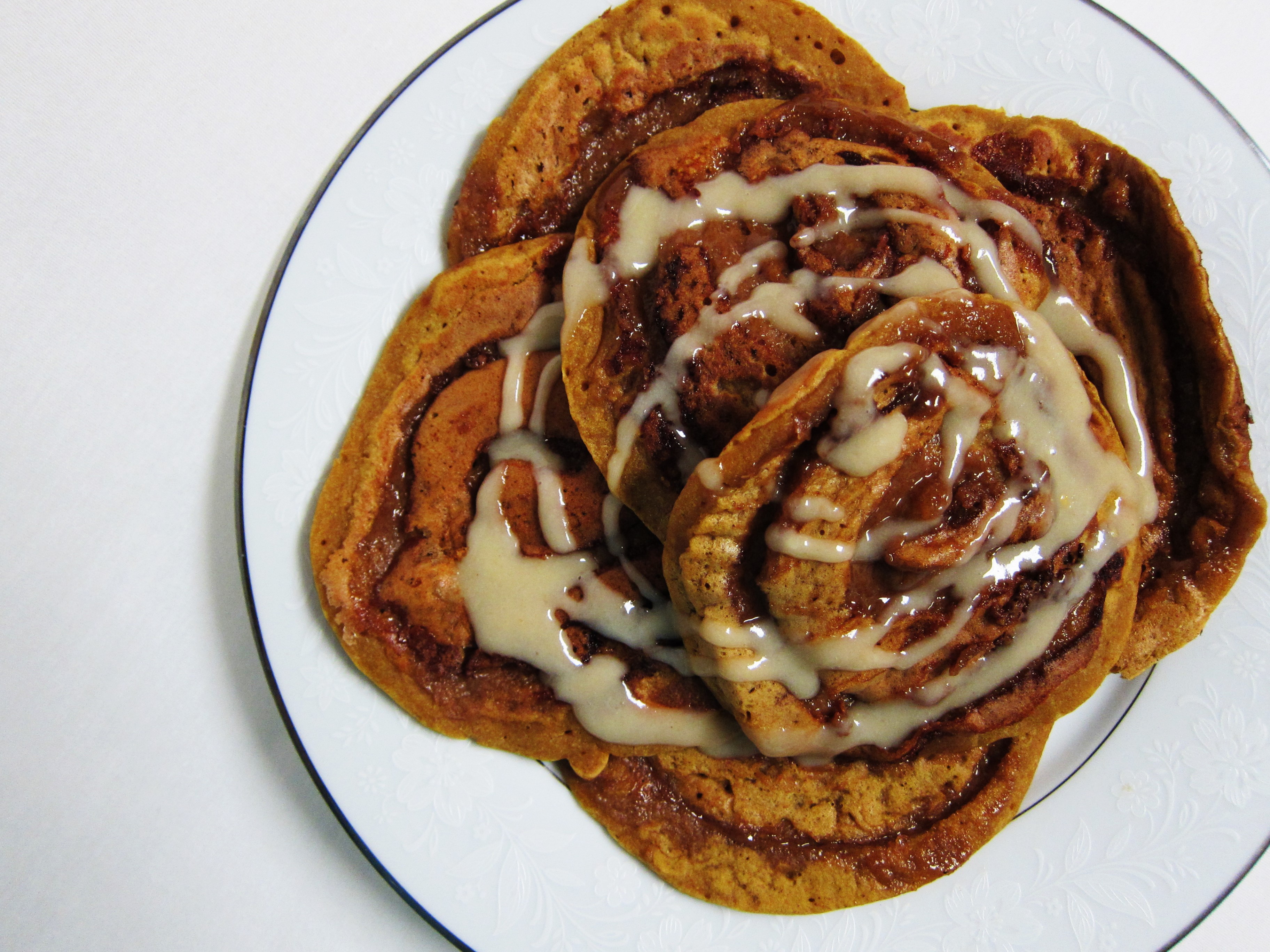 Vegan Pumpkin Cinnamon Roll Pancakes (gluten free)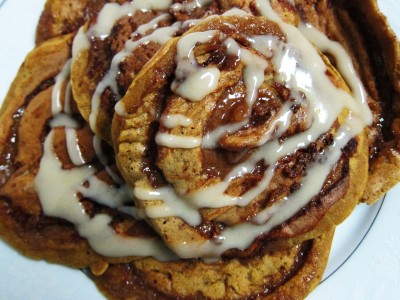 I asked Eric what I should make one night last week and he said cinnamon rolls.  But unfortunately it was a work night, and I didn't have a lot of time to let those babies rise, so I couldn't make them.  But they sounded really good to me too, so I thought I would find a way to make them...and I did.  Sort of.  You see, pancakes also sounded good to me so I told him I would make cinnamon roll pancakes.  He loved the idea so I went with it. They were sounding so good to me the more I thought about them.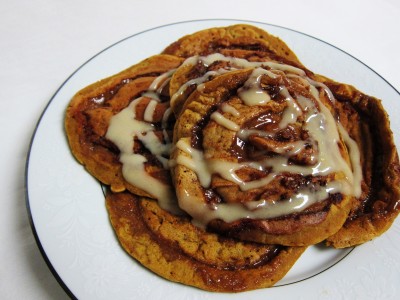 I had an open can of pumpkin, so I thought I would make them pumpkin as well, since it is fall and this time of the year pumpkin puree is my go to ingredient for keeping things moist and lowering fat in recipes.  I added pumpkin pie spices as well, because why not?  It was going to be pumpkin after all.  I also added flax and
Sprout Living vanilla lucuma protein powder
to the batter to give these a little extra protein boost. I made a little cinnamon swirl, and piped it over the pancakes in a spiral and they were transformed into a cinnamon roll pancake hybrid.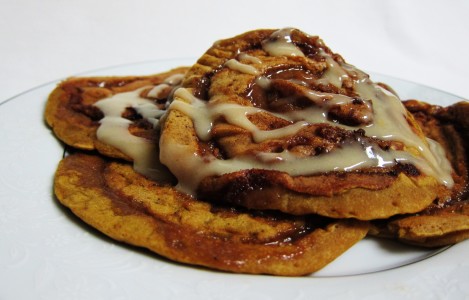 The swirl sort of melted as they cooked but it worked!  Sort of like real cinnamon rolls where the cinnamon seeps into the dough as they bake. They smelled amazing. I drizzled them with a coconut milk based "cream cheese" icing and it was perfect!  All of the flavors in the cinnamon rolls me and Eric wanted but in pancake form.  I will have my cinnamon rolls when I get the time eventually, but until then I have this deliciousness to enjoy!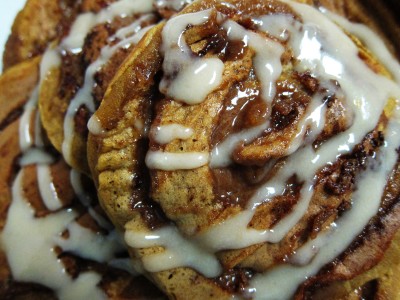 Vegan Pumpkin Cinnamon Roll Pancakes (gluten free)
Serves 2
Ingredients:
2 Tbsp ground flax seed
1 tsp aluminum-free baking powder
1 Tbsp cinnamon
1 tsp ginger
¼ tsp nutmeg
¼ tsp cloves
1/2 cup pumpkin puree
1 cup filtered water
2 tsp pure vanilla extract
1/4 tsp sea salt
2-3 Tbsp maple syrup (depending on how sweet you like them)
Swirl:
1/4 cup maple syrup
2 Tbsp coconut sugar
2 Tbsp pecan butter (or almond butter)
1 Tbsp cinnamon
Cream cheese drizzle:
1/4 cup thick coconut milk
2 Tbsp raw cashew butter
2 tsp maple syrup
pinch sea salt
1 tsp cider vinegar
In a food processor, combine all pancake ingredients and process until just blended, pour into a bowl and set aside (or whisk them together if you do not have a food processor).
To make the swirl, whisk together all ingredients in a bowl, then place in a pastry bag with a small tip (or a ziplock bag with the corner cut off).
To cook pancakes, preheat oven to 200 degrees. Heat a large non-stick pan over medium heat and add a little coconut oil to coat the bottom. Once hot, add the batter in 1/4 cup amounts (I did 3 at a time, but it depends on your pan), pipe the swirl over the pancake snail style from the outside to the inside in a spiral fashion. Let the pancakes cook for about 2-3 minutes on the first side until set and starting to brown, then flip with a spatula and cook another 2-3 minutes on the other side. When cooked, place on a plate swirl side up and keep warm in the oven while you repeat the process with the remaining pancakes.
To make the cream cheese drizzle, whisk together all ingredients until smooth (if it is too thick to drizzle, whisk in a little more milk or filtered water), then drizzle over the pancakes before serving.
(Visited 89 times, 1 visits today)