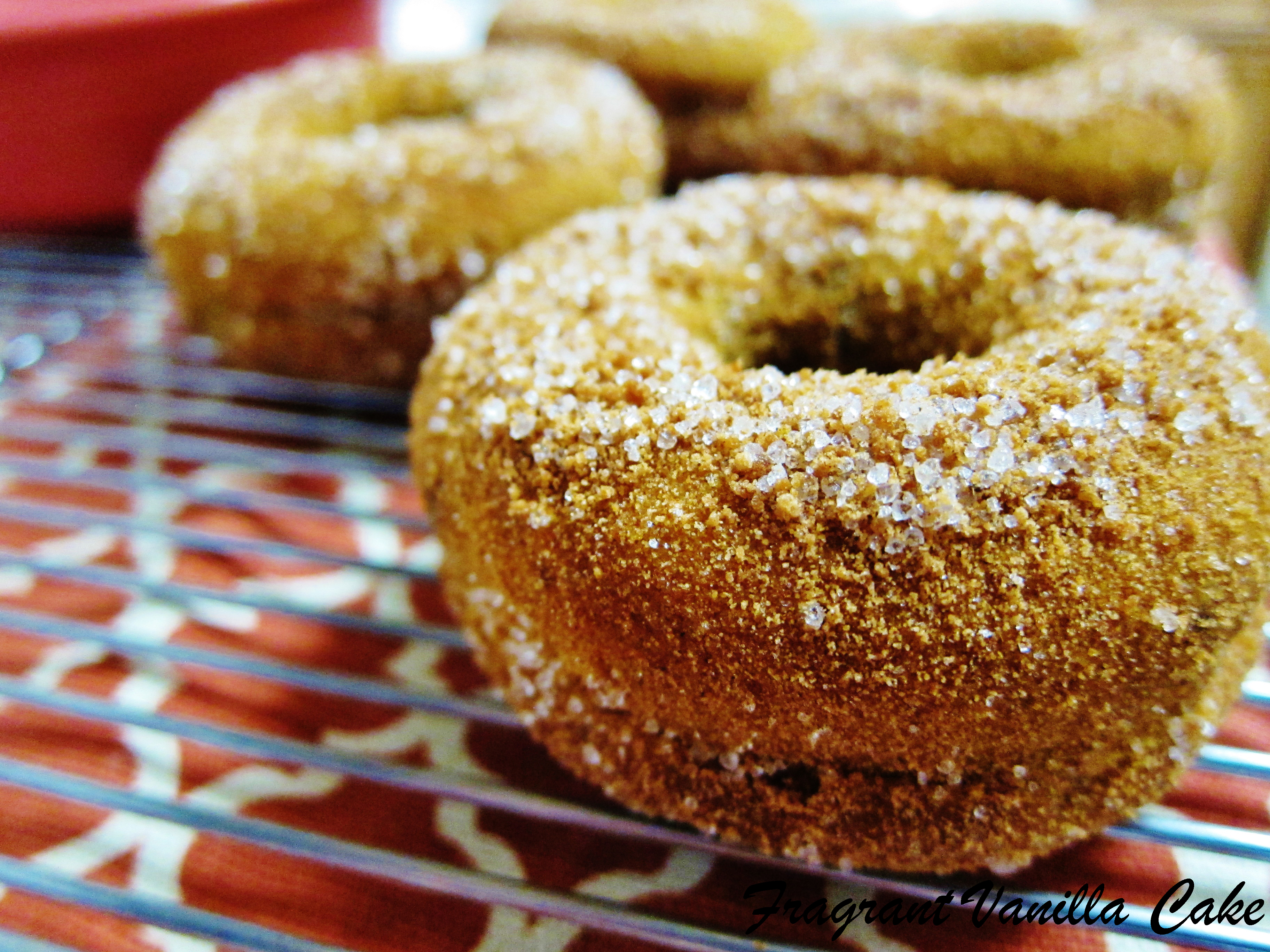 Vegan Pumpkin Chocolate Chunk Doughnuts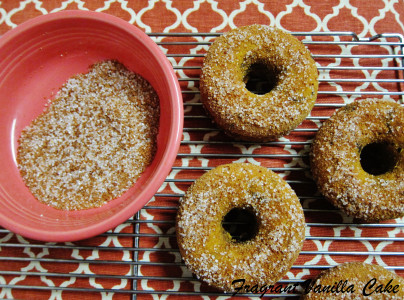 It is finally starting to feel like fall.  I have broken out the jackets and sweaters, and it is long sleeve running weather.  But I love it. It makes me feel cozy inside when it is a little chilly on the outside and I have to move a little faster or snuggle a little more to get warm.  If that makes sense.  There is no reason not to heat up the oven this time of the year, so on Monday I decided I wanted to make doughnuts.  I had a can of pumpkin open, and I am in pumpkin everything mode, so that was the type I decided to make.  But not just pumpkin...pumpkin chocolate chunk.  I recently bought these awesome vegan chocolate chips from Luv  (a company local to me that sells ice cream too) from the store I work at, thinking they would be great for baking and they ended up being pretty addictive. They are sugar free but not full of weird ingredients which is what I was looking for.  Anyways, if you live in the Twin Cities area of Minnesota you should check them out.  I used them in these doughnuts and they were delicious in them!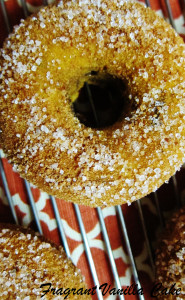 I used pumpkin spices in the doughnuts too, because isn't that sort of a requirement of pumpkin desserts?  Well it is to me...because I love those warming spices.  And the pumpkin pie flavor plus the chocolate chunks was delicious!  I didn't want to overpower these doughnuts with any kind of glaze, so I ended up dusting them with a mixture of cinnamon, coconut sugar and xylitol (the xylitol because it was pretty, but you may use just coconut sugar if you like).  Let me tell you, these babies warm with the chocolate still molten on the inside, and the doughnuts all aromatic was amazing. Make them immediately.  Trust me, you want to.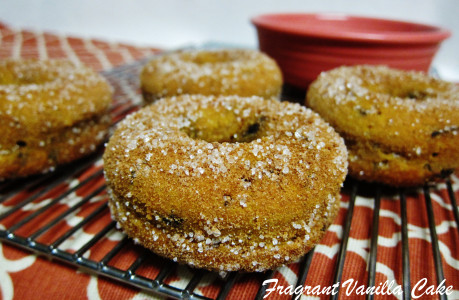 Vegan Pumpkin Chocolate Chunk Doughnuts
Makes 10 large doughnuts
Batter:
1 1/2 cups all purpose gluten free flour
2 tsp cinnamon
1 tsp ground ginger
1/4 tsp nutmeg
1/4 tsp cloves
1 cup coconut sugar
2 Tbsp ground flax seed
1/4 tsp sea salt
1 1/2 tsp baking powder
1/4 cup plus 2 Tbsp filtered water
1 cup pumpkin puree
1/4 cup plus 2 Tbsp olive oil
2 tsp pure vanilla extract
1 cup vegan chocolate chunks
Cinnamon sugar:
1/3 cup xylitol or coconut sugar (or mix the two as I did)*
2 tsp cinnamon
Pre heat the oven to 350F degrees, and oil a standard sized doughnut pan. In a bowl, whisk together the flour, spices, sugar, flax seed, sea salt, and baking powder. Whisk in all the wet ingredients until smooth, then stir in the chocolate chunks.
Spoon into the holes in the prepared pan, filling them 3/4 full. Place in the oven and bake for 15-20 minutes, or until the doughnuts are cooked through. Remove from the oven and allow to cool slightly Once cool, pop out of the pan (you want them to still be warm so the cinnamon sugar sticks to them).
Mix together the cinnamon and sugar in a bowl.  Press each doughnut into the cinnamon sugar in the bowl, and coat all sides evenly.
*Note: if using the xylitol, do not feed to dogs because it is poison to them like chocolate is.
(Visited 51 times, 1 visits today)