Vegan Pumpkin Cheesecake Swirl Brownies
This is a sponsored post, but all opinions are my own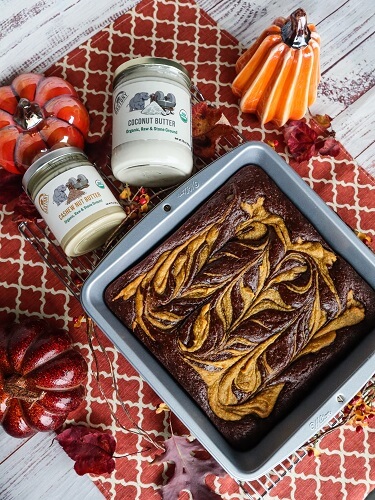 I have been craving pumpkin cheesecake lately since we are in the middle of pumpkin season, but I also thought brownies sounded good.  So I thought, why not combine them for a fall treat?!  I had some Dastony raw cashew butter and coconut butter that Raw Guru recently sent me, two key cheesecake components. So it was the perfect time to make them! It has been a little more chilly here, which comes as a shock even though it will be snow and cold here in a few months...but that makes it the perfect time of the year for baking experiments!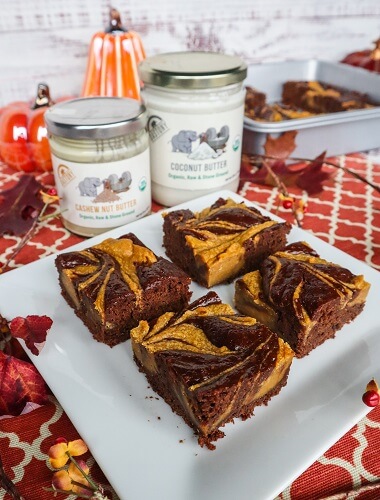 I am always on a quest for the perfect brownies.  They are all good of course, but they have to be fudgy in order for me to really be in love with them.  I am not a cakey brownie person, they should be just the right amount of fudgy as well.  Not super heavy, just the right amount.  My Mom used to make pretty good brownies when I was a kid, but they were boxed...so that disqualifies them.  These turned out perfect though!  I used flax eggs in place of the eggs, and avocado oil in place of the butter in regular brownies and the texture was just what I was looking for.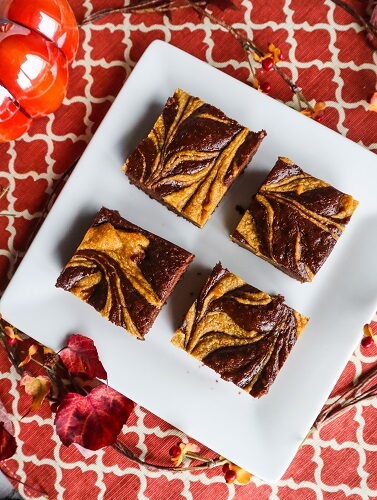 For the cheesecake part, I used the Dastony raw cashew butter and coconut butter from Raw Guru and they did the trick!  They tasted like non-vegan cheesecake brownies with the pumpkin pie spices and pumpkin added of course!  These are crave worthy.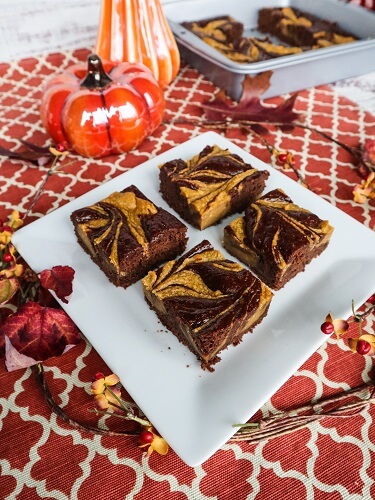 They were rich with chocolate flavor and fudgy yet creamy thanks to the cheesecake swirl, which tasted like a mixture of pumpkin pie and cheesecake!  Trust me, you need to make some on a chilly fall day just so you can experience the joy that they bring to your kitchen and your taste buds!  If you would like some Dastony raw cashew butter or Dastony coconut butter for yourself, check them out on the Raw Guru website!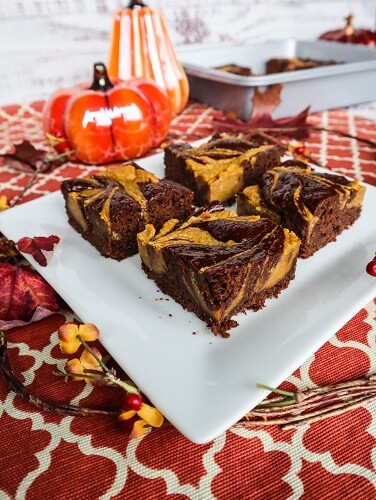 Vegan Pumpkin Cheesecake Swirl Brownies
Makes 16
Cheesecake swirl:
Brownies:
1/2 cup avocado oil or olive oil

3 Tbsp pumpkin puree

1 cup maple sugar

2 Tbsp ground flax seeds mixed with 6 Tbsp filtered water

2 teaspoon vanilla extract

1 cup organic whole wheat pastry flour

1/2 cup cacao powder or unsweetened cocoa powder

1/4 teaspoon sea salt

1/2 tsp baking powder
Instructions:
To make the swirl, combine all ingredients in a blender and blend until smooth.  Pour into a bowl and set aside.
To make the brownies, pre-heat the oven to 350F degrees. Whisk together the sugar, oil and pumpkin until well combined and the sugar is starting to break down.  Add the flax mixture vanilla and beat until smooth.
Add the flour, cacao powder and sea salt and beat until smooth.  Scrape the batter into a greased 8x8 inch pan, then drop the swirl over it, and swirl it with a knife.
Place in the oven, and Bake for about 30 minutes or until set (but do not over bake).  Let cool before cutting into bars.
(Visited 1,387 times, 1 visits today)