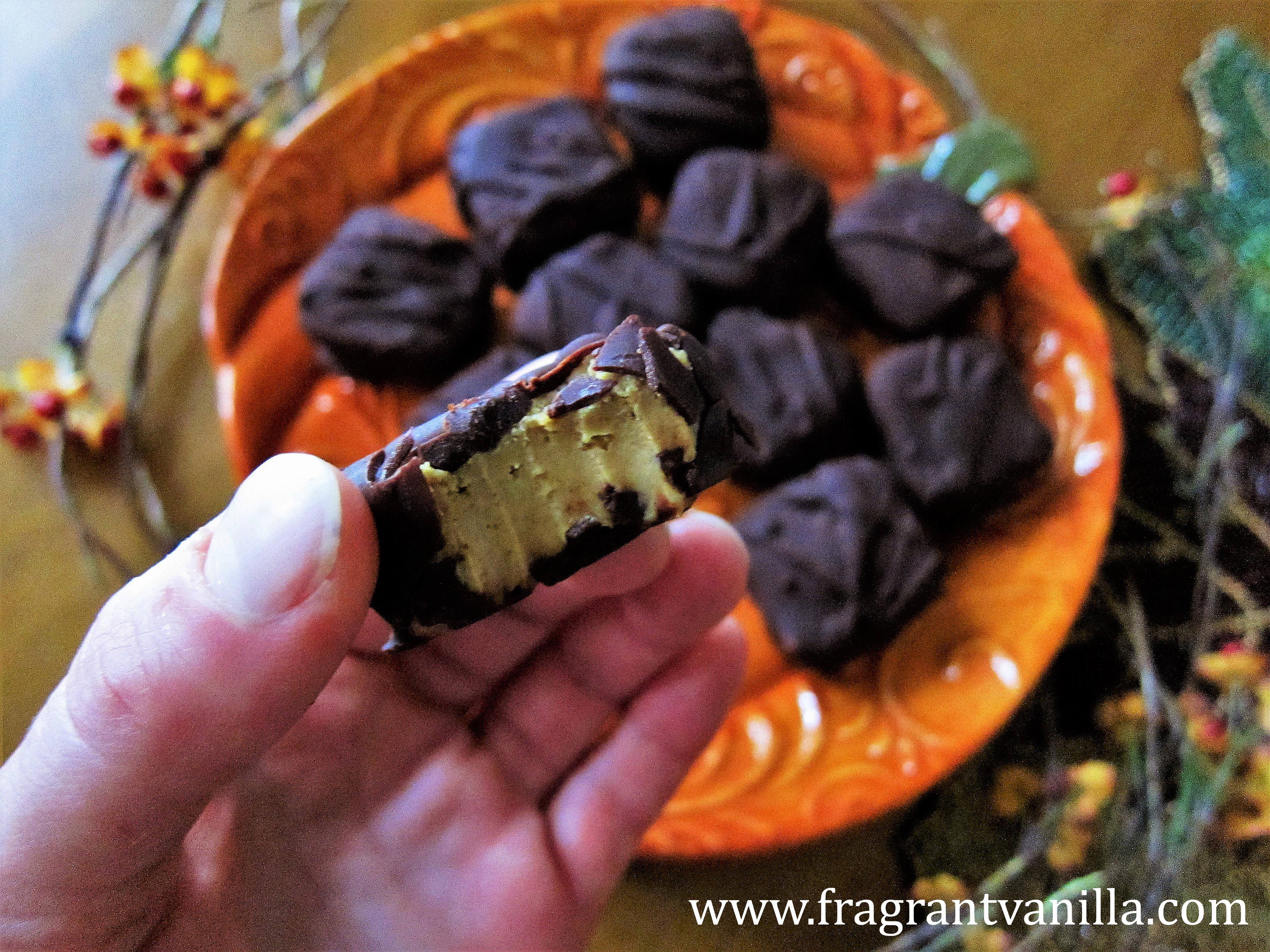 Vegan Pumpkin Caramels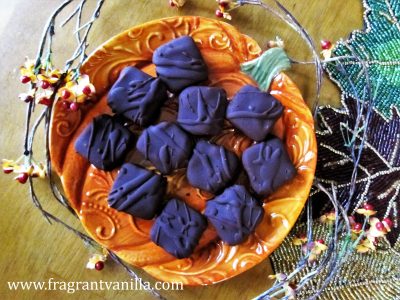 Is it weird that I have never actually had an actual pumpkin spice latte?  The thing that everyone is always obsessing about this time of the year, I have never had.  I make lots of pumpkin spice desserts though!  I am going for the pumpkin desserts full force.  I made pumpkin cheesecakes, and a pumpkin spice cake (the recipes for both will be shared soon), and pumpkin caramels just this week!  And, I am sharing the caramel recipe with you today.  I was just in the mood for caramel, and I had an open can of pumpkin, so I decided to make pumpkin caramels dipped in dark chocolate.  Making candy (or any dessert for that matter), is something I find enjoyable and relaxing!  So, it was the perfect Friday night project after work.  I am one of those people who would rather stay at home and make goodies in the kitchen in my PJs on a Friday than go out and party.  Partly because I work Saturdays, but I am also a huge introvert.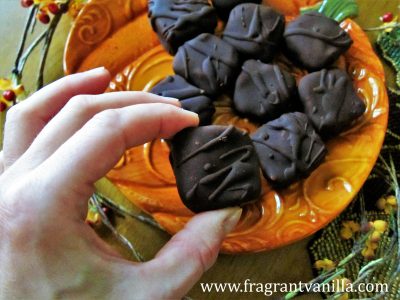 I made the caramels with dates, an ingredient I consider essential to any vegan caramel.  They are about as natural as you can get when it comes to sweeteners, and they just taste so darn good!  I added all of my usual pumpkin pie spices and some raw pecan butter to give it even more of a caramel flavor, and it tasted amazing!  This is one of those things where you take a spoonful and then have to go back for another, and another, and another until you have a big pile of tasting spoons!  I added some coconut oil to these to make them hold up and be a little more firm so they could be shaped or cut into squares, and the consistency turned out perfect! I dipped them in a home made dark chocolate, and couldn't wait to taste the finished product.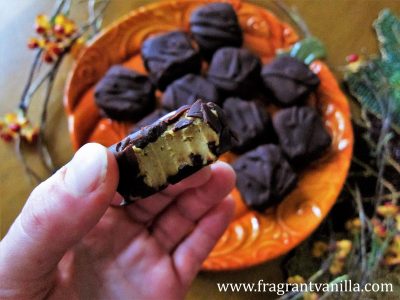 They were soft, sweet, caramelly, pumpkin, decadent, melt in your mouth amazing!  I have a feeling you will all love them, and they would be a nice Halloween candy for next month!  I am all about making your own Halloween candy, because so many of the commercial ones are not vegan, filled with preservatives and fake ingredients and lots of sugar.  If you make your own, you know that they are quality!  So what if they don't turn out perfect looking (mine don't always), what matters is how good they taste as you devour them!  I hope you are all having a wonderful start to Fall!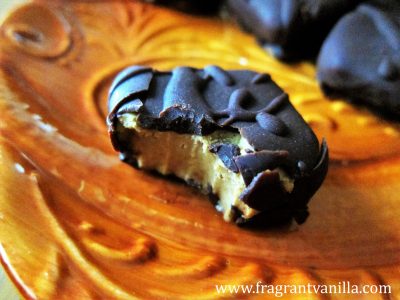 Vegan Pumpkin Caramels
Makes 12 caramels
Ingredients:
Filling:
1 cup soft medjool dates, pitted
1/4 cup raw pecan butter
1/4 cup filtered water
1/4 cup pumpkin puree
1/4 cup coconut oil, softened
1/4 tsp sea salt
1 tsp pure vanilla extract
2 tsp cinnamon
1 1/2 tsp ginger
1/4 tsp cloves
1/4 tsp nutmeg
Chocolate Coating:
1/2 cup raw cacao powder
3/4 cup raw cacao butter warmed to liquid (or coconut oil may be used instead)
3 Tbsp raw coconut nectar or maple syrup
pinch sea salt
Directions:
Combine all filling ingredients in a high speed blender and blend until smooth (if you do not have a high speed blender, you may have to pass the caramel through a fine meshed strainer to remove any date bits).
Spoon into square molds and place in the freezer until firm, about 3 hours (alternatively, spread out on a sheet of parchment to about 3/4 inch thick, and cut into squares once hardened).
To make the chocolate, whisk together all ingredients until smooth, in a small bowl.
Lay out a piece of parchment, and dip the caramels one by one into the chocolate and set them back on the tray.  Allow the chocolate to set (which will happen faster if you place them in the freezer for about 15 minutes).  Store extra caramels in the fridge.
(Visited 58 times, 1 visits today)