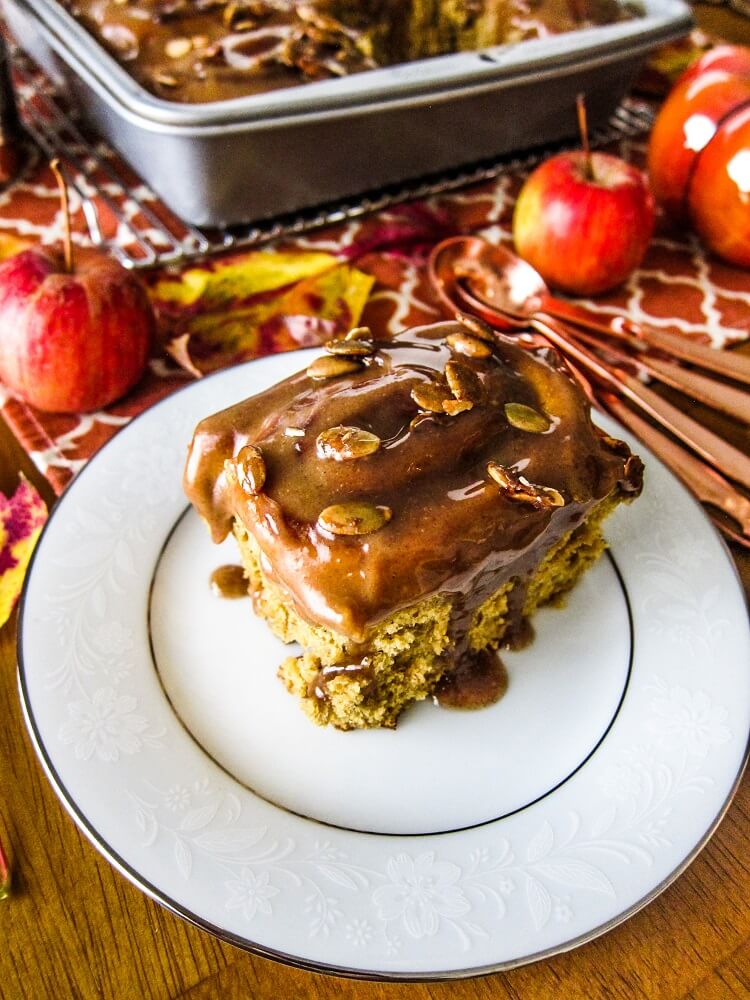 Vegan Pumpkin Caramel Rolls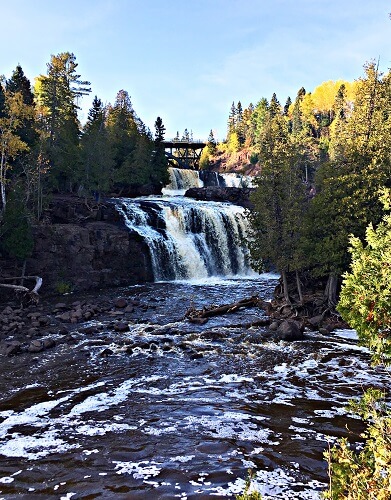 Last weekend we drove up to Duluth MN and Gooseberry Falls State Park for the day, since I took some vacation from work and those are some of my favorite places to visit.  It is about a 2 hour drive to Duluth and another hour up to the park, so as you can imagine we have to stop a few times.  Mainly  because I can't stand to sit too long but anyhow, we stopped at Tobie's which is a restaurant/gift shop/gas station that we have been stopping at ever since I was a kid when we would drive up north, and on the way to the restroom we walked past some really amazing looking caramel rolls.  Eric had to buy one, but sadly they don't have any vegan version so I did not try it.  I know they are good, because I used to get them back in the day before I went vegan and they were sticky sweet deliciousness.  I made a note to myself that I needed to make some later in the week since I was off work.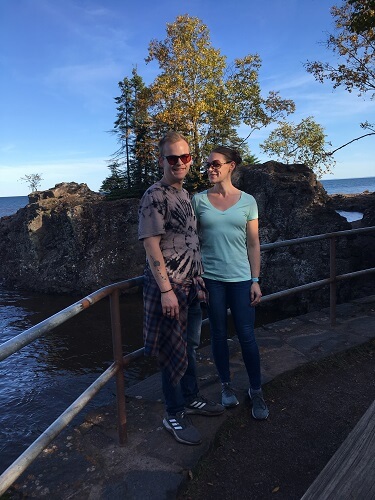 The rest of the day went well, The fall colors were amazing on the drive up, especially the firey red and orange maple trees, but I like when there is some yellow and green in there as well for the full rainbow affect. Gooseberry Falls was beautiful, even though the water was a bit higher than normal and it was muddy it was nice to breath in the fresh cool fall air in a place outside of the city. We got in a good hike and when it was time for dinner we stopped at At Sarah's Table Chester Creek Cafe since I love that place and they always have good vegan options, even desserts.  Even though I did a lot of driving that day, it really didn't seem like a lot since I enjoyed the trip so much!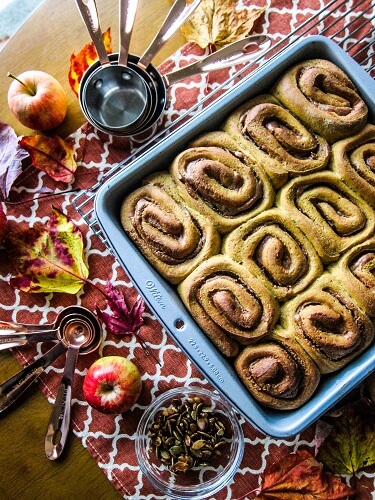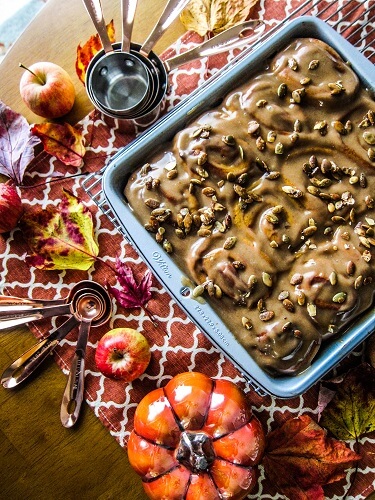 Back to those rolls I talked about making.  I had been wanting to make some vegan pumpkin cinnamon rolls anyhow, so I changed that to caramel rolls since the dough would be the same, it is just the topping and filling that were different.  So, I made my usual cinnamon roll dough, and added pumpkin and spices in to make it super delicious.  For the caramel that would fill the rolls and top them, I did not want a traditional sugary caramel, I wanted one that had some nutritional value so I made it from dates, my go to vegan caramel source.  They are nature's caramel after all, and when you blend them up with a few other key ingredients they make the most delicious healthier for you caramel.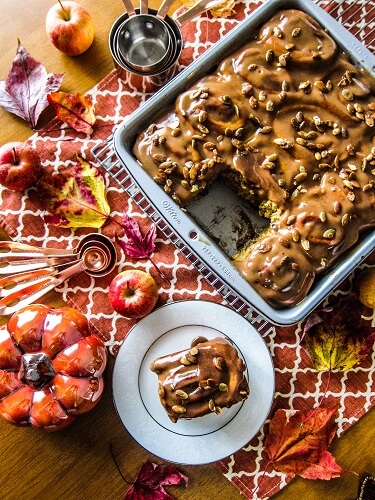 The rolls worked out nicely. I am always a bit nervous still when working with yeast, but they rose beautifully and baked up even better.  They gave off the most heavenly aroma while baking in the oven. I could not wait to try them!  But first, they had to be glazed with even more caramel, and I also topped them off with some toasted pumpkin seeds I had on hand.  They were so good!  Sweet, gooey and delicious with a soft, fluffy consistency and the flavors of pumpkin and spice!  These would make the perfect lazy weekend morning treat to enjoy with your coffee or tea!  I hope you are all having a great fall season so far!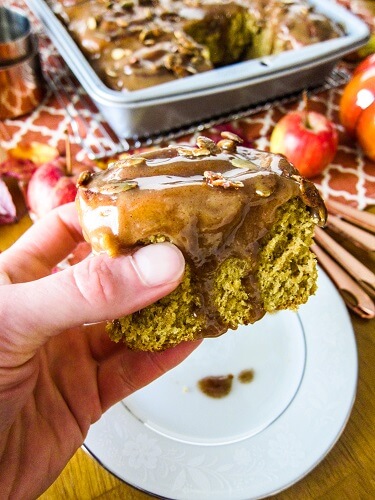 Vegan Pumpkin Caramel Rolls
Makes 12
Dough:
1/4 oz active dry yeast
1/2 cup warm water ( 105-110F degrees)
1/2 cup warm coconut milk (I warmed it up on the stove)
1/2 cup canned pumpkin
1/4 cup maple sugar or coconut sugar
1 tsp maple extract (optional)
1 tsp sea salt
1 Tbsp ground flax seed, mixed with 3 Tbsp filtered water
1 tsp ground cinnamon
1 tsp ground ginger
1/4 tsp ground nutmeg
1/4 tsp ground cloves
3 3/4 cups whole wheat pastry flour or as needed
Caramel Filling/Topping:
1 1/2 cups soft, pitted medjool dates (if not soft, soak them in filtered water 30  minutes and drain well before using)
3/4 cup pecan butter (raw cashew butter or almond butter would also work if you don't have pecan)
1/2 cup filtered water (or as needed)
1/4 cup maple syrup
1 tsp pure vanilla extract
1/4 tsp sea salt
Garnish:
 1/4 cup toasted pumpkin seeds for topping
Instructions:
To make the dough, combine the yeast and the warm water plus a pinch of maple sugar and stir to dissolve. Let sit 5-10 minutes until it starts to foam.
In a large bowl, combine the coconut milk, pumpkin, maple sugar, maple extract, salt and flax mixture and mix together to combine.
Add the yeast, spices and 2 cups of flour and mix to combine.
Add the remaining 1 3/4 cups of flour and mix until you have a smooth dough (you may need to use your hands at the end to mix it in).
Turn out onto a lightly floured surface, and knead for 5-10 minutes until smooth and supple. If it is too sticky add a little more flour but you want to add as little as possible because if you add too much the dough gets tough.
Place in an oiled bowl, and cover. Let rise for about 1 1/2 hours until doubled in size.
Meanwhile to make the caramel, add all ingredients to a blender or food processor and blend until completely smooth (if it is too thick, add a touch more water, you want it spreadable at this point, but will add more liquid later for topping the rolls with half the mixture).
When it is ready, turn out onto the counter or a board and roll out into a 9 x 15 inch rectangle.
Spread about half the caramel evenly over the dough.
Roll it up, then cut the roll into 12 pieces.
Oil an 8x8 inch square baking pan, and place them in the pan.
Cover and let rise for 45 minutes.
Meanwhile heat the oven to 350F degrees.
When the rolls have risen for 45 minutes, place them in the preheated oven and bake for about 30 minutes until starting to brown and cooked through.
Remove from the oven and let cool 15 minutes.
Whisk a little more maple syrup or water into the remaining caramel if it seems too thick to pour over the rolls.
Pour the caramel over the rolls, sprinkle with the pumpkin seeds and enjoy!
These keep covered at room temperature for up to 3 days, or refrigerated for up to 1 week.
(Visited 632 times, 1 visits today)