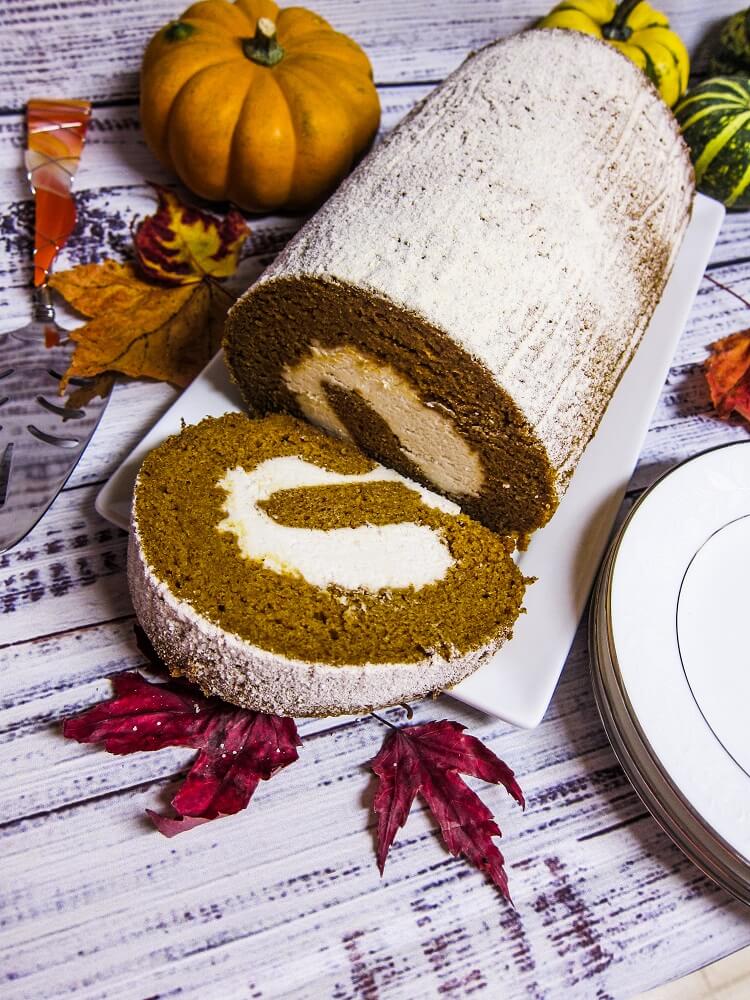 Vegan Pumpkin Cake Roll with Cream Cheese Filling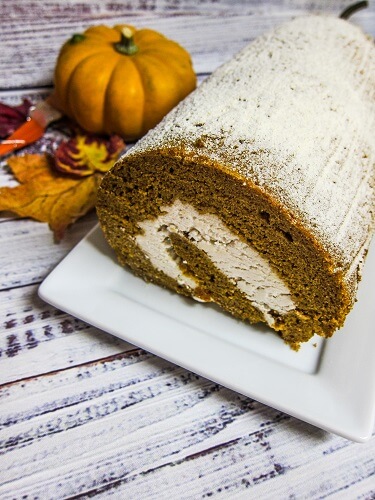 Cake rolls and jelly roll cakes were something that intimidated me for a long time growing up.  So for a long time I was scared to make one, until finally a couple of years ago I made a vegan chocolate chestnut yule log for Christmas and it wasn't that bad.  In fact, it turned out fabulous!  I have since made a few other cake rolls, but it has been a while so I decided to make one last weekend.  I have been wanting to make a pumpkin cake roll for a while since I saw a non vegan one on Pinterest, and I knew I could make it just as delicious!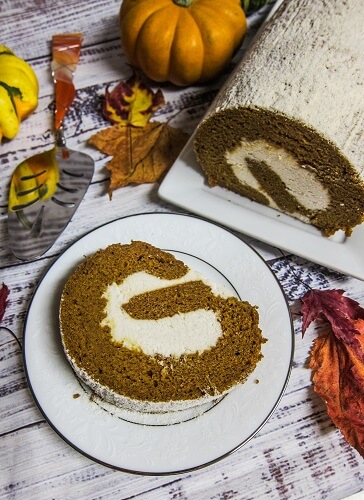 Don't let the idea of a rolled cake intimidate you (like it used to for me), I found that this cake was actually a lot easier and less fussy to make than a layer cake that needs to be frosted!  For the batter, I wanted something that would remain nice and soft when rolled, so along with the pumpkin I used dates to sweeten it, and  to keep it moist.  They give it an almost caramel like flavor and I love the idea of healthier fruit sweetened cakes.  This batter is easy to make, you just need a blender to make it nice and smooth. I added in plenty of pumpkin spices as well, and it tasted amazing even before I baked it.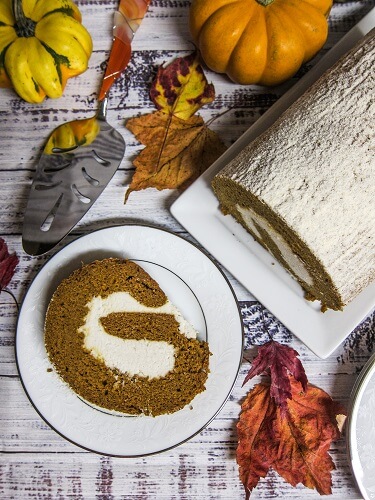 It smelled heavenly while baking!  Kinda like pumpkin pie, but sweeter.  I put it out in the garage to cool once it was done (since it is about 32F degrees right now out there) so I could frost it faster and it did the trick!  It was ready in about 45 minutes, normally it would have been a few hours.  Meanwhile I had to make a filling that was fit for such a delicious flavorful cake!  I wanted to make a vegan cream cheese frosting type filling and I had recently received some Dastony Raw Cashew Butter from Raw Guru so I figured that would make the perfect addition to my frosting to give it the cream cheese flavor.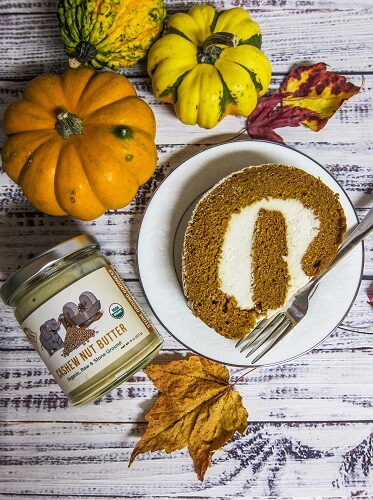 I added it to full fat coconut milk with a bit of maple syrup, and it tasted just like cream cheese frosting!  The cake rolled up nicely and I could not wait to try it!  But first, I dusted it with a little bit of coconut "powdered sugar" to make it pretty.  Yes you could use regular powdered sugar but I don't have that on hand.  The cake was super delicious as well!  It was soft and light lightly spiced with the flavor of pumpkin and caramel and the rich cream cheese frosting was the perfect thing to pair it with!  If you are in need of a pretty dessert for Thanksgiving definitely give this a try, it is good for making ahead of time, and in fact better if you let it sit covered overnight before serving.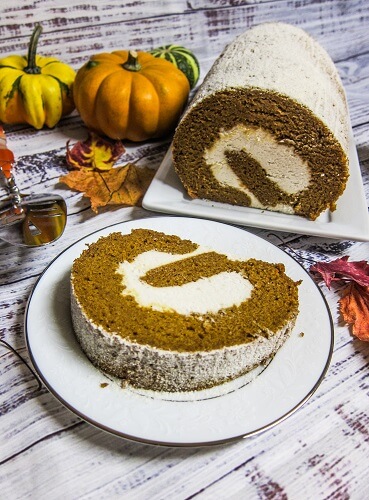 Vegan Pumpkin Cake Roll with Cream Cheese Filling
Makes one 15 inch long rolled cake, serves 8-10
Ingredients:
15x10 inch jelly roll pan
Cake:
1 1/2 cups organic whole wheat pastry flour*
1 1/2 tsp baking soda
1 tsp baking powder
1/2 tsp sea salt
1 Tbsp cinnamon
1 tsp ginger
1/2 tsp nutmeg
1/2 tsp cloves
1 1/4 cups packed soft medjool dates, pitted, soaked in water for 30 minutes and 1 cup of the soaking water reserved
1/4 cup almond butter
1 Tbsp pure vanilla extract
1 cup pumpkin puree
2 Tbsp apple cider vinegar
Frosting:
1 15 oz can full fat organic coconut milk  (you want a brand that is mostly the thick cream like Thai Kitchen full fat coconut milk or coconut cream or it will not work), chilled
1/2 cup Dastony raw cashew butter
1/4 cup maple syrup
1 tsp pure vanilla extract
1/4 tsp sea salt
1/4 tsp cider vinegar
3/4 cup melted coconut butter (warmed to liquid)
To finish:
1/2 cup finely shredded dried coconut
1 Tbsp maple sugar or coconut sugar
Directions:
Preheat the oven to 350F degrees and position rack in center of oven.
Line a 15 x 10 inch jellyroll pan with parchment paper.
Coat parchment paper and pan sides lightly with oil so that the cake doesn't stick.
Whisk flour, baking powder, baking soda, spices and sea salt in a large bowl to blend well.  Set aside.
Place dates, reserved water, almond butter, pumpkin puree, and vanilla extract into a blender, and blend until smooth, then whisk this blended mixture into the flour mixture until well blended. Whisk in the cider vinegar until bubbles form.
Transfer cake batter to prepared pan and bake cake until tester inserted into center comes out clean, about 15-20 minutes.
Cool cake completely.
To make the filling, combine all ingredients in a high speed blender and blend until completely smooth.  Pour into a bowl and place in the freezer until the consistency of stiffly whipped cream (about 30-45 minutes depending on how warm it has gotten.  Once it is ready place in the refrigerator until ready to assemble.
When ready to assemble, spread filling over the top of the cake, then roll up jellyroll style starting with the short side and using the parchment to assist you in rolling.  Be careful because the cake is fragile, but if it cracks as you roll it no worries, keep rolling.  Let chill in the freezer once rolled for a few hours before serving.
To make the coconut powdered sugar, buzz the coconut and maple sugar in a high speed blender until fine, then sift over the finished cake just before serving.
Keeps for up to 1 week covered in the refrigerator.
*If you would like to make this gluten free, swap the whole wheat flour for Bob's Red Mill Gluten Free All Purpose Baking Flour (I have tested this brand and know it works, but have not tried other brands so I am not sure if they would turn out the same).
(Visited 2,049 times, 1 visits today)