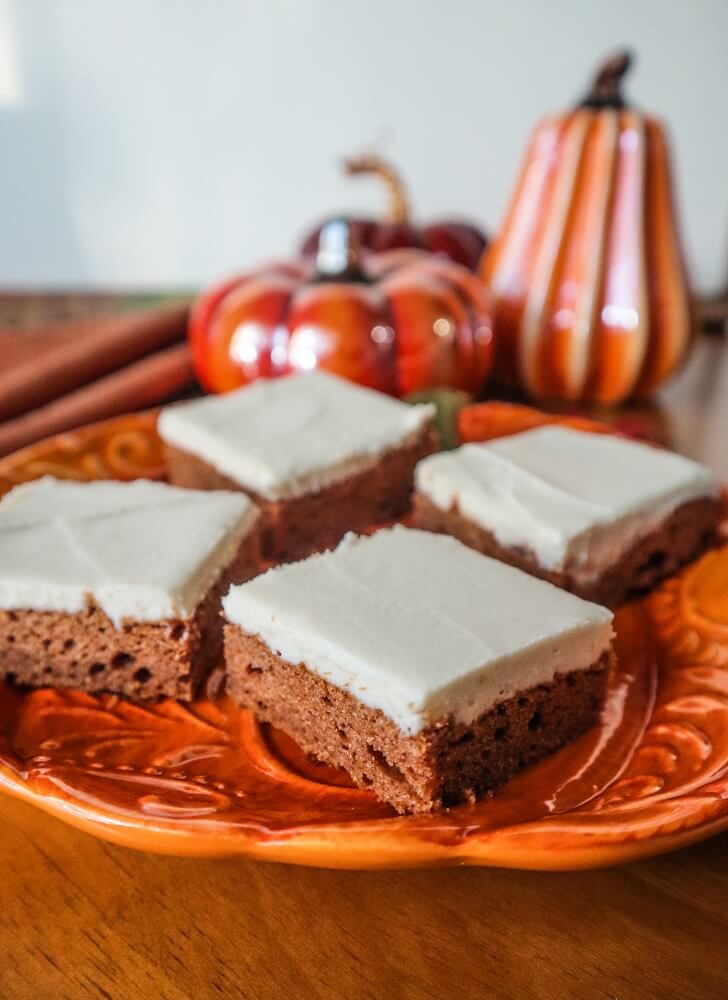 Vegan Pumpkin Bars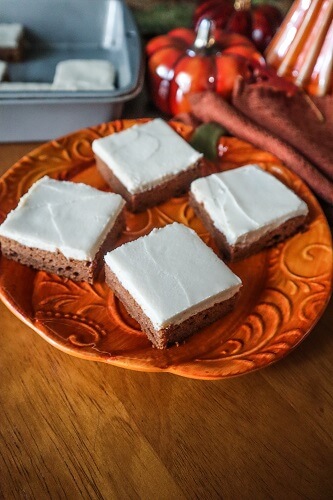 I bought my first can of pumpkin last week. I have been wanting to make something with pumpkin since the beginning of September which is considered pumpkin season start to me!  I have made a few pumpkin spice lattes, but a dessert sounded nice. I will make a pumpkin pie later in the season, since that is more Thanksgiving like, but I decided to make some vegan pumpkin bars. I made some raw ones many years ago, but I have never actually made baked ones so I figured I would give that a go.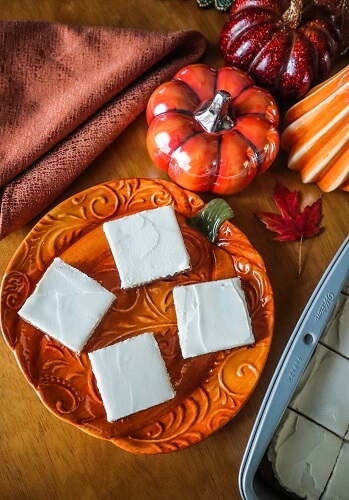 I always liked pumpkin bars back in the day, those cakey ones with the sweet cream cheese frosting on top!  For these, I used something similar to my pumpkin cake base, and baked them in a bigger pan. This batter uses dates as a sweetener, to keep them nice and moist and give them an almost caramel like flavor that I love.  The batter is actually oil free too, I use almond butter instead to give it richness.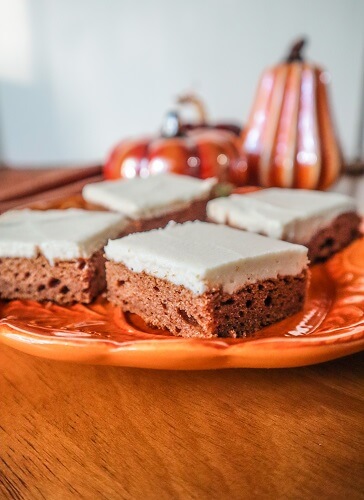 I used whole wheat pastry flour for these, but if you wanted to make them gluten free, I can recommend Bob's Red Mill All Purpose Baking Flour instead and subbing it 1:1.  I have used this brand before and it comes out just as delicious with the same texture.  This batter is super delicious.  Yes, of course I sampled it!  That is one of my favorite parts of the baking process after all! They baked up nicely, and made my kitchen smell amazing! I have to say, pumpkin spice is one of my favorite aromas in the world!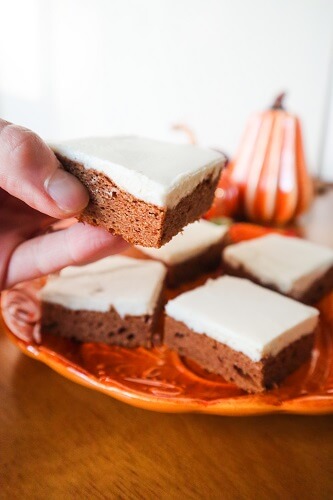 Lastly, I made a rich cream cheese frosting to spread over them, because that is an essential part of these bars as far as I am concerned.  They turned out so heavenly!  The soft lightly spiced sweet pumpkin cake was perfect with the luscious smooth vanilla cream cheese frosting!  If you are in a pumpkin dessert eating mood like I am, definitely give these a try!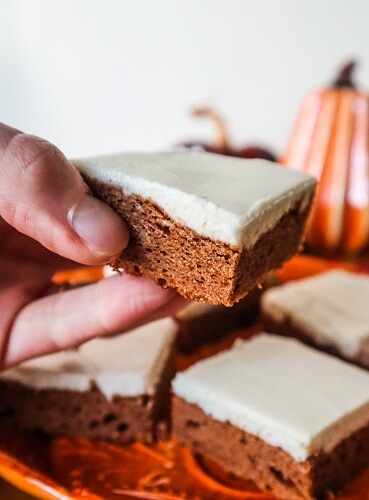 Vegan Pumpkin Bars
Makes 16 bars
Ingredients:
8x8 inch square pan
Cake:
3/4 cup organic whole wheat pastry flour*
3/4 tsp baking soda
1/2 tsp baking powder
1/4 tsp sea salt
1 1/2 tsp cinnamon
1/2 tsp ginger
1/4 tsp nutmeg
1/4 tsp cloves
2/3 cups packed soft medjool dates, pitted, soaked in water for 30 minutes and 1/2 cup of the soaking water reserved
2 Tbsp almond butter
1 tsp pure vanilla extract
1/2 cup pumpkin puree
1 Tbsp apple cider vinegar
Frosting:
3/4 cup canned full fat organic coconut cream  (you want a brand that is mostly the thick cream like Thai Kitchen full fat coconut milk or coconut cream or it will not work), chilled
1/4 cup raw cashew butter
2 Tbsp maple syrup
1/2 tsp pure vanilla extract
1/8 tsp sea salt
1/8 tsp lemon juice or apple cider vinegar
1/4 cup plus 2 Tbsp cup melted coconut butter (warmed to liquid)
Directions:
Preheat the oven to 350F degrees and position rack in center of oven.
Line an 8x8 inch square pan with parchment paper.
Coat parchment paper and pan sides lightly with oil so that the cake doesn't stick.
Whisk flour, baking powder, baking soda, spices and sea salt in a large bowl to blend well.  Set aside.
Place dates, reserved water, almond butter, pumpkin puree, and vanilla extract into a blender, and blend until smooth, then whisk this blended mixture into the flour mixture until well blended. Whisk in the cider vinegar until bubbles form.
Transfer batter to prepared pan and bake until tester inserted into center comes out clean, about 20 minutes.
Cool bars completely.
To make the frosting, combine all ingredients in a high speed blender and blend until completely smooth.  Pour into a bowl and place in the freezer until the consistency of stiffly whipped cream (about 30-45 minutes depending on how warm it has gotten.  Once it is ready place in the refrigerator until ready to frost.
When ready to assemble, spread frosting over the top of the bars, cut into bars and enjoy!
Keeps for up to 1 week covered in the refrigerator.
*If you would like to make this gluten free, swap the whole wheat flour for Bob's Red Mill Gluten Free All Purpose Baking Flour (I have tested this brand and know it works, but have not tried other brands so I am not sure if they would turn out the same).
(Visited 1,106 times, 1 visits today)