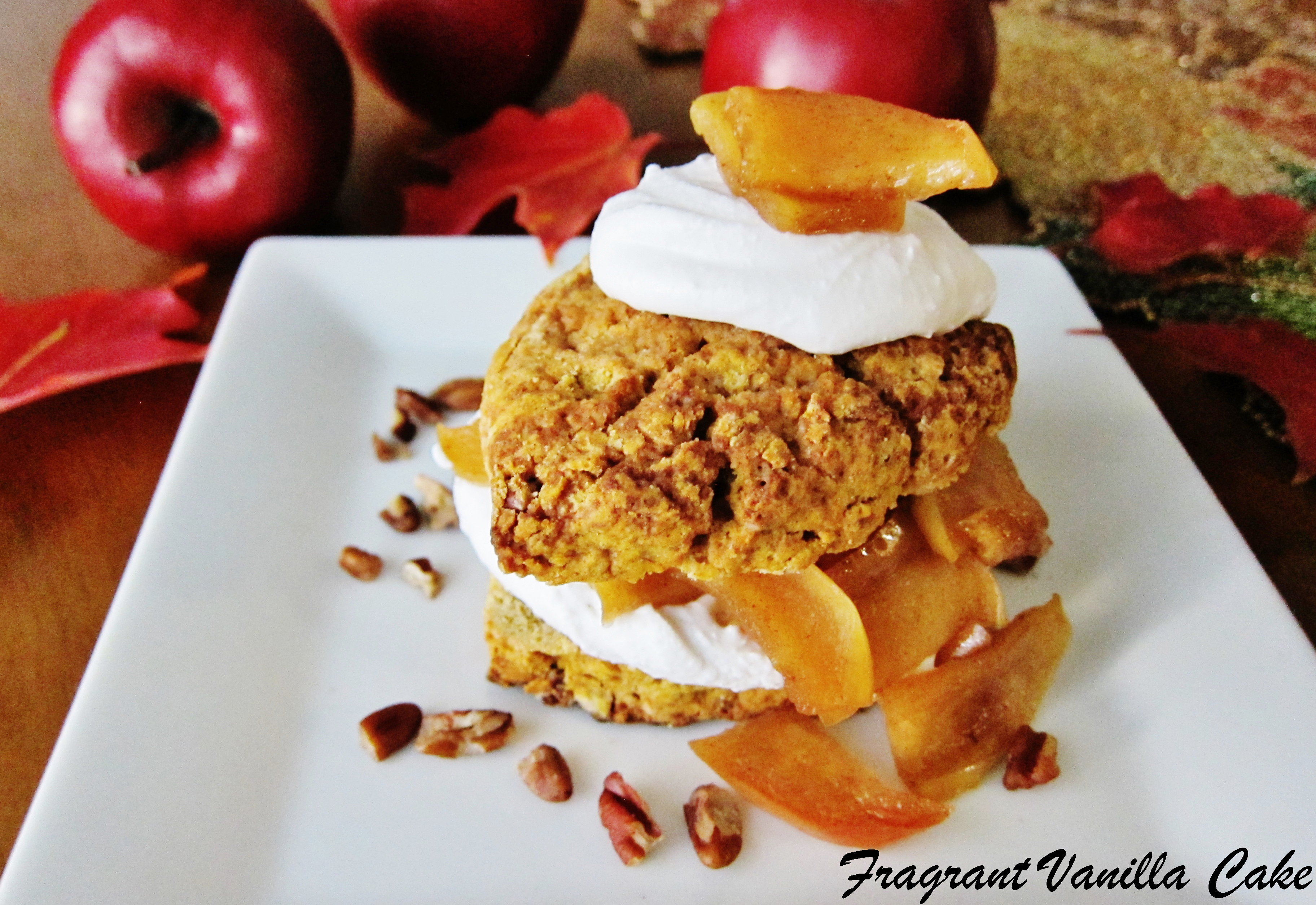 Vegan Pumpkin Apple Shortcakes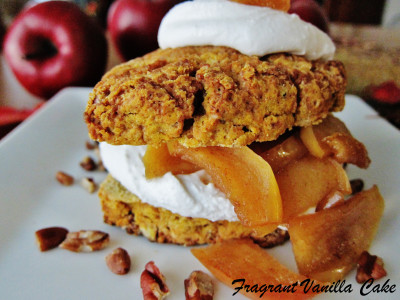 I love strawberry shortcake in the summer, but what about fall?  Shouldn't there be a fall shortcake?  At least those were my thoughts one day last week.  I decided I needed to make a fall shortcake.  Pumpkin biscuits with sautéed apples and cream...it was all sounding pretty darn heavenly by the time I got home from my walk after work.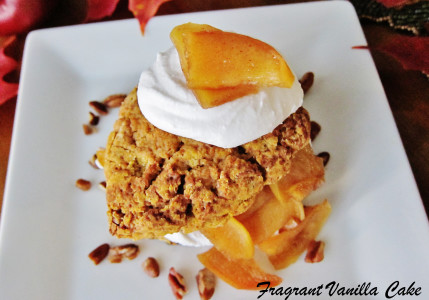 I'm sorry to all of you who are sick of all of my pumpkin stuff on the blog lately...Well really I'm not, what is wrong with you?!  Just kidding. But I have been missing pumpkin since last year.  And I have quite a bit of fun trying to come up with new pumpkin deliciousness every year.  So anyways, the biscuits for the shortcakes were pumpkin spice.  I used basically my basic scone recipe with pumpkin, and of course added in the proper spices.  I also decided to add pecans for extra deliciousness.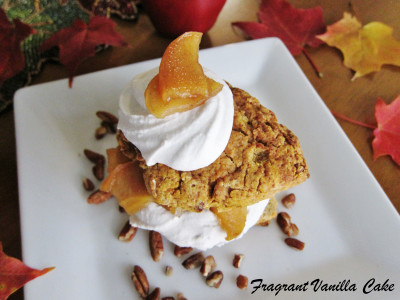 The scones filled my home with the most wonderful aroma. It is finally the season where you can leave the oven open to warm the house too after baking and I love that.  I sliced open the biscuits and filled them with a maple scented coconut cream and maple cinnamon apples.  All together, it was divine.  I like this Autumn shortcake just as much as the summer shortcakes.  Although not all foods are available all year round, it is sort of wonderful that we get to look forward to different ones each season. Keeps it interesting, and keeps us from getting bored!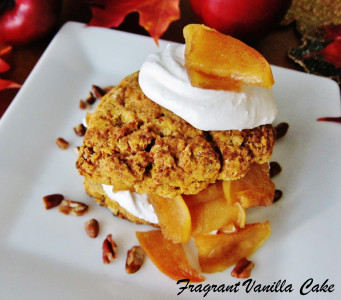 Vegan Pumpkin Apple Shortcakes
Makes 4
1 1/2 cups all purpose gluten free flour
1/4 cup coconut sugar
1 1/4 tsp baking powder
1 tsp cinnamon
1/2 tsp ground ginger
1/8 tsp nutmeg
1/8 tsp cloves
1/8 tsp salt
1/4 cup virgin coconut oil, cut into chunks
1/2 cup pumpkin puree (canned is fine)
1 Tbsp coconut milk
1 tsp pure vanilla extract
coconut milk for topping
coconut sugar for sprinkling
Apples:
3 large apples, sliced
3 Tbsp maple syrup
1 tsp cinnamon
pinch sea salt
juice of one lemon
1 tsp pure vanilla extract
Cream:
1 15 oz can organic full fat coconut milk, chilled
1/4 cup plus 2 Tbsp raw coconut nectar or maple syrup
1/4  tsp sea salt
2 tsp pure vanilla extract
1/2 tsp maple extract (optional)
3/4 cups coconut butter, warmed to liquid
Preheat oven to 425 with the rack set at the middle position. Line a baking sheet with parchment. In a large bowl, combine the flour, sugar, baking powder, and salt. Cut in the coconut oil with a pastry blender or 2 knives until the mixture starts to clump into pea sized pieces. In a small bowl, stir the vanilla and coconut milk into the pumpkin puree. Add the mixture to the dough, and stir a few times, but do not overmix. The dough should hold together when squeezed, but still be clumpy. Fold in pecans until evenly distributed. place dough on a floured work surface, and shape into a 4 inch wide log. Use a bench scraper to cut into trianges. There should be about 4. Place scones on the prepared baking sheet, reshaping slightly if necessary. Brush the tops lightly with the coconut milk (only if they seem dry, you want the sugar to stick), and sprinkle with coconut sugar. Bake for about 25 minutes or until golden brown. Cool on a wire rack.
For the apples, combine them with the maple syrup, sea salt, lemon juice, and cinnamon in a pan over medium heat.  Sautee until softened, about 10 minutes.  Add vanilla and take off heat.  Let cool.
Meanwhile, to make the cream, combine all ingredients but the coconut butter, in a high speed blender or food processor and blend until smooth.  With the motor running, add the coconut butter and process a minute more (if it starts to get lumpy at all during the process it is just the fat separating because it is 2 different temperatures.  Just continue to blend until it is smooth, and it will get warm so it will just have to chill longer). Pour the frosting into a bowl and let sit in the freezer until the consistency of whipped cream, whisking every 15 minutes (this may take anywhere from 15 minutes to hour to an hour depending on how warm it has gotten and which appliance you used).
To assemble the shortcakes, slice a biscuit in half, then spoon some of the cream onto that, then some apples, then top with the other half of the biscuit, then a little more cream, then serve!
(Visited 72 times, 1 visits today)