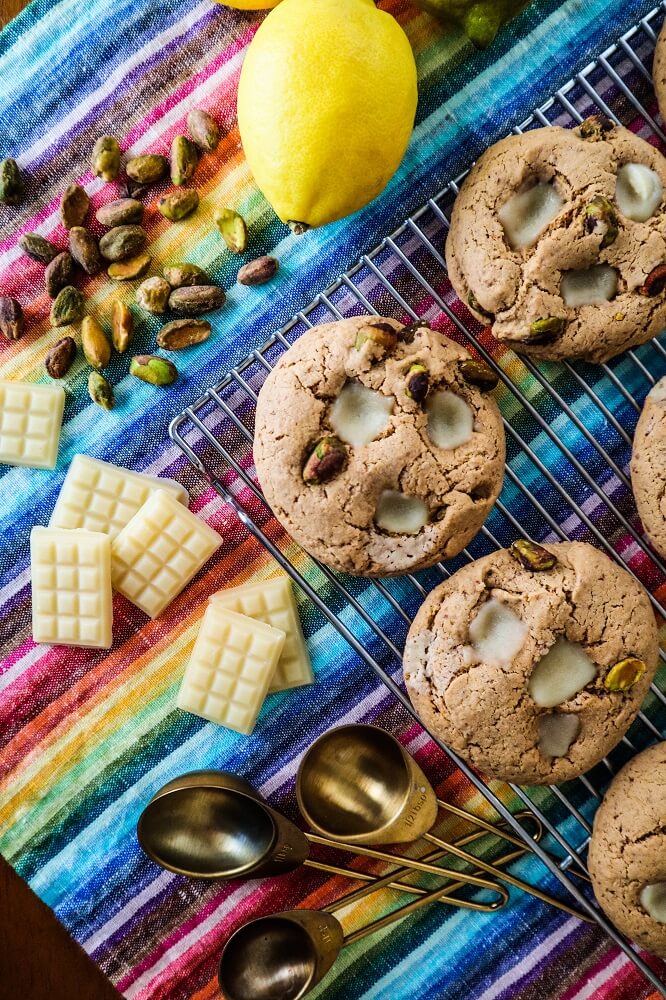 Vegan Pistachio Lemon White Chocolate Chunk Cookies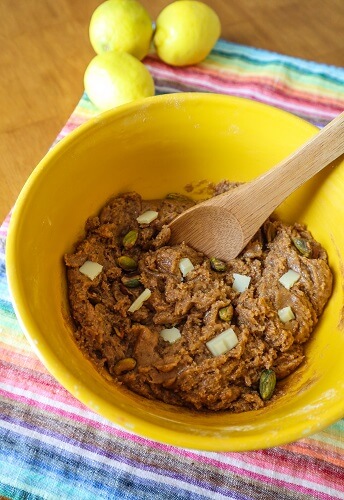 This whole social distancing thing isn't so bad for an introvert like me.  I can still do most of the activities I normally do, like going for bike rides, walks and runs outside, doing art like painting at home, and of course baking things.  As long as I can still be close to my family and Eric, I am good.  That said hopefully everything goes back to normal soon for the sake of all of the people without jobs right now, or those that are getting the virus.  In the mean time when we are all staying at home, I figure it is the perfect time to make new recipes.  I do still have to go to work, since I work in a grocery store as my full time job, but in my free time I am making new things like these cookies!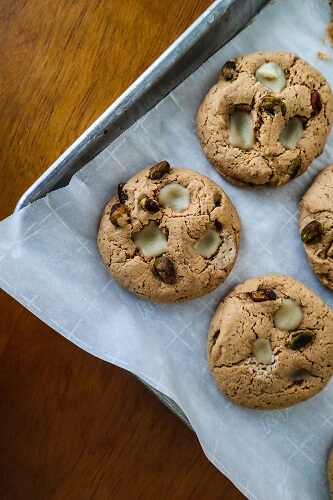 Spring is now here, and one of the flavors that makes me think of Spring is lemon.  I know citrus is a winter fruit as well, but in early spring it is something that is still delicious before the spring fruits start to become available. I added it to my chocolate chip cookie dough base recipe to make a lemon flavored cookie. I swapped out the chocolate chips with creamy home made white chocolate chunks, and salty nutty pistachios since those flavors go so well with lemon.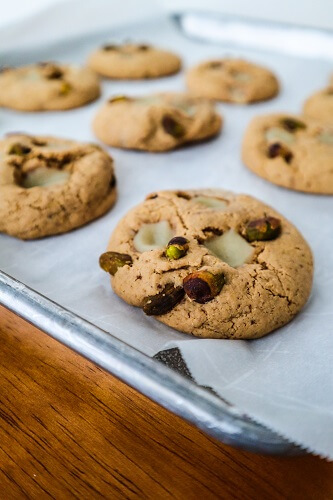 The dough was super delicious.  I have to admit that eating cookie dough while making cookies is one of my favorite parts of making cookies.  That lemon flavor adds a nice bright flavor.  I love that these do not have a fussy dough, and you just mix the ingredients together and bake.  They smelled amazing while baking and I could not wait to try them!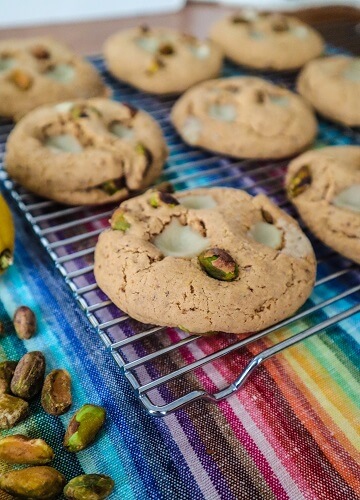 Since I used my home made chocolate chunks in these, I had to add them after baking since they are more prone to melting. I would recommend you doing the same, unless you want them to run out of your cookies. But they were when added at the end, they are so good in these cookies!  They were heavenly!  Soft and chewy with a bright lemony flavor, creamy white chocolate chunks and crunchy pistachios! If you are a cookie fan, definitely give these a try!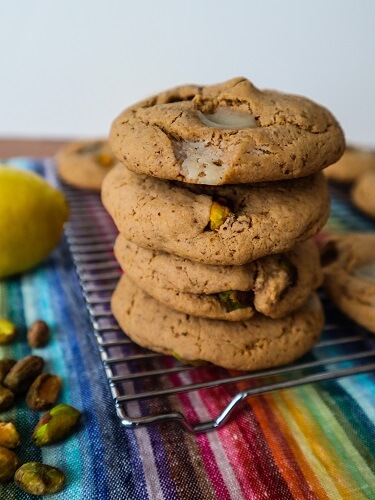 Vegan Pistachio Lemon White Chocolate Chunk Cookies
Makes 16 large cookies
Ingredients:
 2 Tbsp ground flax seed
1/4 cup plus 2 Tbsp filtered water
1 cup virgin coconut oil, warmed to liquid
1 1/2 cups maple sugar or coconut sugar
1 Tbsp lemon zest
1 Tbsp lemon juice
1 teaspoon vanilla extract
1 teaspoon baking soda
3/4 teaspoon sea salt
3 cups organic whole wheat pastry flour
1 cup pistachios
3/4 cup vegan white chocolate chunks or chips
Directions:
Preheat your oven to 350F degrees.
In a small bowl, whisk together the flax seed and filtered water.  Set aside in the refrigerator for 15 minutes.
Meanwhile, in a large bowl, mix coconut oil with sugar and stir until well combined.  Mix in the lemon zest and juice, vanilla extract and flax mixture until well combined.  Add the baking soda and salt then the flour, a cup at a time, mixing between each addition, until well combined.  Mix in the pistachios.
Line 2 large baking sheets with parchment paper.
To Form the cookies take about a 1 1/2 inch chunk of dough, form into a ball and on prepared cookie sheets a couple inches apart, and press down just slightly. Bake for about 12-15 minutes, until puffed and just starting to brown slightly.
As soon a you remove them from the oven, press in the white chocolate chunks.
Remove from the oven, and let cool on the pan a few minutes, then remove to a wire rack to cool.
(Visited 584 times, 1 visits today)