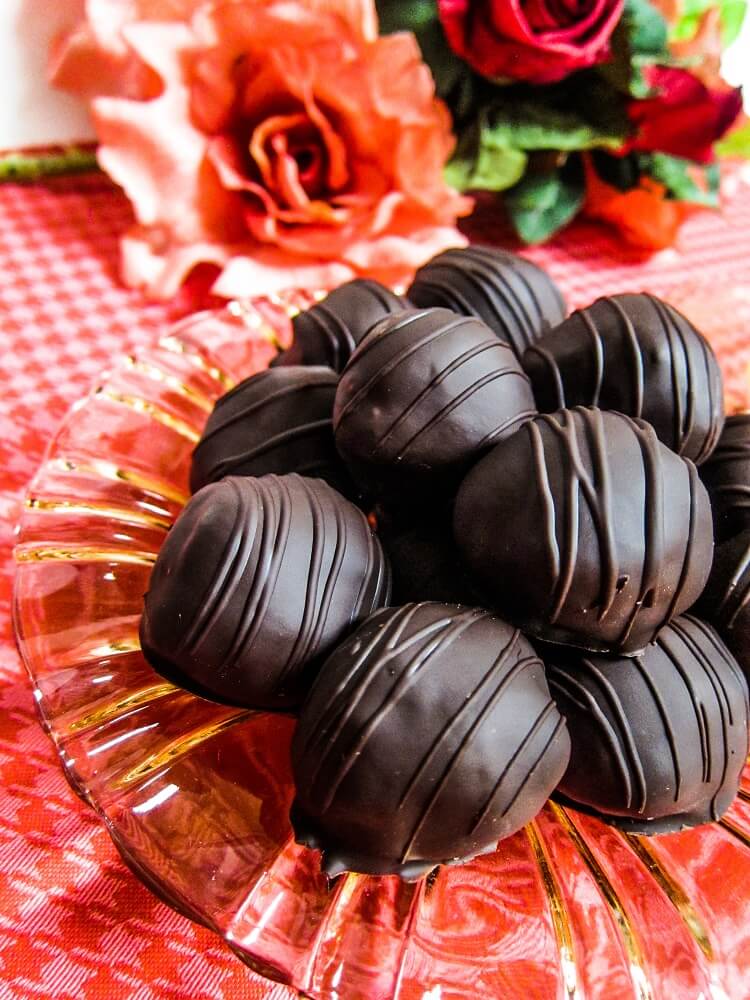 Vegan Pink Velvet Truffles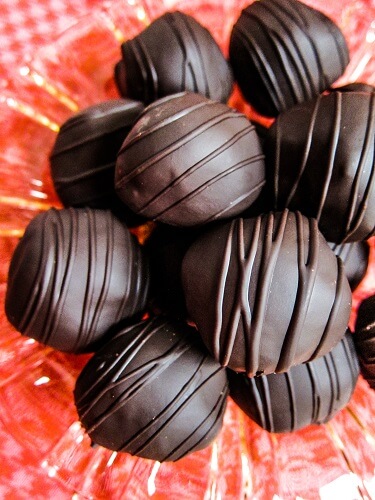 I was watching the local news and both of the anchors were wearing red, and one of them said "It just feels right to wear pink and red this week because it is Valentine's Day week!" Well, I can totally relate, I feel kind of the same way and my favorite color pink so why not be festive? Since I am feeling festive I thought I should make some truffles. Because chocolate and Valentine's Day go together like peanut butter and jelly. Plus they just sounded good! They weren't going to be just plain chocolate truffles though.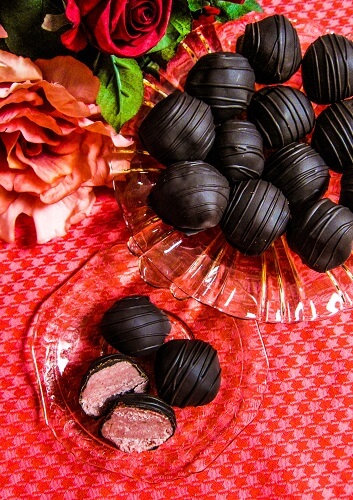 You know me, I like to make things a little more interesting so I decided to make some pink velvet truffles, keeping with the pink and red theme. I do love red velvet cake or pink velvet cake, just not the kind with artificial color. I prefer natural color, so these truffles were going to be made with some beet powder and not red food coloring. Don't worry, you can not taste it at all, it just gives them that beautiful pink color! I think the color of beets is absolutely beautiful and I love that I can use them in things like this!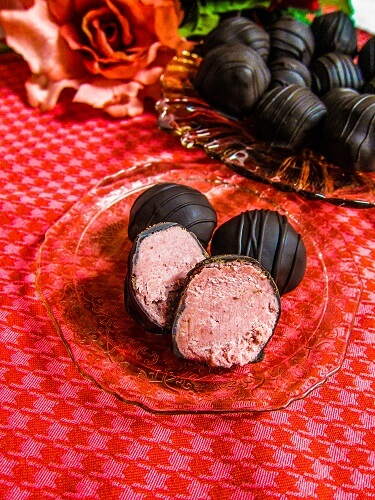 The filling for these truffles with super delicious! It had a cacao butter base, to give it a kind of white chocolate flavor, and I combined that with some coconut butter and cashew butter to give these a lovely rich smooth texture. Of course it had to have a dash of vanilla as well, because I love it in desserts! I could have just eaten the filling with a spoon, but of course then I would not have truffles.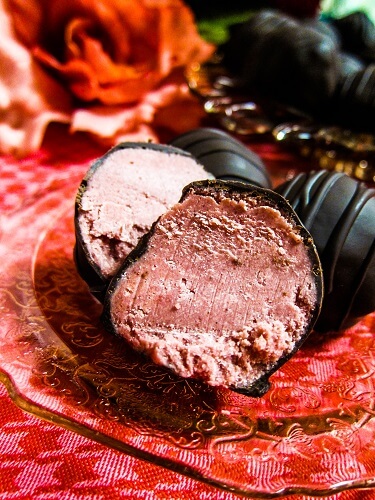 Once they were shaped, and chilled and dipped in the vegan dark chocolate I could not wait to try them! I find the process of making things like this kind of relaxing. Especially the part at the end where I get to indulge! These were super delicious! The filling was a rich and luscious melt in your mouth texture with a sweet vanilla flavor and the intense dark chocolate on the outside was the perfect pairing with it! If you are in need of something of the chocolate variety, satisfy that craving and make these!
Vegan Pink Velvet Truffles
Makes 14 truffles
Ingredients:
Filling:
Dark Chocolate:
2 cups chopped vegan dark chocolate or vegan dark chocolate chips
Directions:
Combine all of the filling ingredients in a bowl, and whisk until smooth.
Place in the freezer for about 15-20 minutes until it is firm enough to scoop. Scoop into 14 balls, rolling them with your hands. Place on a parchment lined tray, and place back into the freezer until firm, about 30 minutes.
Meanwhile, melt the dark chocolate in a double boiler until smooth.
Once the filling has firmed up, dip each chocolate into the dark chocolate, being sure to let the excess drain off, and place back onto the tray (I like to set mine on a fork to allow it to drain better). Once they are all dipped, set them in the freezer until hardened.
Store any leftover truffles in the refrigerator.
(Visited 230 times, 1 visits today)