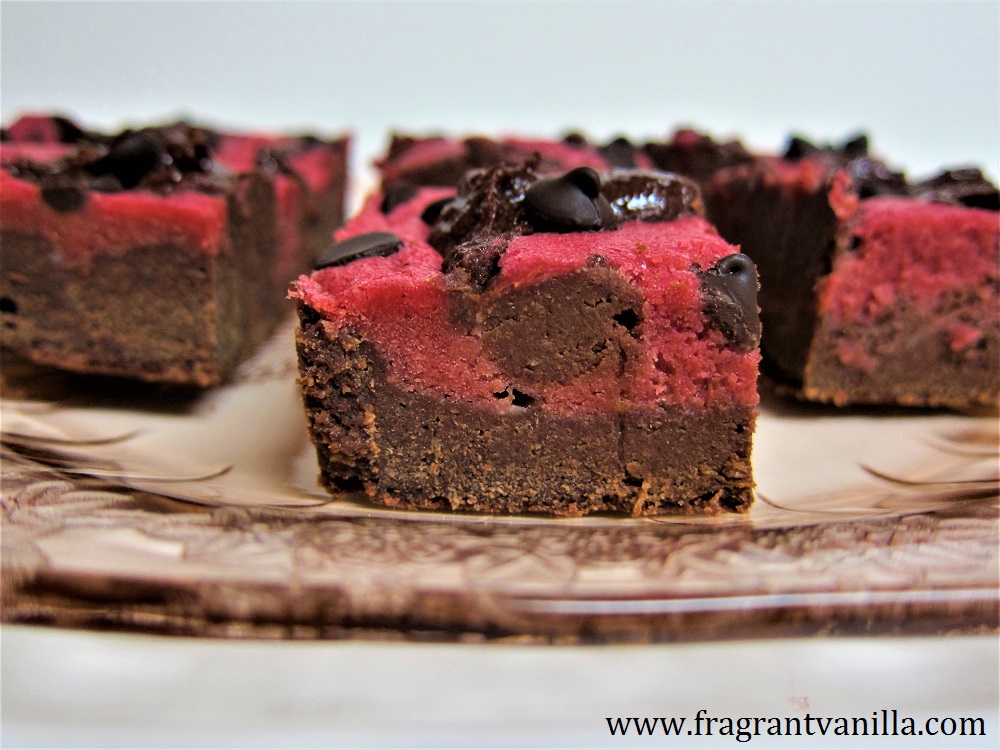 Vegan Pink Velvet Cheesecake Swirl Brownies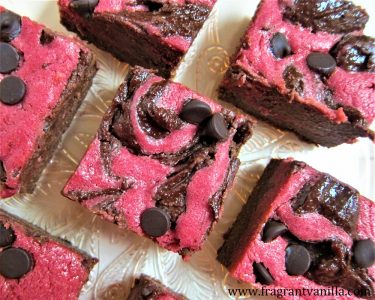 One of my all time favorite relaxing activities is baking something delicious in the kitchen.  So, last Monday I decided to bake some brownies since it was my day off.  I haven't made any in quite a while, so it was about time!  I knew I wanted to make something really good, and something chocolate.  So brownies were perfect!  I didn't want run-of the mill brownies though, I wanted something special.  It took me a while to decide what kind.  Maybe something with berries, since Valentines day is just around the corner?  But I didn't have any berries on hand.  Maybe something with coffee?  But I wasn't feeling like a caffeine buzz. So, I decided on red velvet.  I have been wanting to make red velvet cheesecake brownies since last Summer, and now seemed like the perfect time since nothing is more perfect for Valentine's Day than red velvet and chocolate.
I decided to go a little different route than my usual brownies, and make these fruit sweetened and oil free as well.  So, I used dates to keep them moist, as well as give them a rich luscious sweetness.  They worked out perfectly too!  The brownies turned out nice and fudgy, which is how I prefer mine.  For the red velvet cheesecake swirl I used a mixture of cashew butter and coconut milk.  This is what I always use for cheesecake swirls in anything and I have had many people tell me that they are shocked that it is vegan.  It tastes just like cream cheese.  I tinted it with beet powder to make these festive and give them the red color, which ended up being really pink, so I decided to call them pink velvet instead.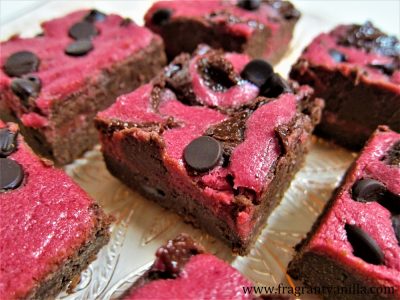 They smelled heavenly while baking, and I couldn't wait to try them.  I had to let them cool and set up though, and it was hard to wait but well worth it.  They were rich and fudgy as brownies should be, and that luscious vanilla cream cheese swirl made them simply heavenly!  My taste testers loved them as well, which is very important to me.  I highly recommend making these the next time you have a craving for brownies.  They are yummalicious!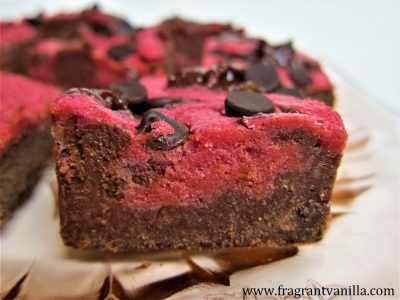 Vegan Pink Velvet Cheesecake Swirl Brownies
Makes 16
Cream Cheese Swirl:
3/4 cup thick coconut milk (from the top of a chilled can)
1/2 cup cashew butter (or almond butter will also work here)
2 Tbsp date paste or maple syrup
1/8 tsp sea salt
1 tsp pure vanilla extract
2 tsp beet powder
2 Tbsp arrowroot starch or cornstarch
Brownies:
1 cup date paste
1/4 cup filtered water
1/4 cup almond butter
2 flax eggs (2 Tbsp ground flax seed, whisked together with 6 Tbsp filtered water)
2 teaspoon vanilla extract
1/2 cup cacao powder or unsweetened cocoa powder
1/4 teaspoon sea salt
½ cup vegan chocolate chips
Directions:
To make the swirl, combine all ingredients in a blender and blend until smooth. Pour into a bowl and set aside.
To make the brownies, pre-heat the oven to 350F degrees.
Whisk together the date paste, almond butter, water, flax eggs, and vanilla until well combined. Add the flour, cacao powder and sea salt and beat until smooth.
Scrape the batter into a greased 8x8 inch pan, then drop the swirl over it in 2 Tbsp amounts, and swirl it with a knife.
Sprinkle with chocolate chips. Place in the oven, and Bake for about 25 minutes or until just set (but do not over bake or they will be dry, slightly underbaked is better, because they continue to set while cooling).
Let cool before cutting into bars.
(Visited 291 times, 1 visits today)