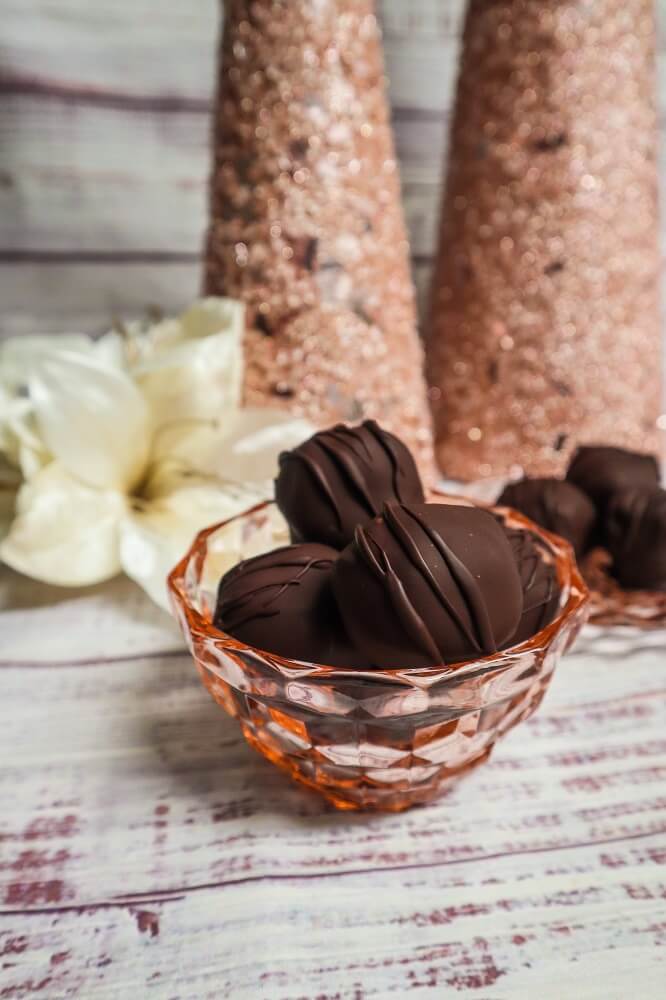 Vegan Pink Peppermint Truffles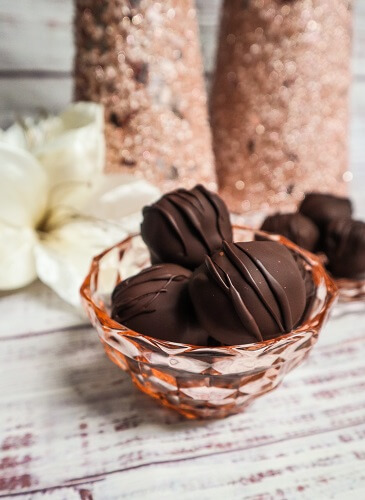 I have been seeing lots of mint flavored treats around lately for the holiday season, and they all sound good to me so I thought I would make one of my own!  I am not big on candy canes, but what I do love is the chocolate mint combo. So, I decided to make some peppermint truffles!  I like to make both cookies and candy around Christmas to enjoy so I figured I would get started on the candy part.  I had all of the ingredients I needed on hand, and I was super excited!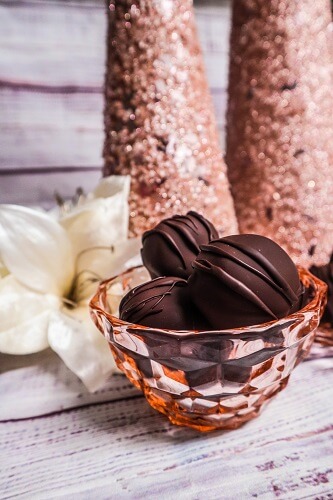 For the filling, I wanted it to be creamy, rich and have a little bit of a white chocolate flavor, so I started with a cacao and coconut butter base.  I also added in some raw cashew butter to give it that soft creamy texture that I love about truffles.  I added in vanilla as well along with a good amount of peppermint extract because I love those two flavors together.  Sometimes I tint my peppermint stuff green with matcha or spinach powder but this time I decided to tint them pink, my favorite color.  Of course you can do the green if you prefer.  But I love anything pink!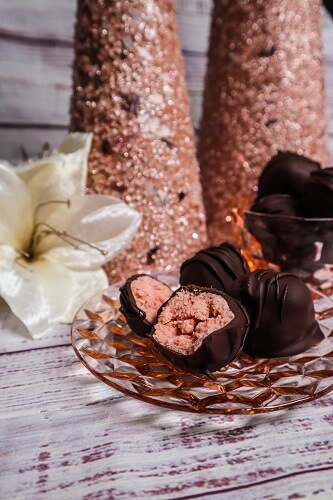 Truffles are kind of tedious to make, but they are well worth it. It is even kind of fun rolling the filling into balls like play dough!  I always end up sampling a bit though.  It is hard not to because it smells so good and it is so delicious! Once they are all shaped I freeze them for a bit so that they hold their shape when dipping.  I didn't used to be as good at making truffles when I started, they came out a bit wonky and sometimes not evenly dipped in the chocolate but I have had a bit of practice now.  They are not perfect, but much better than they used to be!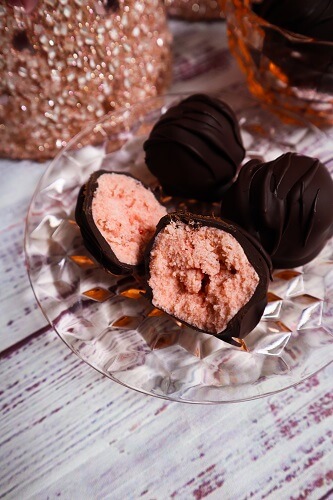 I dipped them in vegan dark chocolate to finish them off.  They turned out super delicious!  Soft and smooth, with the mellow sweet scent of vanilla and cool peppermint, the perfect match for the rich dark chocolate coating! If you are a peppermint fan, definitely give these a try!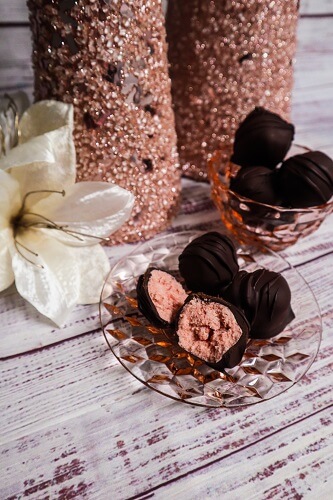 Vegan Pink Peppermint Truffles
Makes 16
Ingredients:
Filling:
1/2 cup cacao butter, warmed to liquid
1/4 cup plus 2 Tbsp raw cashew butter at room temperature
3/4 cup coconut butter, warmed to liquid
1 tsp beet powder
1 tsp pure vanilla extract
1 tsp peppermint extract
1/4 cup maple syrup
1/4 cup filtered water
Dark Chocolate:
2 cups chopped vegan dark chocolate or vegan dark chocolate chips
Directions:
Combine all of the filling ingredients in a bowl, and whisk until smooth.
Place in the freezer for about 15-20 minutes until it is firm enough to scoop. Scoop into 14 balls, rolling them with your hands.   Place on a parchment lined tray, and place back into the freezer until firm, about 30 minutes.
Meanwhile,  melt the dark chocolate in a double boiler until smooth.
Once the filling has firmed up, dip each chocolate into the dark chocolate, being sure to let the excess drain off, and place back onto the tray (I like to set mine on a fork to allow it to drain better). Once they are all dipped, set them in the freezer until hardened.
Store any leftover truffles in the refrigerator.
(Visited 605 times, 2 visits today)