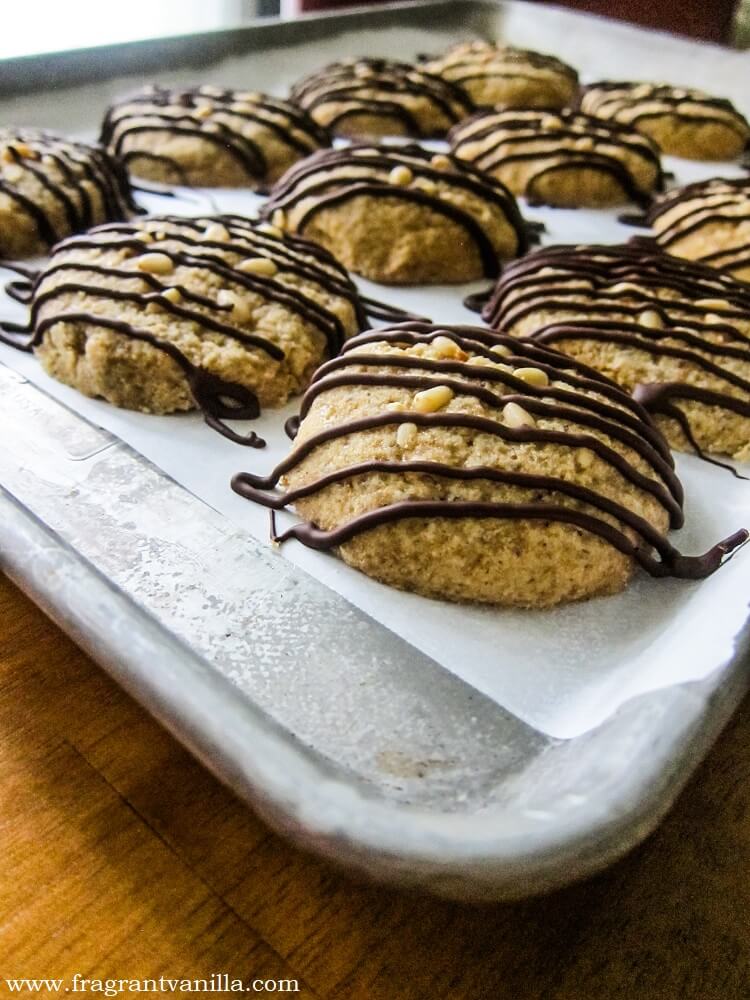 Vegan Pine Nut Cookies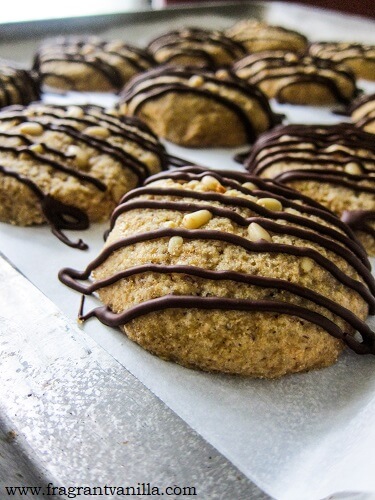 I consider pine nuts to be special.  Mostly because they are pretty expensive in my neck of the woods at most places where you buy them.  So, I don't usually buy them unless it is for a special occasion.  But my Mom bought a bag of toasted ones at Trader Joe's (for a very good price I might add), and asked me if I could make her some pine nut cookies.  I can't say no to that.  I haven't enjoyed pine nuts in ages!  She wanted a sugar cookie style cookie with the buttery pine nuts mixed in, and that sounded good to me!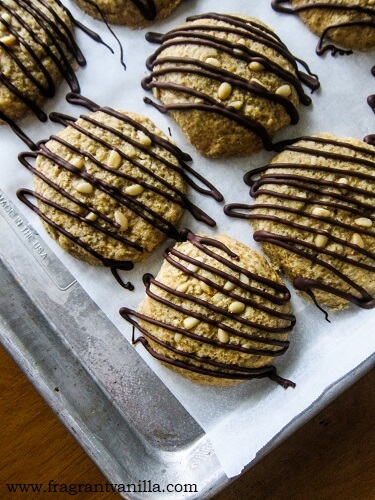 I used my usual sugar cookie recipe, which is actually a veganized version of my Grandma's recipe that I loved growing up.  I swapped flax eggs for the eggs, and coconut oil for the butter, and maple sugar for the granulated.  The first time I made them I was a bit skeptical, but I like this version so I make it every time I want sugar cookies.   This time though, I added a hint of lemon zest and juice with the vanilla to give it that extra something special.  Pine nuts are amazing with lemon.  My Mom made a salad when I was younger that had shaved fennel bulb, lemon, and pine nuts and it was amazing so I knew she would love the lemon in these cookies too.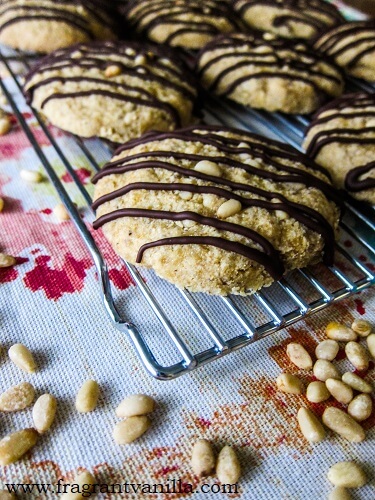 They smelled amazing while baking!  Like traditional sweet sugar cookies but with a slight nuttiness thanks to the pine nuts.  Once they were all cooled, I thought that they would be even more amazing with a little chocolate drizzle, so I melted some vegan dark chocolate and made them prettier with it.  They were so good!  Rich and buttery with a light scent of lemon and toasty pine nuts!  Most importantly my Mom loved them too!  If you get your hands on some pine nuts, or maybe have them leftover from another recipe, give these delicious cookies a try!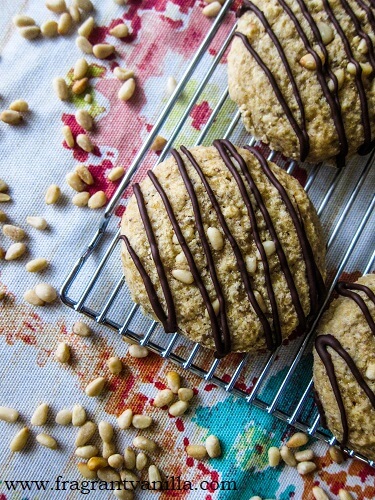 Vegan Pine Nut Cookies
Makes 28 cookies
Ingredients:
Cookies:
2 Tbsp ground golden flax seed
1/4 cup plus 1 Tbsp filtered water
1 Tbsp lemon juice
1 Tbsp lemon zest
1 cup virgin coconut oil, warmed to liquid
1 1/2 cups maple sugar or coconut sugar
1 teaspoon vanilla extract
1 teaspoon baking soda
1/2 teaspoon sea salt
3 1/2 cups all purpose gluten free flour
3/4 cup toasted pine nuts
Dark chocolate drizzle:
1/2 cup vegan dark chocolate chips or dark chocolate chopped
Instructions:
In a small bowl, whisk together the flax seed, filtered water and lemon juice and zest.  Set aside in the refrigerator for 15 minutes.
In a large bowl, mix coconut oil with sugar and mix until well combined.
Mix in the vanilla extract and flax mixture until well combined.
Add the baking soda, salt, and the flour, a cup at a time, mixing between each addition, until well combined. Mix in the pine nuts.
To bake, Preheat your oven to 350F degrees. Line 2 large baking sheets with parchment paper. Roll balls into about 1 1/2 inch balls, and place on prepared cookie sheets at least two inches apart.
Place in the oven, and bake for about 15-18 minutes, until puffed and just starting to brown slightly.  Remove from the oven and let cool on the pan a few minutes, then remove to a wire rack to cool.  Repeat with remaining cookies and let cool completely.
Melt the dark chocolate in the top of a double boiler, and drizzle the chocolate over the cookies.
Place the cookies in the freezer until the chocolate is set.
Enjoy!
(Visited 418 times, 1 visits today)