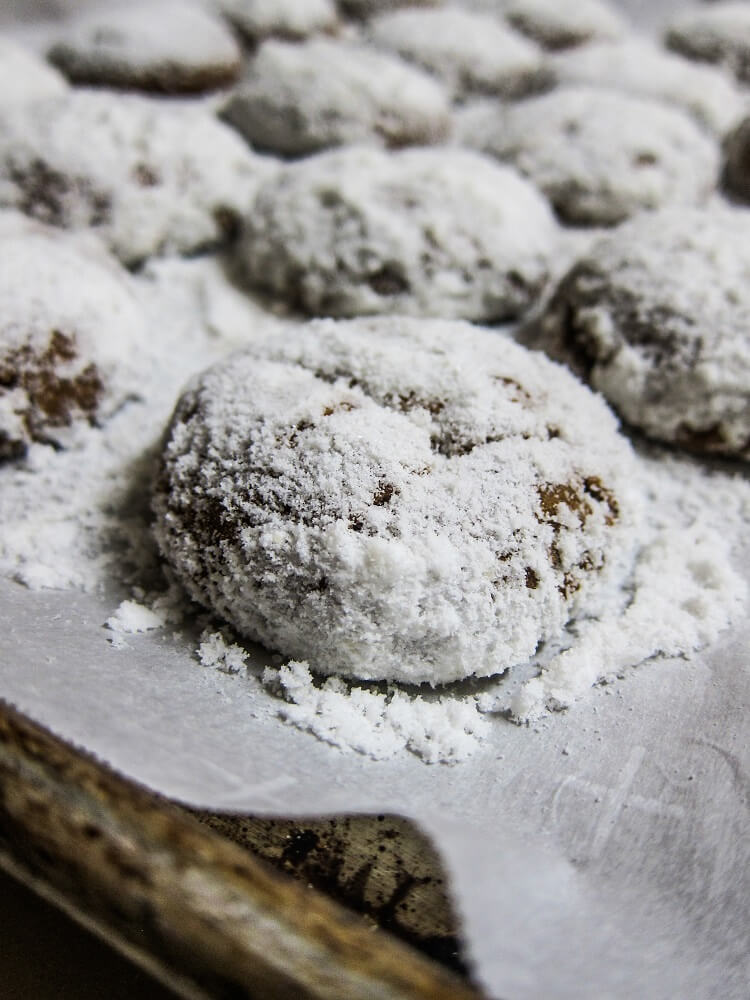 Vegan Pfeffernusse Cookies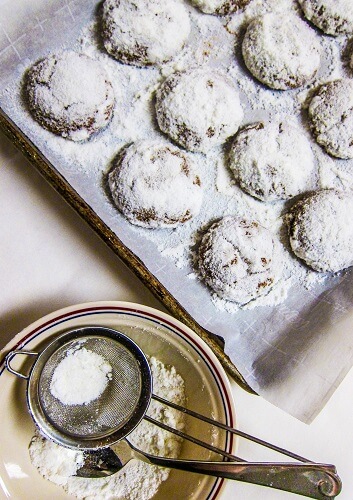 One of my Mom's all time favorite Christmas cookies is Pfeffernusse.  If you haven't heard of them, the name means "pepper nut" but they don't have nuts in them, they are just delicious little spice cookies rolled in powdered sugar.  And they are darn delicious!  Also, they are not too difficult to make.  No fancy piping or anything required!  Funny story though, when I was still in high school and college, my Mom and I used to go to the library and check out cook books and make recipes from them back in the days before everyone just googled recipes.  This included Christmas cookie recipes, and one time we chose to make a new recipe for pfeffernusse.  We were all excited for it, but it turned out to be a horrible flop.  The dough was way too dry and hard to roll and they baked up like rocks.  I think it was one of our worst cookie fails.  But that didn't stop us from still loving the pfeffernusse, we just stuck to our other recipe from then on.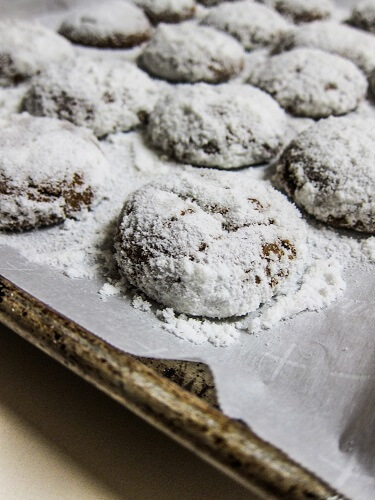 I had never actually made a vegan version though.  Until last weekend that is.  I am surprised I haven't, but I guess I was sort of afraid that they wouldn't turn out the same as the originals.  Well, my Mom asked me if I could recreate them and I couldn't say no.  I mean, what was the worst that could happen?  They couldn't possibly be worse than the ones I made back in the day that were a fail.  So I went for it.  I looked at a many different recipes for them, then did my best to create a winning version.  Luckily it worked out the first time!  I love when that happens.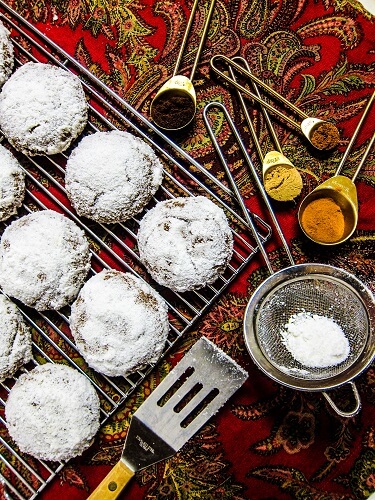 The cookie base for these is filled with so many good aromatic spices, it smells wonderful when you are making them.  What keeps the dough soft is the molasses that they include in them.  Instead of the butter in the classic recipe, I used a mixture of coconut oil and avocado oil because I wanted them to stay soft at room temperature (coconut oil alone gets too hard sometimes in certain cookies).   It worked out just as I wanted!  The cookies baked up beautifully!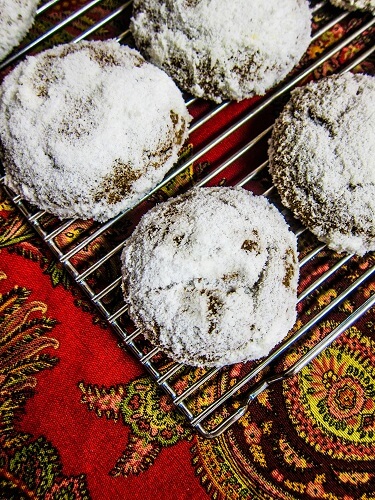 They had to have the classic powdered sugar as well, but since that is not something I keep on hand since I try to stay away from refined sugars for the most part, I made my own powdered sugar concoction.  I used a mixture of finely shredded, dried coconut, xylitol (to keep it white), and cornstarch blended up really fine.  It worked out perfect and tasted so good on the cookies!  I think I actually like this version of the pfeffernusse better than the original, and my Mom loved them as well because of course I had to share them with her since they are one of her favorites! If you are a fan of any sort of molasses or spice cookies, you will love these!
Vegan Pfeffernusse Cookies
Makes about 18
Ingredients:
Cookies:
2 1/2 cups gluten free all purpose flour
1/2 tsp baking soda
1 tsp cinnamon
1 tsp ginger
1/4 tsp ground cloves
1/4 tsp ground cardamon
1/4 tsp ground nutmeg
1/2 tsp ground anise
1/4 tsp ground black pepper
1/4 tsp sea salt
1/4 cup coconut oil (warmed to liquid)
1/4 cup avocado oil
3/4 cup xylitol or maple sugar or coconut sugar
1/4 cup molasses
1 Tbsp ground flax seed mixed with 3 Tbsp filtered water and allowed to sit for 15 minutes before using
1 tsp pure vanilla extract
Coating:
1/2 cup finely shredded, dried unsweetened coconut
1/4 cup xylitol or maple sugar or coconut sugar*
1 1/2 Tbsp cornstarch or arrowroot starch
Instructions:
Preheat the oven to 350F degrees, and line a sheet pan with parchment.
In a bowl, mix together the flour, baking soda, cinnamon, cloves, cardamom, nutmeg, anise, pepper, and sea salt.
In a smaller bowl, whisk together the two oils, sugar, molasses, flax mixture, and vanilla.
Mix the wet ingredients into the dry until well combined, and a uniform dough.
Roll the dough into balls and set on a tray.  Place in the freezer for 20 minutes, until they are more firm.
Remove from the freezer and place on the prepared baking sheet a few inches apart.
Place the baking sheet in the oven and bake for about 15 minutes until the cookies are set.
Meanwhile, while they are baking, to make the coating, combine the coconut, sugar, and cornstarch in a high speed blender and blend until smooth.  Put through the holes of a fine meshed strainer if there are any remaining lumps.  Place the coating in a bowl.
When the cookies have finished baking, remove them from the oven, let cool a minute or two, then carefully roll each in the coating then place back on the tray.
Let cool, and dust with a little more sugar if you wish (I just put it in a fine meshed strainer and tapped it to dust them).
Enjoy!
(Visited 1,243 times, 10 visits today)