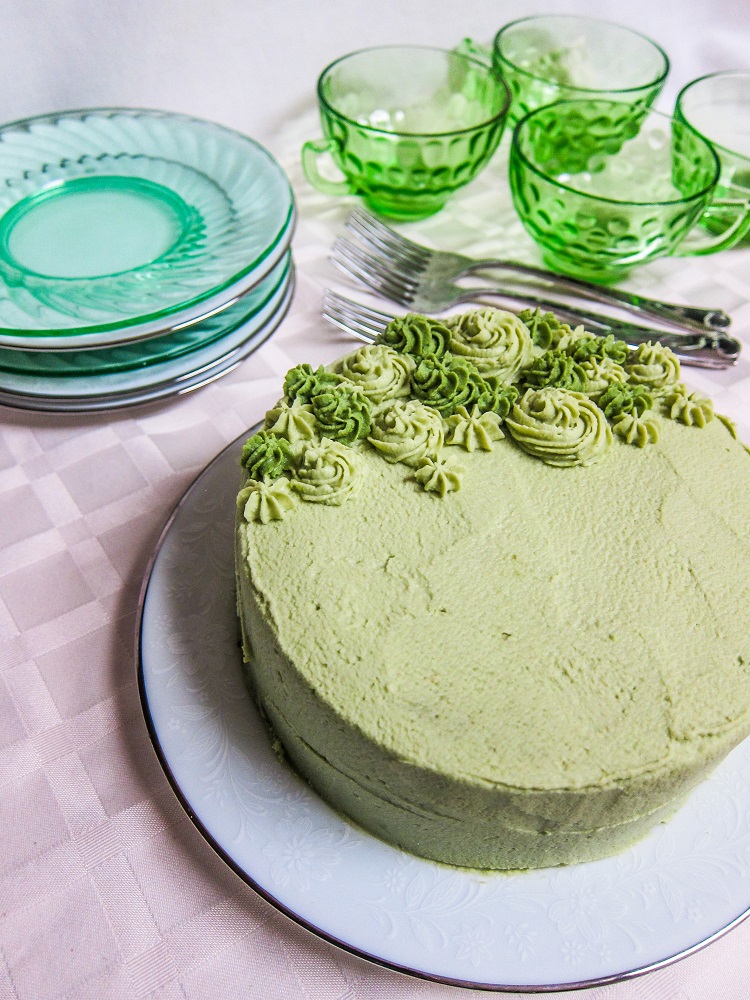 Vegan Peppermint Vanilla Cake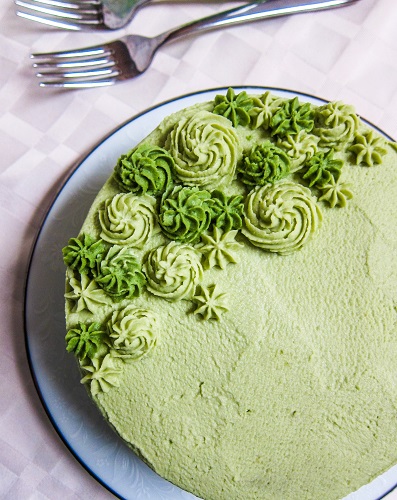 You know what I am super excited for? All things green outside. The snow is beautiful and all, but nothing compares to those first green leaves to start appearing in the Spring. It will probably be a while though, so I thought why not make something with a beautiful green color since I can't enjoy it outside. Plus, St. Patrick's Day is next weekend so why not be festive? I am not Irish (that I know of, maybe only a very small sliver of my European ancestry), but I do enjoy being festive for Holidays. Except for green beer for St. Patrick's Day, I would much rather have regular beer.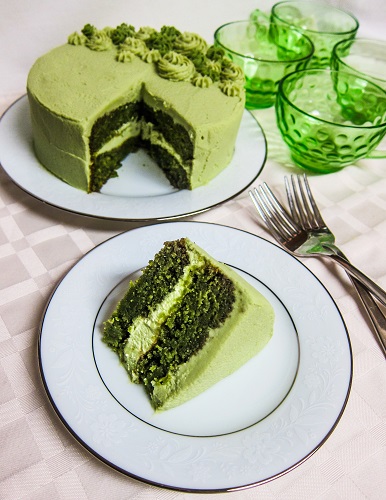 Back to that green dessert, it had been a while since I had made a cake so I decided to make a lovely green cake. I wanted a vanilla mint cake with vanilla mint frosting. I had made one years ago before I was vegan and it was really good so I knew I could make an even better veganized version! This was actually not to difficult to make either, which was good because it was kind of a hectic weekend. Work was busy, we had a big snow storm going on and I didn't have a lot of extra time, but it was just enough time to make a cake. I find the process of making cakes somewhat relaxing. It is a time when I can forget about all else that is going on and just focus on creating deliciousness.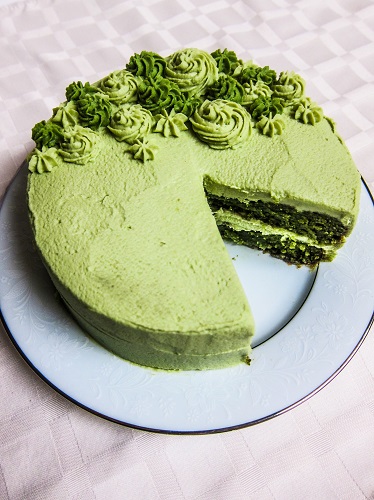 For this cake I wanted the cake portion to be green as well as the frosting so I achieved that by using spinach powder. Don't worry, you could not taste it at all, it just gave it a lovely emerald color. I was actually really pleased with how well it retained the hue even when baked. The batter for this tasted amazing even before I poured it into the pans and baked it. Yes, I eat cake batter every time I eat cake. I have to taste it to make sure it is good before I bake it! One time I forgot the sugar in one of my cakes and it saved me from ruining the whole thing because I was able to still add it.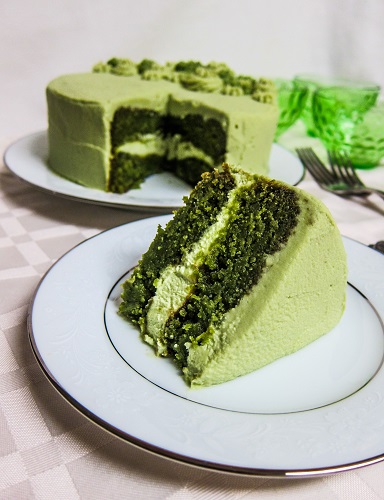 This cake baked up beautifully and once it was cooled I whipped up a luscious vanilla mint frosting with the consistency of a buttercream frosting to top it off with. It was sooo good! The mellow mint and vanilla were a match made in heaven, and the cake was soft and moist, the frosting rich and creamy. If you are a fan of mint, definitely give this cake a try!
Vegan Peppermint Vanilla Cake
Makes 1 2 layer 6 inch cake
Cake:
1 1/2 cups Bob's Red Mill gluten free AP baking flour* (see below for flour options)
3/4 cup granulated xylitol** (see below for other sweetener options)
1 Tbsp spinach powder
1 1/2 tsp baking soda
1 tsp baking powder
1/2 tsp sea salt
1 cup applesauce
1/4 cup avocado oil
2 tsp pure vanilla extract
2 tsp peppermint extract
3/4 cup thin coconut milk or other plant based milk
2 Tbsp apple cider vinegar or lemon juice
Frosting:
1 15 oz can full fat organic coconut milk, chilled (make sure it is the kind with at least 3/4 of the can thick cream or it will not work for the recipe. I used Thai Kitchen brand)
3/4 cup raw cashews, soaked 1 hour and drained
1/3 cup maple syrup
pinch sea salt
1 tsp pure vanilla extract
1 tsp peppermint extract
2 tsp spinach powder
1/2 cup plus 2 Tbsp melted coconut butter
Instructions:
Preheat the oven to 375F degrees and position rack in center of oven. Oil 2 6 inch cake pans and line the bottoms with parchment.
Whisk flour, sugar, baking powder, baking soda, sea salt, and spinach powder in a large bowl to blend well.
Place all wet ingredients in the blender and blend until smooth, then whisk wet ingredients into the flour mixture until well blended but do not over-mix.
Transfer batter to prepared pans and until tester inserted into center comes out clean, about 30 minutes. Cool cakes completely on cooling rack, about 2 hours.
To make the frosting, combine all ingredients in a high speed blender and blend until smooth. Pour into a bowl, and place in the freezer for about 30-45 minutes until the consistency of whipped cream (whisking every 15 minutes). 
Place one cake layer on a plate, and spread the frosting about 1/4 inch thick over it. Top with the second cake layer, then spread the frosting over the top and down the sides of the cake.
Place remaining frosting in a pastry bag and pipe decoratively over the cake.
Enjoy! Store any leftover cake in the refrigerator.
*You may also use whole wheat pastry flour or regular AP flour in place of the gluten free flour if you do not wish to make this gluten free.
**Xylitol is toxic to dogs, so please do not feed these to dogs. 1 cup coconut sugar, maple sugar or regular cane sugar may be used in place of the xylitol (you need a tad more because the xylitol is more sweet), just keep in mind the cupcakes will not be as green they will be more brown if you use the coconut sugar or maple sugar.  The cane sugar will produce a green cake the same as this one. 
(Visited 1,537 times, 1 visits today)