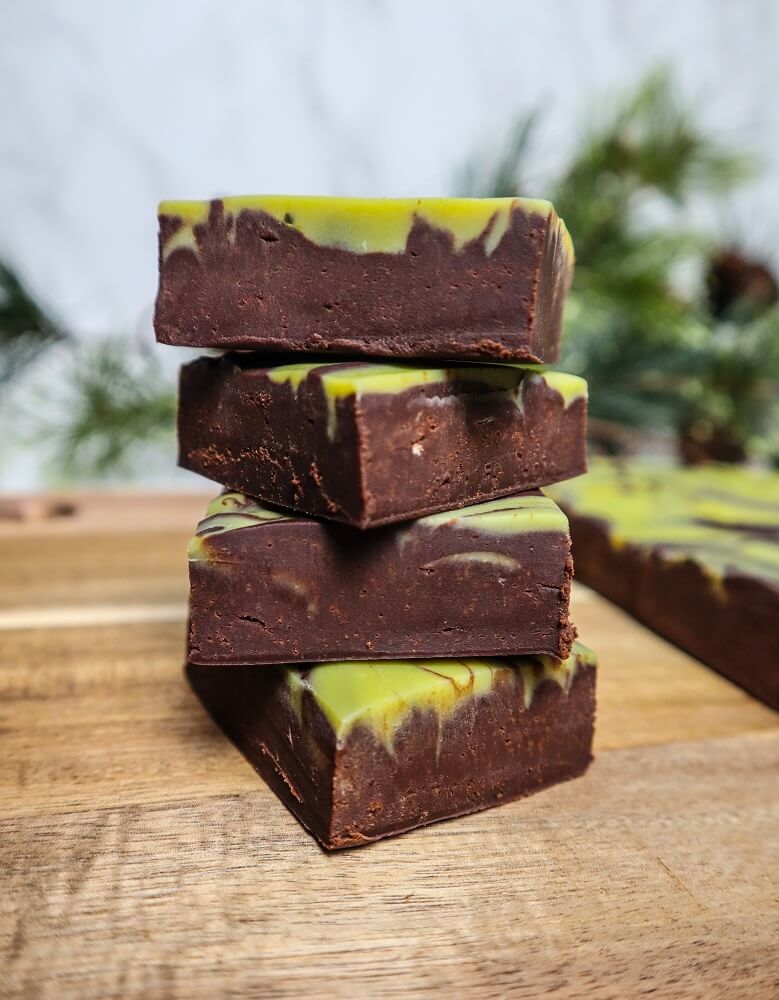 Vegan Peppermint Fudge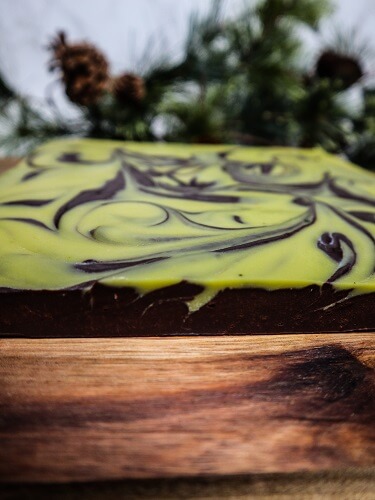 Fudge was always something that my Grandma had at Christmas along with all of the other delicious treats we only got once a year, and so I think of it as a Christmas treat.  It was just classic fudge with walnuts but she loved it and I thought it was pretty delicious!  I don't have the recipe so I am not sure how exactly it was made or what all it had in it, but I am pretty sure she said it was an easy recipe with sweetened condensed milk so when I decided to make vegan fudge for the first time this year, that is what I decided to make it with.  I looked at a bunch of different recipes online to see about how much sweetened condensed milk to add and I came up with what I think is a good ration even though I was winging it as it was the first time.  But it came out just right as far as I am concerned which is why I decided to share the recipe!  I was just going to make plain fudge at first, but then I thought it would be fun to make something a little more festive so I made Vegan Peppermint Matcha Fudge!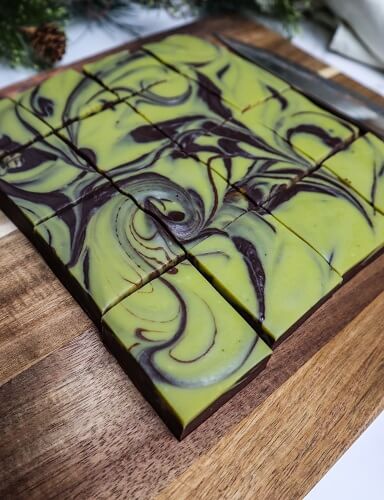 I used Nature's Charm coconut sweetened  condensed milk for the fudge for this recipe, but I have since made another batch of plain chocolate fudge with their sweetened condensed oatmilk and it worked just as well so you can use either for this!  I love this stuff!  Whoever invented vegan sweetened condensed milk you can buy at the store is awesome!  It worked wonderfully in this fudge and I have used it before in things like chocolate filler bars and it worked well in those too!  No this is not a sponsored post I just like the stuff. For the dark chocolate fudge I melted vegan unsweetened dark chocolate with the sweetened condensed milk and added a touch of vanilla and peppermint.  I used unsweetened because I think the sweetened condensed milk is sweet enough, and I like less sweet dark chocolate and I thought it turned out just right.  However, if you like things really sweet you could use sweetened vegan dark chocolate instead.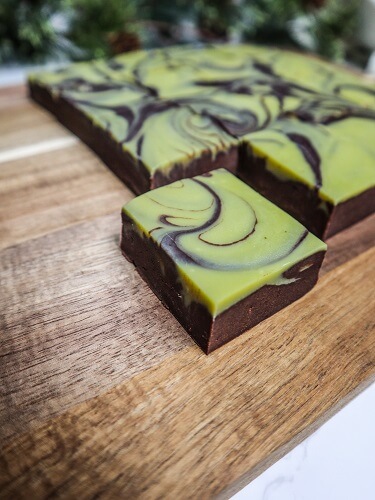 For the white chocolate peppermint matcha swirl, I used cacao butter, melted coconut butter and a bit of matcha, peppermint and vanilla mixed in and it was perfect! I swirled it into the dark chocolate and it was so lovely!  I wasn't sure how it would set up but it was just right.  After a few hours I had some delicious fudge to sample!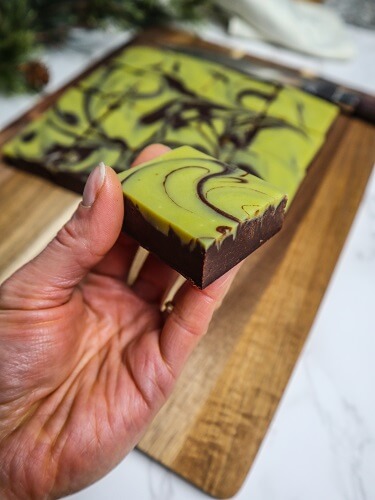 It was so delicious!  Just the right amount of sweetness and it was rich and delicious just like the fudge I remember as a kid!  I don't know why I waited until now to make vegan fudge but I should have been making it all along!  This has just the right amount of peppermint and the flavor kind of reminds me of Andes Mints but better!  If you are looking for a decadent chocolate treat to enjoy this holiday season, definitely give this Vegan Peppermint Matcha Fudge a try!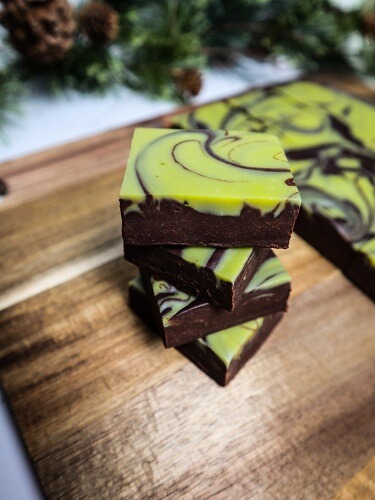 Vegan Peppermint Matcha Fudge
Makes 16 squares
Ingredients:
16 oz chopped unsweetened vegan dark chocolate
2 cups vegan sweetened condensed milk (I used Nature's Charm), divided
1 1/2 oz coconut butter
1 1/2 oz cacao butter
1/2 tsp matcha powder
1 1/2 tsp pure vanilla extract, divided
1 1/2 tsp peppermint extract, divided
Instructions:
In a medium sized pot, combine the vegan dark chocolate with 1 3/4 cups of the sweetened condensed milk and cook over medium heat until it is melted and well combined.  Stir in 1 tsp vanilla extract and 1 tsp peppermint extract.
In another smaller pot, combine the coconut butter, cacao butter and the remaining 1/4 cup of the sweetened condensed milk and heat until all melted, whisking to combine it until smooth.  Whisk in 1/2 tsp matcha, 1/2 tsp vanilla extract and 1/2 tsp peppermint extract until smooth and completely uniform in color.
Line a 9x9 inch square pan  with parchment paper and pour the dark chocolate fudge into it.  Spoon the white chocolate matcha fudge over that in lines or in teaspoonfuls randomly, then swirl with a knife to create a marbled effect.
Place the fudge in the refrigerator to firm up for at least 2 hours.
Cut into squares and enjoy!
Store any leftover fudge in the refrigerator in an airtight container for up to 2 weeks, or you can freeze for a few months.
(Visited 283 times, 1 visits today)