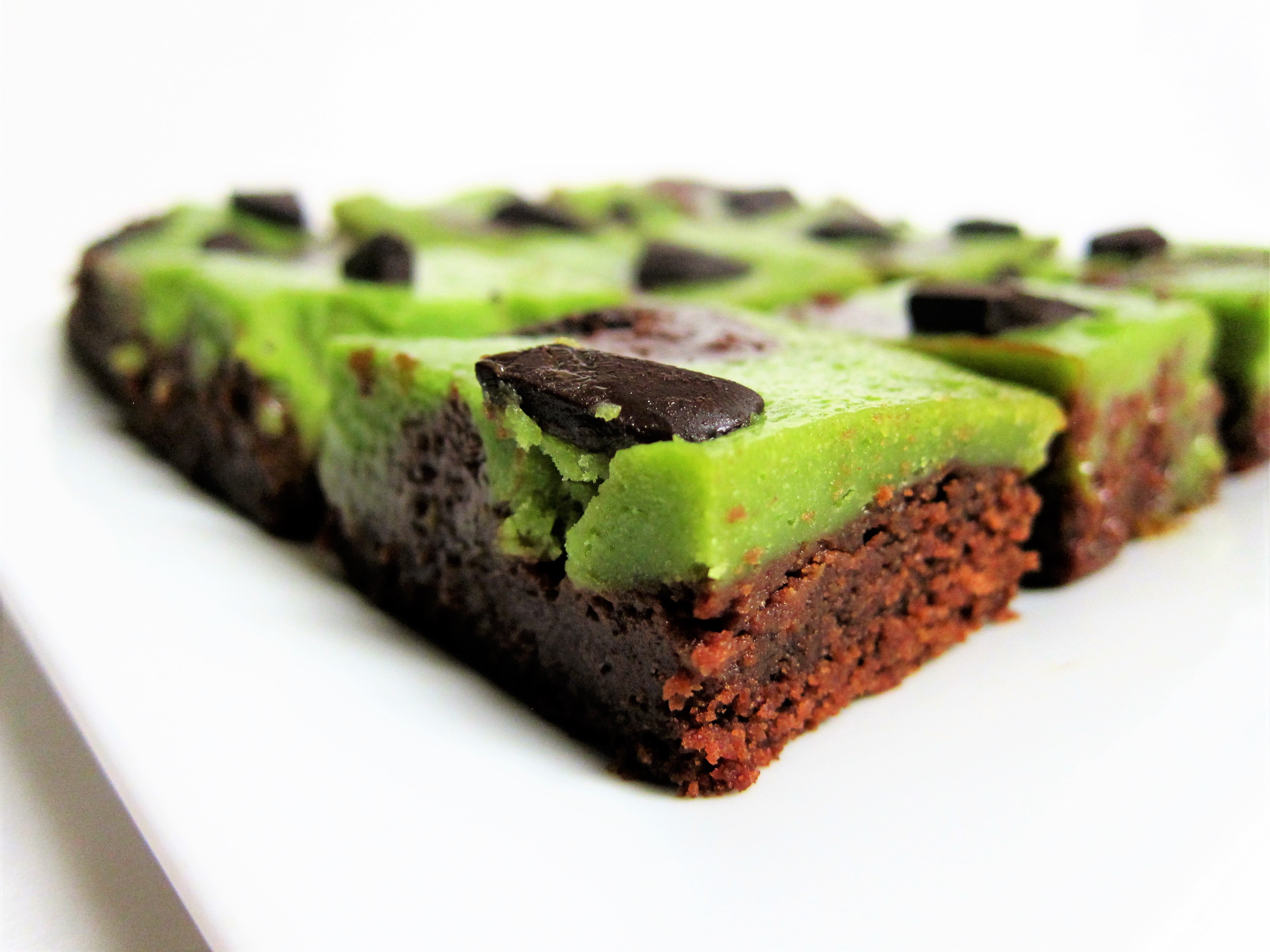 Vegan Peppermint Cheesecake Brownies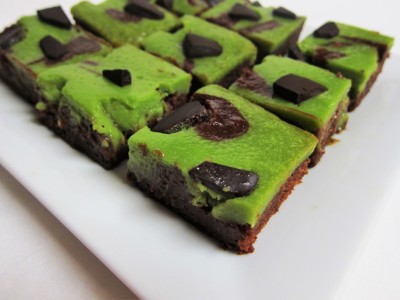 I was in a big brownie sort of mood on my day off.  It was raining and sleeting outside, it was dark and dreary...but I was in a good mood!  Because I was in my kitchen in my pjs listening to Christmas music and whipping up a batch of brownies!  Now who wouldn't be in a good mood with that?!  Anyways, I didn't just want to make plain old brownies.  I wanted to make something festive with a bit of color.  I decided on peppermint cheesecake.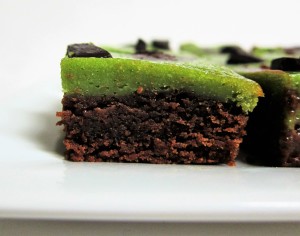 I love how pretty candy canes look on top of brownies and such, but I am not a fan of what goes into them.  Loads and loads of processed sugar.  So, I was going to add a bit of natural green color in the cheesecake portion of my brownies.  I made this luscious mint cheesecake mixture from cashew butter and coconut milk, and it was divine!  My special ingredient that no one need know about was a bit of spinach for color.  Don't worry you could not taste it.  It just makes the loveliest hue of green.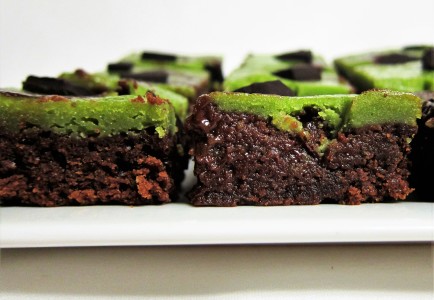 I poured it over my favorite brownie batter recipe, and was super excited about this.  They smelled heavenly!  There is just something very happy about the aroma of brownies.  I topped them off with dark chocolate chunks and I could not wait for them to cool so I could do a taste test.  Not that I hadn't already tasted the batter, the cheesecake part and the chocolate chunks...because everything needs to be quality control tested right?  Anyways, they were wonderful once they had cooled.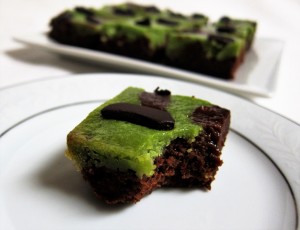 Fudgy, rich, and minty.  Christmasy, but these could really be made any time of the year when you are feeling in the brownie making mood.  I hope you are all having a wonderful Holiday season!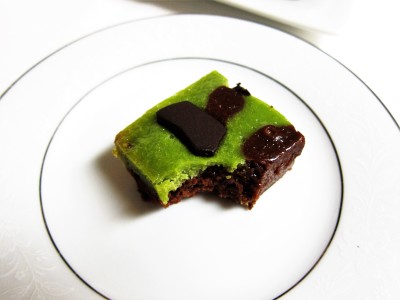 Vegan Peppermint Cheesecake Brownies
Makes 16
Cheesecake swirl:
3/4 cup thick coconut milk (from the top of a chilled can)
1/2 cup cashew butter
2 Tbsp maple syrup
1/8 tsp sea salt
1 tsp mint extract
1 tsp pure vanilla extract
1 handful spinach leaves
2 Tbsp arrowroot starch or cornstarch
Brownies:
1/2 cup plus olive oil
3 Tbsp applesauce
1 1/3 cups coconut sugar
1/4 cup plus 2 Tbsp reduced aquafaba or 2 flax eggs*
2 teaspoon vanilla extract
1 tsp peppermint extract
1 cup gluten free all-purpose flour
1/2 cup cacao powder or unsweetened cocoa powder
1/4 teaspoon sea salt
1/2 cup vegan chocolate chunks
To make the swirl, combine all ingredients in a blender and blend until smooth.  Pour into a bowl and set aside.
To make the brownies, pre-heat the oven to 375F degrees. Whisk together the sugar, olive oil and applesauce until well combined and the sugar is starting to break down.  Add the aquafaba, mint and vanilla and beat until smooth.  Add the flour, cacao powder and sea salt and beat until smooth.  Scrape the batter into a greased 8x8 inch pan, then pour the swirl over it.  Scatter the chocolate chunks over that. Place in the oven, and Bake for about 30 minutes or until set (but do not over bake).  Let cool before cutting into bars.
*The aquafaba is the liquid from cooked or canned chickpeas.  You want it to be thick like egg whites.  If you are wanting to make flax eggs, simply mix together 2 Tbsp ground flax seeds, and 6 Tbsp filtered water and let sit in the refrigerator for 15 minutes before using in the recipe.
(Visited 82 times, 1 visits today)