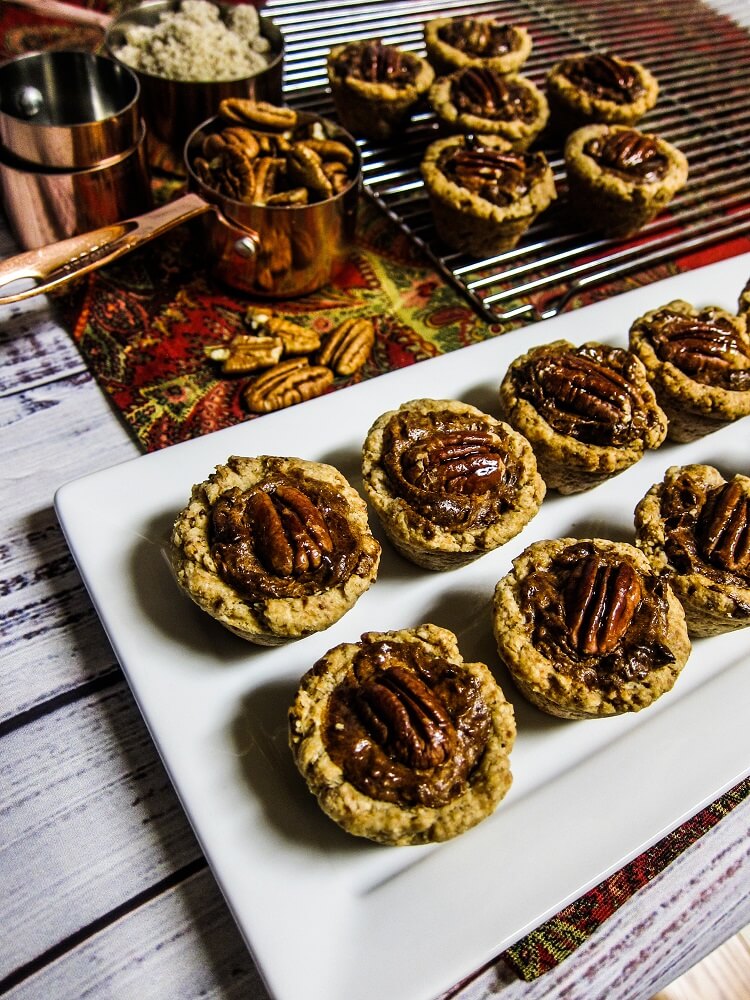 Vegan Pecan Tassies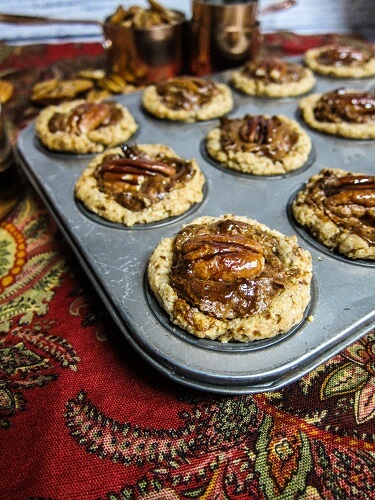 When I was little my Mom and I always made a good assortment of cookies and treats for Christmas, and her favorite was the pecan tassies.  My Grandma passed down her love of pecan pie down to my Mom and then to me, so it is no wonder why we loved them. I think we got the recipe from an old church cookbook, or my Grandma's old cookbooks from back in the day but I don't remember since it has been ages since I made that classic version. I have been making vegan ones for quite a while now since I have been vegan for 7 years.  You might think it would be a little difficult to veganize a pecan pie (even a mini one like these tassies) but it is not at all!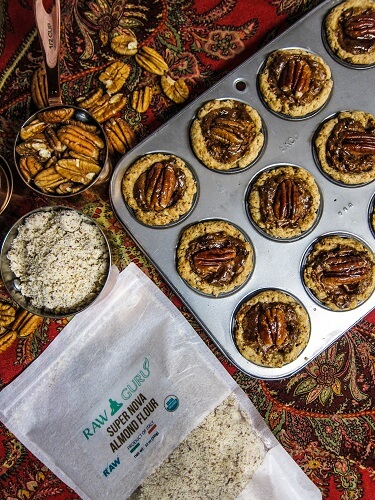 You have to start with a good rich crust.  For mine, I made my classic whole wheat pastry flour crust with a bit of Raw Guru almond meal to make it rich and buttery tasting.  That is one of my secrets to making an extra delicious pie crust!  Especially with these little pies it is important to make them delicious because there is a higher crust to filling ratio.  No rolling of crust required for these either which is nice, you just roll little dough balls and press them to the sides of the pan.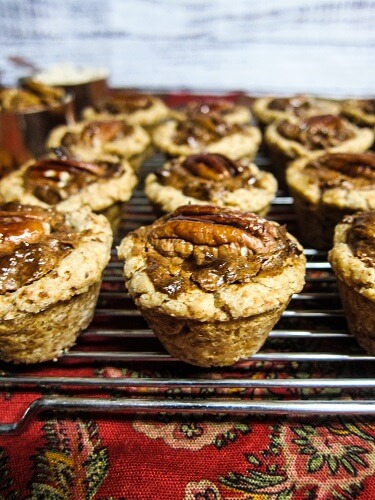 For the filling I wanted it plenty sweet as pecan pie is supposed to be but do it without corn syrup.  I don't use corn syrup in my recipes and prefer to use a natural sweetener like dates when making something caramel based like pecan pie.  Dates are nature's caramel after all and make an amazing filling!  So I blended up some dates with a touch of maple syrup, vanilla and some pecan butter for a luscious and delicious filling!  Lastly I added plenty of pecans.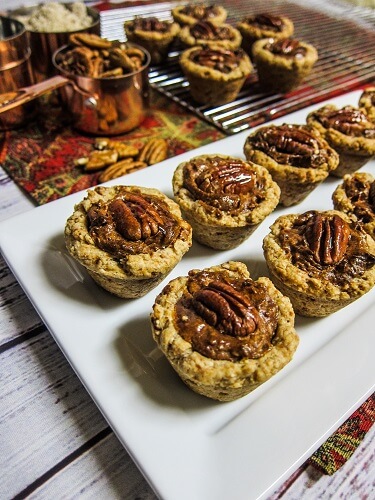 These baked up beautifully!  I could not wait to try them and luckily they don't need as much time to cool as a large pie!  They smelled amazing as I pulled them from the oven.  But they tasted even better!  Gooey sweet caramel pecan filling with plenty of crunchy pecans in a rich buttery tasting crust!  If you are a pecan pie fan, definitely give these a try!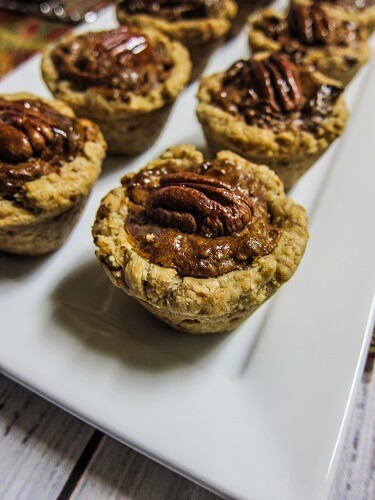 Vegan Pecan Tassies 
Makes 36
Ingredients:
Crust:
Filling:
2 cups soft pitted medjool dates (if they are not soft, soak them in filtered water for 30 minutes and drain well before using)
1/2 cup raw pecan butter (cashew or almond butter will also work if you do not have pecan)
2 Tbsp maple syrup
1/4 tsp sea salt
2 tsp pure vanilla extract
1/2 cup filtered water
1 1/2 cups chopped toasted pecans
36 pecan halves
Instructions:
To make the crust, in a large bowl, mix together flour, almond meal, sugar, and sea salt. Cut in coconut oil with a pastry blender or 2 knives until it is in pea sized pieces. Mix in  just enough water to create a smooth dough that holds together but isn't too sticky. Add more water if needed, and knead slightly until a smooth dough is created. Roll the dough into 36 1 inch balls.
Oil 3 12 hole mini muffin pans, place a ball into each and then press down into the center with the end of a wooden spoon or your fingers to hollow it in the center and press the dough to the sides creating an even crust on all of them.
Preheat oven to 350F degrees.
To make filling, combine all ingredients in a high speed blender or food processor except the pecans. Process until smooth, then scrape into a bowl and stir in the pecans. Spoon the filling into the crusts in the pie tin, and top with a pecan half to make the tops look pretty.
Place pies in the oven. Bake for about 30 minutes until the crusts are starting to brown lightly. Remove from oven and let cool on a wire rack until cool for easier removal.
remove from the pans and enjoy!
These keep refrigerated for up to 2 weeks in an airtight container, and frozen for up to 4 months in a container with a lid.
*If you would like to make these gluten free, you can swap the whole wheat pastry flour for Bob's Red Mill Gluten Free All Purpose Baking Flour.  I have tried this brand and know it works well in a pie crust.
(Visited 816 times, 1 visits today)