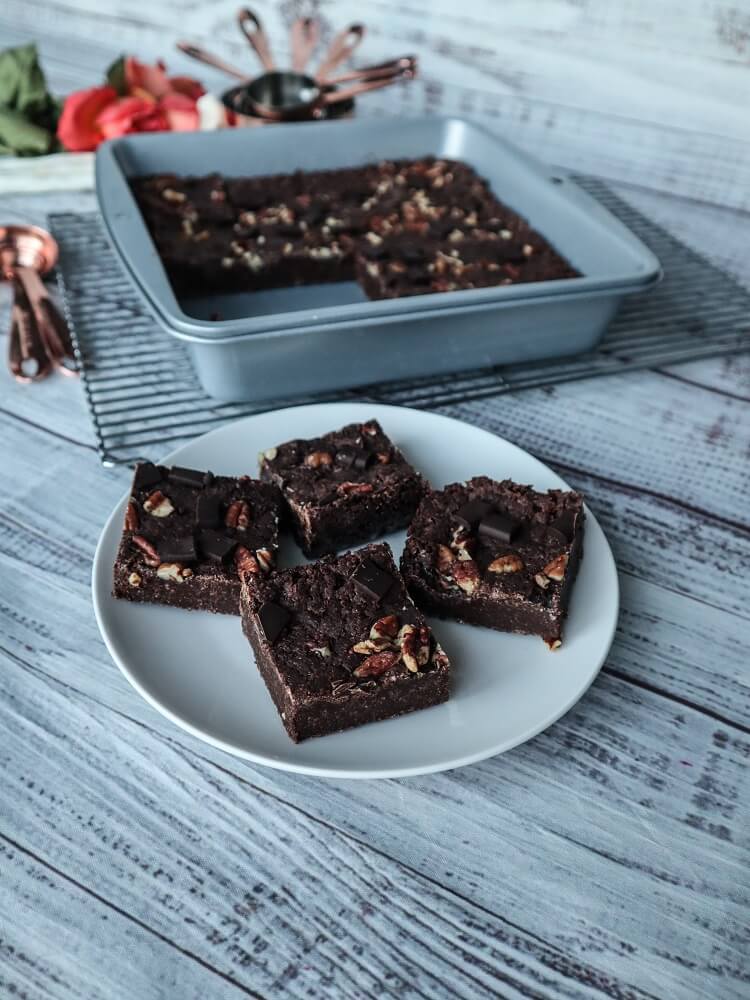 Vegan Pecan Brownies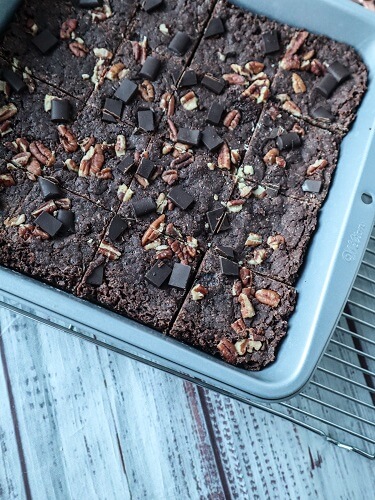 Everyone has their own preferences when it comes to brownies.  Some like the corners, some like the middle pieces, some like a fluffier less dense brownie, and some like it to be super fudgy. When it comes to a brownie, the fudgier the better as far as I am concerned, I am not a cakey brownie person, and it is all about the texture. I prefer middle pieces. Oh, and they have to have an intense dark chocolate flavor too! Growing up, I really only ate boxed mix brownies, but my Mom bought the fudgy ones, and that is where I got my love for them.  So, last weekend when I was craving some brownies, I whipped up a batch that was an experiment and they turned out just how I like them! So I was happy!  They were Vegan Dark Chocolate Pecan Brownies and they were heavenly!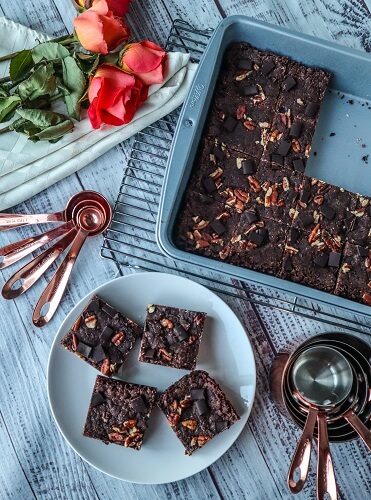 When I make brownies at work, they usually have a good amount of oil in them but I was thinking, maybe I could use a high fat content nut butter instead in my brownies as a substitution for the oil.  So that is just what I did using some pecan butter I had just made!  I have done this successfully in other recipes in things like pie crust so I thought why not in brownies?!  And I could add in extra pecans on top as well for texture!  Pecan butter has a lovely almost caramel like flavor that goes perfect with chocolate! I know pecan butter is not something that you find regularly in stores, but if you have a high speed blender or even a food processor you can make your own (I have included instructions after the recipe) and it is so worth it!  It is honestly one of my favorite nut butters.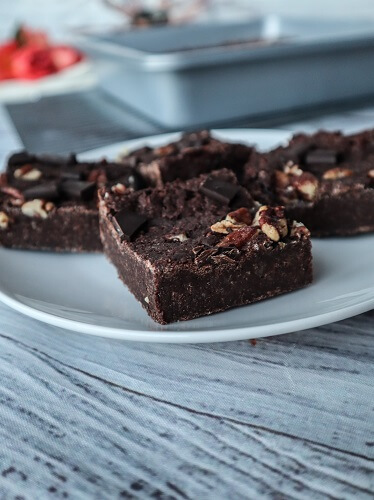 To give these brownies a fudgy texture, I also melted unsweetened dark chocolate into them instead of just adding cocoa powder.  I have done this before and I love the result! One can never have too much chocolate, right?  They smelled amazing while baking! My kitchen filled with the heavenly aroma of dark chocolate and nutty pecans! They were topped with both crunchy pecans and dark chocolate chunks for texture!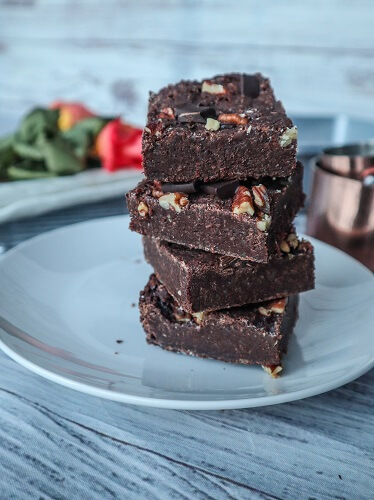 I could not wait to try them!  Once they had cooled off enough to cut (I actually let them sit overnight because I made them later after work), they were amazing!  Super fudgy and rich, plenty of intense dark chocolate flavor, notes of caramel and nuttiness from the pecan butter and a nice crunchy on top from the pecans! I gave my Mom some and she loved them as well! If you like chocolate and pecans, definitely give these Vegan Dark Chocolate Pecan Brownies a go!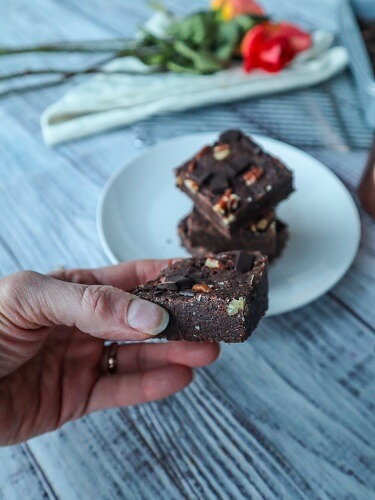 Vegan Dark Chocolate Pecan Brownies
Makes 16
Ingredients:
1/2 cup plus 2 Tbsp pecan butter*
7 oz unsweetened chocolate, chopped
2 cups maple sugar or brown sugar
1/2 tsp sea salt
1/2 tsp baking powder
1/2 tsp baking powder
3 Tbsp ground flax seed mixed together with 1/2 cup plus 1 Tbsp filtered water
1 cup whole wheat pastry flour
1/3 cup chopped pecans
1/3 cup vegan dark chocolate chunks
Instructions:
Preheat the oven to 350F degrees, and line an 8x8 inch pan with parchment or foil.
In the top of a double boiler, combine the pecan butter and the chocolate and heat until the chocolate is melted, whisking to combine them.
Once the chocolate and pecan butter are well combined, in another large bowl, whisk together the sugar, sea salt, baking powder, and flaxseed mixture, whisking to dissolve the sugar.
Whisk in the pecan butter and chocolate mixture until well blended.
Whisk in the flour, then pour into the prepared pan.
Sprinkle the chopped pecans and chocolate chunks over the top and place in the oven.
Bake for 30 minutes until mostly set, and then remove from the oven and let cool completely before cutting into bars.
*I make my own pecan butter.  You can do this by blending 4 cups raw pecans in a high-speed blender, pressing them down into the blades with the tamper, and stopping a few times to scrape down the sides, blending until they become smooth butter.
(Visited 905 times, 1 visits today)