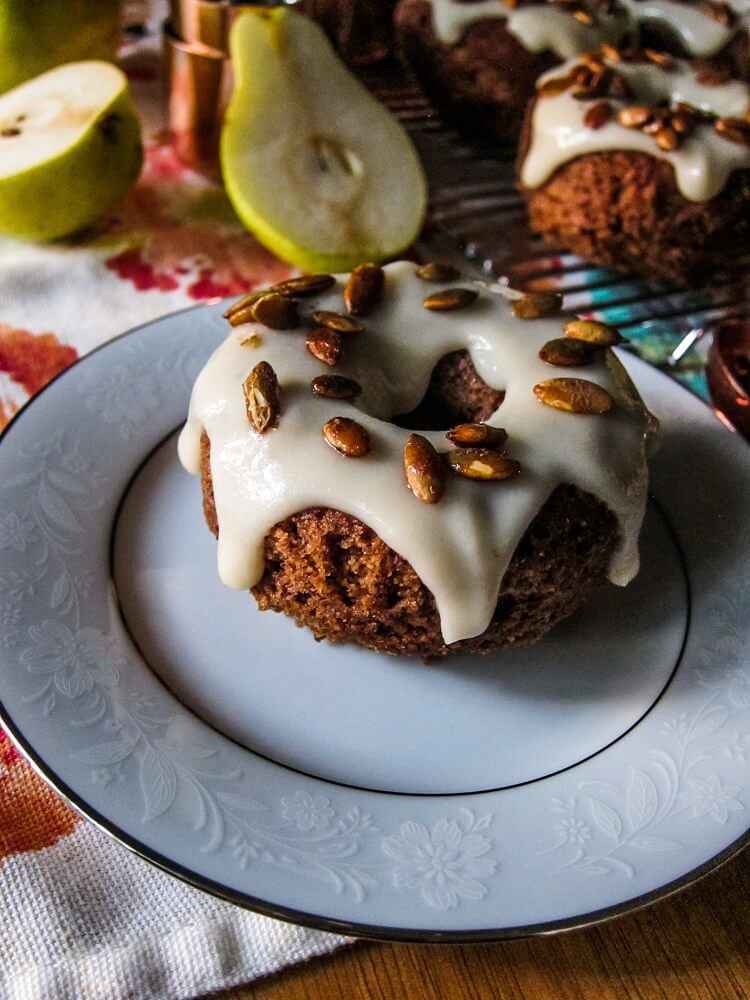 Vegan Pear Spice Doughnuts with "Cream Cheese" Glaze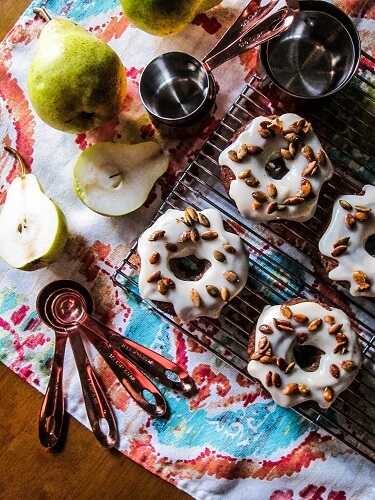 At one of the apple orchards that we always used to go to growing up, they always made these cinnamon sugar doughnuts that you could smell from far away because they always seemed to have the aroma venting out of the building as if to entice you to buy one.  I never did end up buying one because we always usually just bought the apples, and then made desserts with them when we got home, like apple pie or crisp.  A few years back though after we had gone there I decided to make some apple doughnuts because they sounded so good.  I baked them to make them a bit healthier instead of the fried doughnut variety and they turned out super delicious.  This year I haven't been to the apple orchard yet, I am going next weekend.  But I was craving some delicious doughnuts like the apple ones.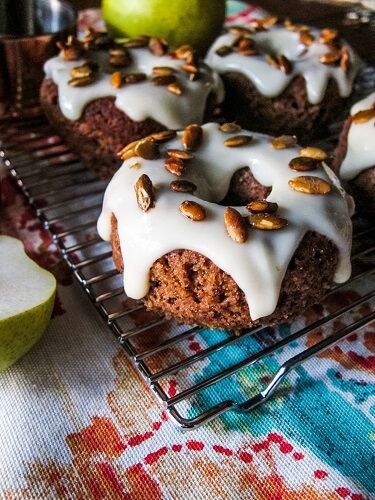 I did have pears on hand and I figured they would make doughnuts that were just as amazing as the apple ones.  I tweaked the batter a bit actually with these and made them oil free so they are a bit healthier than the other ones as an added bonus but taste just as good.  I used plenty of pear in the batter because it was the star of the flavor show after all, then added in some cinnamon, ginger and nutmeg to make them lightly spiced.  I added a bit of almond butter for the richness because I always have it on hand.  The batter tasted good even before I baked them.  I always like to test it for flavor before I bake it to see if the flavors are balanced (plus I love to taste it in general lol).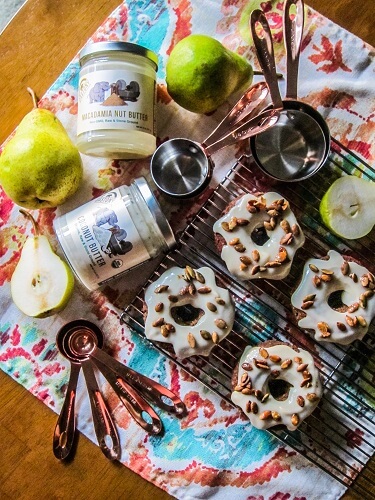 The doughnuts baked up beautifully!  Now, I could have made them like the other ones with just cinnamon sugar on the outside and they would have been delicious and easy, but I decided to top them off with one of my favorite things a cream cheese, in the form of a sweet glaze.  I had recently received some Dastony macadamia nut butter and coconut butter from Raw Guru, so I combined them with a bit of maple syrup to make a faux cream cheese glaze.  It was so good I could have eaten it with a spoon but I knew it would be even better on the doughnuts.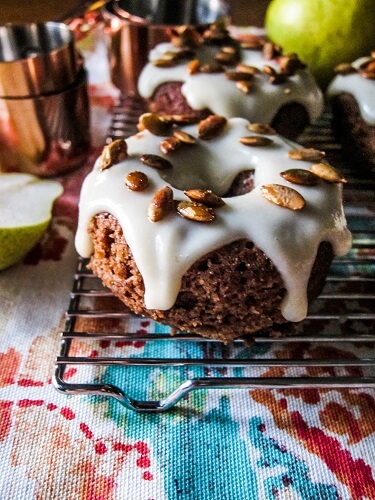 They turned out super delicious!  They were soft and sweet thanks to the pear, with just the right amount of spice, and the rich glaze was the perfect pairing for them!  If you have pears on hand, definitely give these a try!  To make the pear puree, you just take pears, core them, and throw them in the blender, blending until they become the consistency of apple sauce.  Super easy, and the perfect use for ones that are over ripe.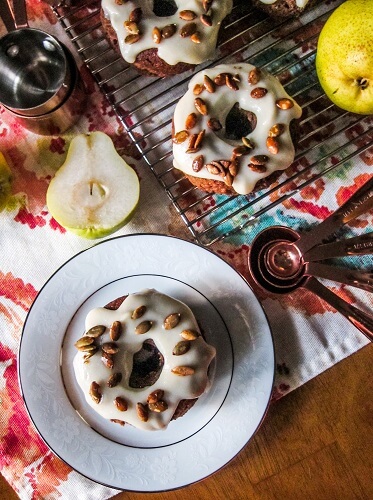 Vegan Pear Spice Doughnuts with "Cream Cheese" Glaze 
Makes 10 large doughnuts
Batter:
1 cup coconut sugar
3/4 cup Dastony almond butter
1 1/4 cups organic pear puree
1 ½ Tbsp ground flax seed mixed with 4 ½ Tbsp filtered water
1 1/4 cups organic whole wheat pastry flour
2 tsp ground cinnamon
1 tsp ground ginger
1/4 tsp nutmeg
½ tsp sea salt
½ tsp baking soda
1/8 tsp baking powder
Glaze:
Instructions:
Preheat the oven to 350F degrees, and line 16 muffin tins with liners.
Whisk together the coconut sugar, apple, almond butter and flax mixture in a large bowl.
Add the flour, spices, sea salt, baking soda and baking powder and whisk until smooth.
Spoon into the holes in the prepared pan, filling the holes 3/4 full.  Place in the oven and bake for 15 minutes, or until the doughnuts are cooked through. Remove from the oven and allow to cool.  Once cool, pop out of the pan.
To make the glaze, whisk all ingredients together until smooth, adding a little more water if it is too thick to make it a pour-able consistency.
Spoon the glaze over the doughnuts, and serve!
(Visited 484 times, 1 visits today)