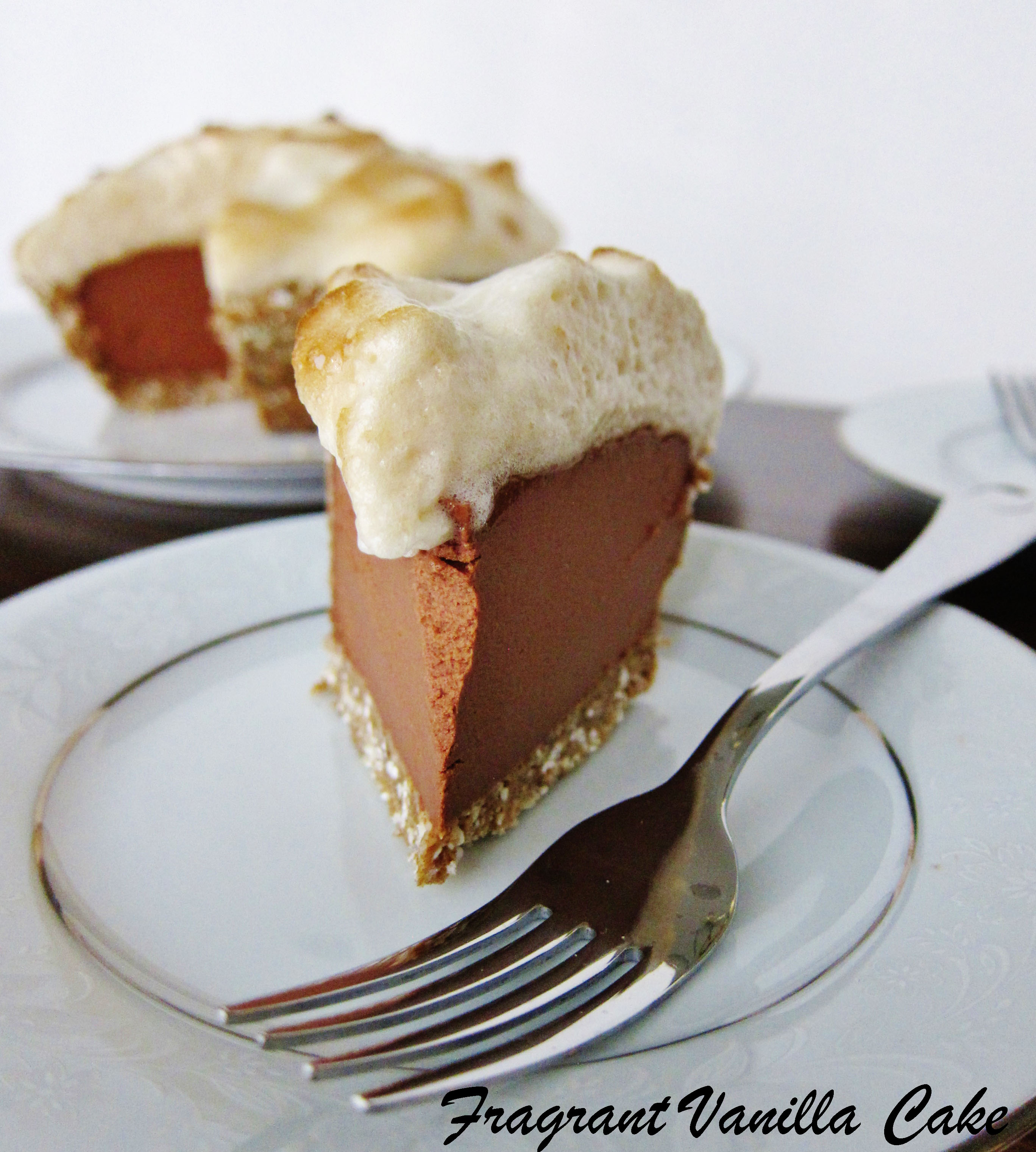 Vegan Peanut Butter S'mores Mousse Pie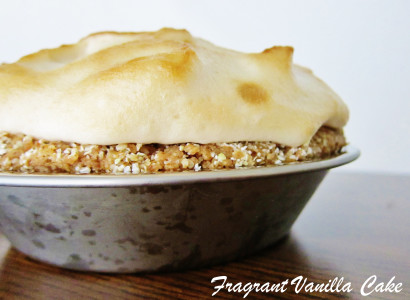 I have been wanting to make a s'mores pie for quite some time now.  Ever since I discovered aquafaba marshmallows a few months back.  Pie making has become my Friday night thing to do lately, so last Friday I decided I needed to make this pie I had been dreaming about.  Eric loved the idea since he loves s'mores or anything sweet and with chocolate included so I knew I would have someone to share it with that would appreciate it.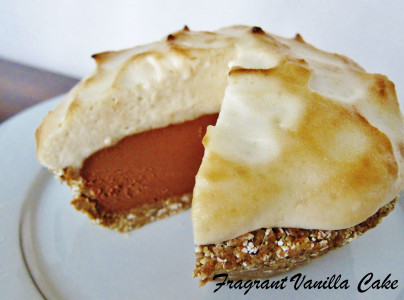 Although I could have bought graham crackers for the crust, I did not want to buy any, and I don't like the refined ingredients that are in most commercial ones...so I substituted  something I knew how to make fast.  My usual raw "graham cracker" crust.  Even though this was not going to be a raw pie, it is easy, and it tastes good and it did the trick!  That said, if you are making this and you want to make a traditional crust with real graham crackers go right ahead I just did what was economical and easy for me at the time.  So anyways, the crust was still crunchy and delicious like the traditional graham cracker crust and perfect for my chocolate filling.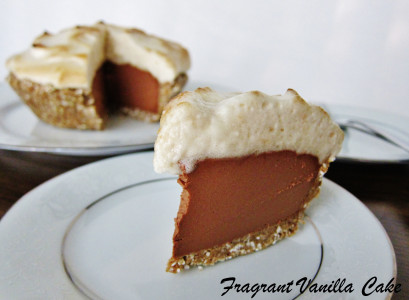 I decided on a chocolate mousse filling.  But not just chocolate mousse.  Chocolate mousse with peanut butter included!  Omg...it was so delicious! I tried a different method of making it than I usually do, pouring my home made melted chocolate into the chilled coconut milk, and it worked perfect!  Normally I would use cacao powder and coconut butter, but I figured that the chocolate would firm it up and flavor it just the same.  This was even better than I expected.  You could even pour this into a little glass if you just wanted peanut butter mousse.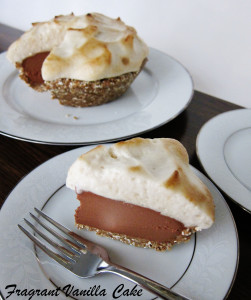 Once in the pie crust, I topped it off with my usual vegan marshmallow fluff made with aquafaba, and toasted it. So it would taste like a real marshmallow. You know, I never thought I would enjoy marshmallows again when I went vegan...but now that I can, I am pretty happy.  The pie turned out wonderful! I would take a slice of this over real s'mores any day.  I am a sucker for chocolate mousse, and peanut butter, and topping it off with the toasted marshmallows was simply heavenly!
Vegan Peanut Butter S'mores Mousse Pie
Makes one 6 inch pie
Crust:
3/4 cup finely shredded dried coconut
3/4 cup sprouted, dehydrated buckwheat groats (or you may use raw walnuts or oats)
1/2 cup ground flaxseed
1 cup soft pitted medjool dates
1/4 tsp sea salt
Filling:
1 15 oz can chilled full fat coconut milk (chilled at least 2 days in the refrigerator is ideal)
1/2 cup smooth peanut butter
pinch sea salt
8 oz melted vegan dark chocolate
Marshmallows:
1/2 cup aquafaba*
1 1/2 tsp xanthan gum or guar gum
1/2 tsp cream of tartar
1/2 cup powdered xylitol, maple sugar or coconut sugar**
1/4 tsp sea salt (if your chickpea liquid has no salt)
1/4 tsp pure vanilla extract
For the crust, combine all ingredients in the food processor until finely chopped and starting to hold together when squeezed (if it doesn't you may need a few more dates). Press the mixture into a 6 inch pie pan or spring form pan greased with coconut oil.
For the filling, combine the coconut milk, peanut butter and sea salt in a food processor.  Process until smooth, then add the chocolate slowly through the feed tube with the motor running.  Pour into the prepared crust and place in the freezer until firm, about 2 hours at least.
Meanwhile, In a food processor (which is what I used, or you may use a stand mixer with a whisk attachment), whip up the chickpea liquid until it has reached pretty stiff peaks. This will take about 2 minutes in the food processor.  Add the guar gum and cream of tartar and process until incorporated.  Add the sea salt and sugar and with the motor running, a little at a time through the feed tube (so you do not deflate it), then allow to process until the sugar is completely dissolved and the meringue is smooth, shiny and thick.  Add the vanilla, and blend until uniform in color.
Spread the marshmallows over the top of the pie (spreading it all the way to the edges covering all the mousse filling), then place it under the broiler for about 2 minutes until the meringue is toasted and starting to brown on top (watch it closely, it could easily burn fast).
*Aquafaba is the liquid from cooked or canned chickpeas.  If you are using liquid from the cooked, you want to make sure it is thick, not watery.
**If using the coconut sugar or maple sugar, it will turn your marshmallow fluff light brown.  Xylitol is toxic to dogs the same way chocolate is, so do not let your dog get ahold of this marshmallow fluff.
(Visited 119 times, 1 visits today)