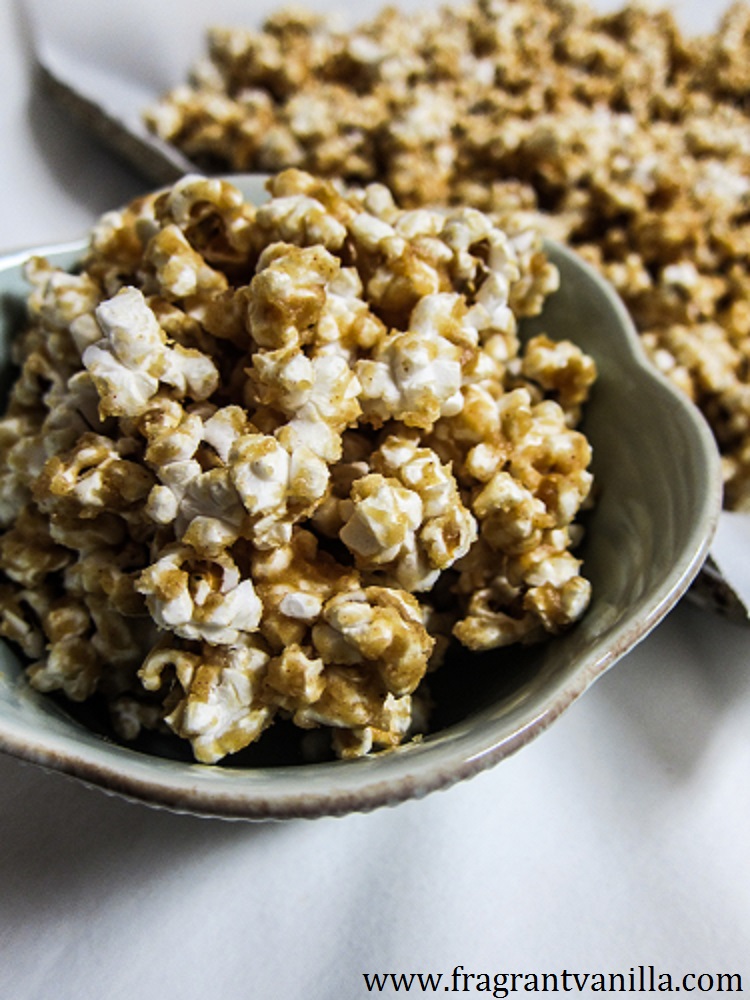 Vegan Peanut Butter Miso Caramel Corn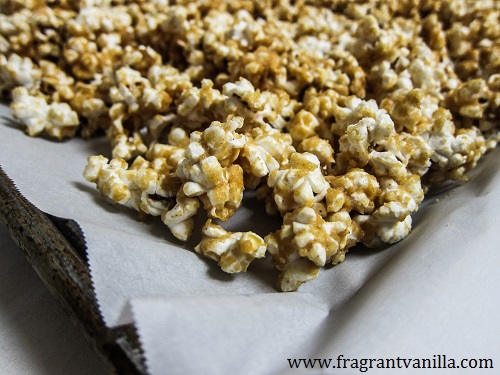 The popcorn at the movies always smells so good.  It is so tempting, but just knowing all of the artificial chemicals and flavors that might be in it, not to mention dairy, and GMO corn I never buy any.  Not only that, I was at a movie with Eric a few weekends ago and seriously a tub of large popcorn and two sodas is $20!  You could go to a restaurant and get a decent meal for that.  Or cook many meals at home and have wine instead of that soda.  So...no thank you to that popcorn.  I have been known to sneak in my own from time to time and not only is it cheaper but I feel good after eating it.  Me and Eric are both big popcorn eaters, especially him.  He tends to buy a bag of popcorn instead of a bag of chips if he is at the store wanting something munchy.  My favorite simple popcorn is just making some on the stove in my Whirly pop with coconut oil and sea salt.  Maybe a little garlic powder and nutritional yeast if I am feeling cheesy.  But sometimes I crave a bit more.  Maybe something sweet and salty.  That is where my dessert popcorn comes into play.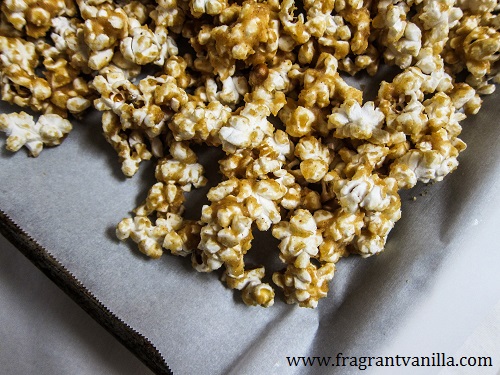 I have made a bunch of different flavors, but the ones involving caramel are my favorite.  Friday I decided that I wanted some caramel corn, so I put a twist on it.  I am obsessed with peanut butter, so that had to be involved, and I decided to throw in some white miso for a little bit of umami going on. I love pairing miso with sweet things, especially when caramel is involved.  There isn't actually any "caramel" per se in this, but I do use my quick cheater caramel which is nut butter mixed with maple syrup with a touch of vanilla.  For this I also added in some coconut butter to help it firm up a little and not be so sticky.  I usually don't say coconut oil can be swapped in for the butter in my recipes because in most cases it can't, but this is one recipe where you may swap them if you wish (if you don't happen to have any coconut butter on hand at the time).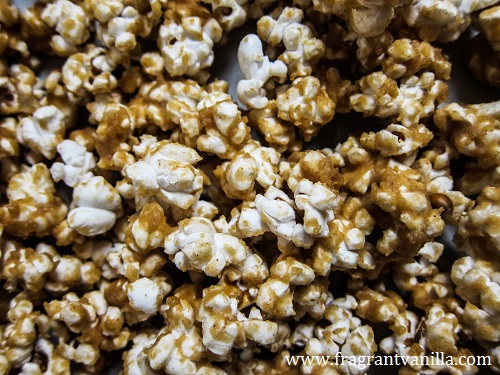 This is super simple to make and really delicious!  If you have the popcorn made it comes together in no time.  Let's just say that a large portion of the tray was missing pretty fast because I couldn't stop sampling it.  I was nice though and saved some for Eric since he is the popcorn king.  If you are looking for a crave worthy snack, give this a go!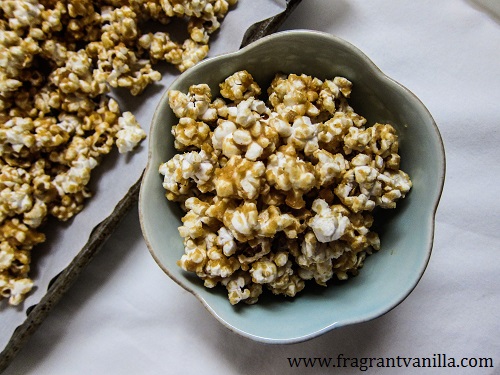 Vegan Peanut Butter Miso Caramel Corn
Makes 8 cups
Ingredients:
1/3 cup maple syrup
1/3 cup peanut butter
1/3 cup raw coconut butter
1/2 tsp sea salt
1 Tbsp white miso
1 tsp pure vanilla extract
8 cups plain organic popped corn
Instructions:
In a glass measuring cup (or bowl) whisk together the maple syrup,  peanut butter, coconut butter, sea salt, miso and vanilla until well blended.
Pour over the popcorn in a large bowl and mix well.
Spread out onto a lined sheet pan, and place in the freezer until it is hard. Enjoy!
(Visited 145 times, 1 visits today)