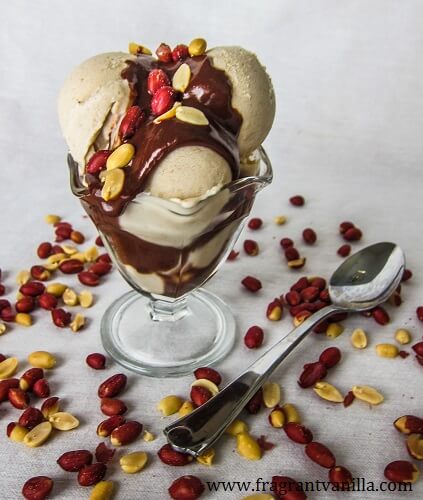 Vegan Peanut Butter Fudge Ice Cream Sundae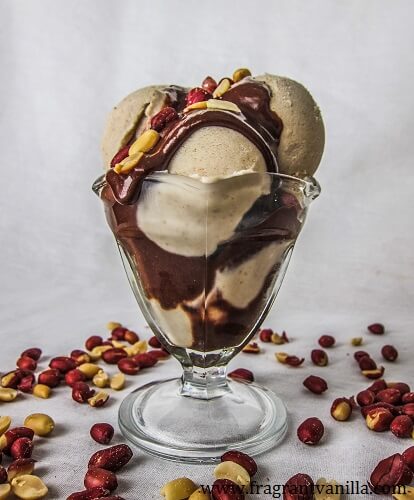 My Mom brought me a bag of Spanish peanuts from Trader Joes, and asked me if I would make her a vegan Peanut Buster Parfait.  Of course I couldn't resist, because I love veganizing things.  If you have never heard of a Peanut Buster Parfait, it is a sundae from Dairy Queen with vanilla soft serve, gooey fudge, and peanuts.  It was something that my family used to love when I was younger.  I mean, what's not to like about all of those things?!  It was pretty decadent and delicious. I did used to love going to Dairy Queen, up until I started eating healthier and giving up refined sugars and animal products.  They do include a lot of both in their foods.  The last time I ate it over 10 years ago, I was disappointed, and just missed my home made ice cream.  Once you buy an ice cream maker it is really hard to go back to buying it.  Just sayin'!  I have made hundreds of flavors, and I I still get pretty excited about new ones.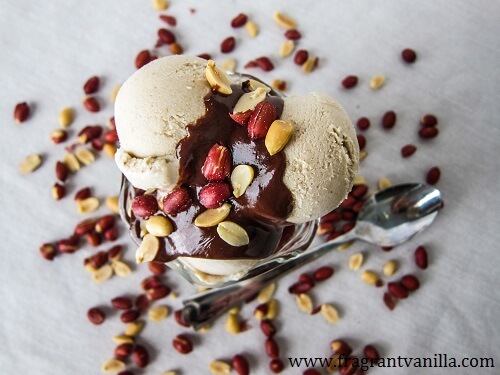 This ice cream was going to be even better than a Peanut Buster Parfait.  I decided that instead of just vanilla ice cream, I would make a peanut butter vanilla ice cream.  Because I love peanut butter, and the more the better.  I also sweetened the ice cream with dates which gave it a slight caramel flavor, and it was so incredibly delicious even just like that, before being turned into a sundae.  If you don't have any dates though, not to worry, you can substitute 1/4 cup maple syrup and it will still be delicious.  To top the ice cream, going along with the Peanut Buster Parfait theme, I made a simple fudge, with a little more peanut butter, maple syrup and cacao butter, and it was crave worthy.  This is something that you could bathe many different flavors of ice cream in, you could even make a big batch and keep it in the refrigerator for random ice cream cravings.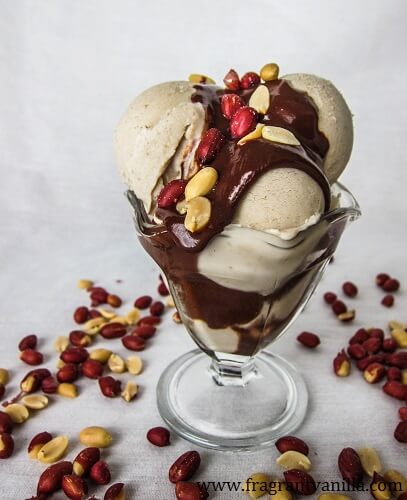 I topped it all off with those Spanish peanuts from Trader Joes, which were really good by the way, and I would buy them just to snack on.  The sundae turned out beautiful, but more importantly it was delicious.  When I served it to my Mom, she loved it as well!  We both agreed that it was WAY better than any of those Peanut Buster Parfaits we used to eat.  Not only that, no refined sugar or animal products included, so it is something you can feel better about eating.  If you are in the mood for ice cream, definitely put this on your to make list!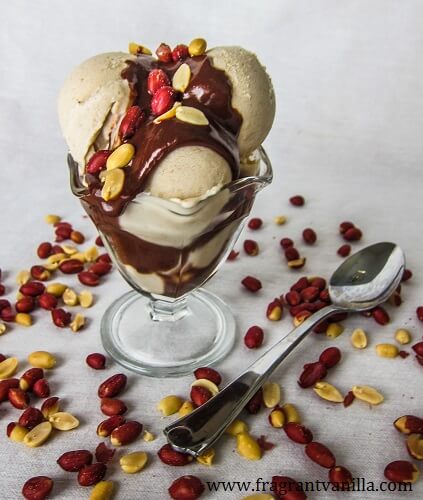 Vegan Peanut Butter Fudge Ice Cream Sundae
Makes about 3 1/2 cups ice cream, enough for about 2-3 Sundaes
Ingredients:
Ice Cream Base:
1 15 oz can full fat organic coconut milk
1/2 cup organic peanut butter
1/2 cup soft, pitted medjool dates (if they are not soft, soak them in filtered water for 30 minutes before using)
1/4 tsp sea salt
1 tsp pure vanilla extract
Fudge:
1/2 cup organic peanut butter
3 Tbsp maple syrup
2 Tbsp cacao powder or unsweetened cocoa powder
1/4 cup filtered water (or as needed)
For assembly:
3/4 cup toasted organic Spanish peanuts
Directions:
Combine coconut milk, peanut butter, dates, and sea salt in a blender and blend until smooth. Pour into an ice cream maker and process according to directions. Alternatively, if you do not have an ice cream maker, pour it into a bowl, and whisk every half hour until it is to the consistency of a thick malt.
Pour the ice cream into a freezer safe container with a lid.  Place in the freezer with the lid on, and continue to freeze until firm enough to scoop (at least 4 hours or overnight). If it becomes too firm, simply let it sit out for 15 minutes before serving.
Meanwhile, whisk together the fudge ingredients until smooth, adding a little more water if too thick.
When ready to serve, spoon some of the fudge into a dish, then scoop some of the ice cream over it, then a little more fudge, then more ice cream, then sprinkle the peanuts over that and enjoy!
(Visited 209 times, 1 visits today)