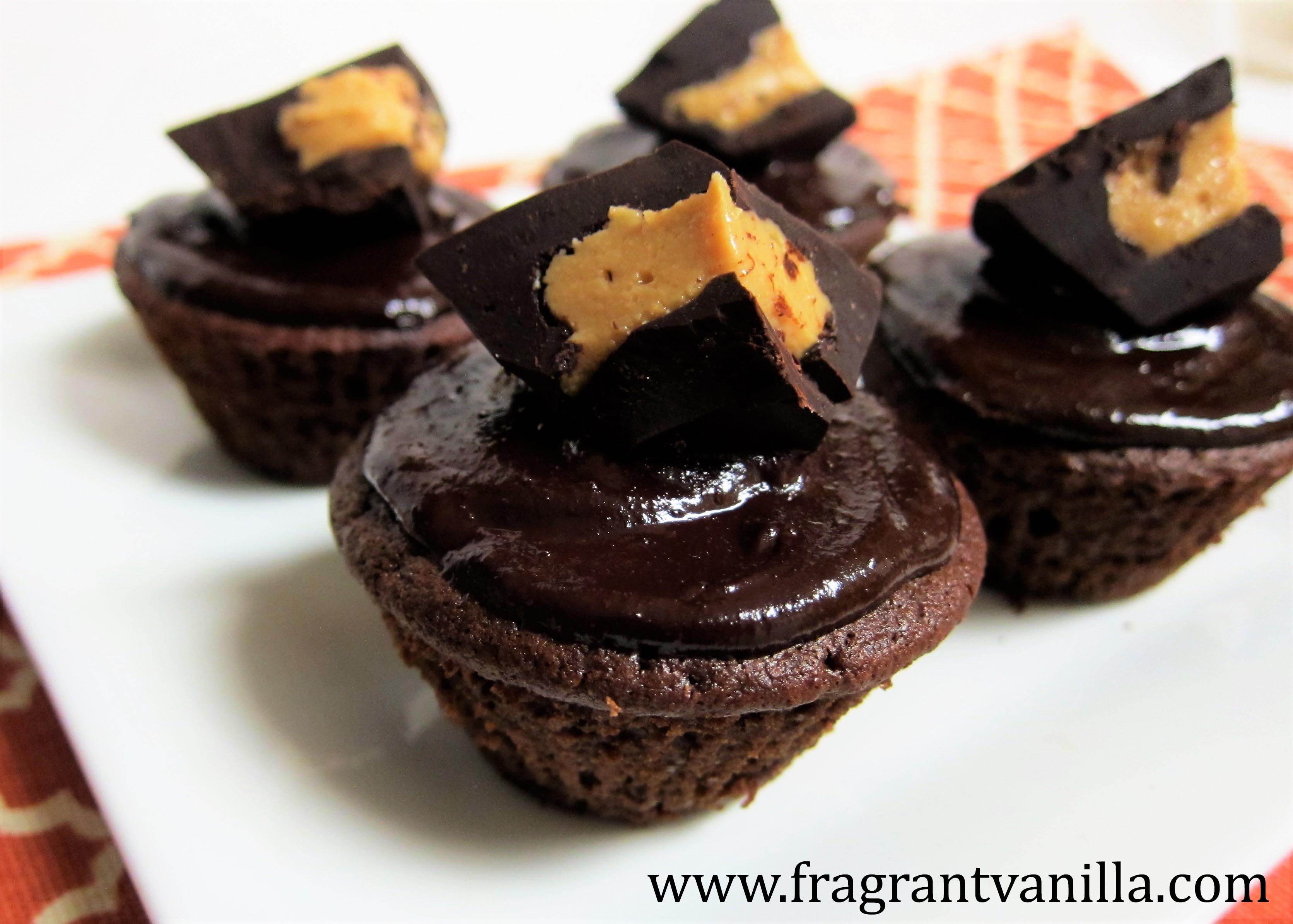 Vegan Peanut Butter Cup Cupcakes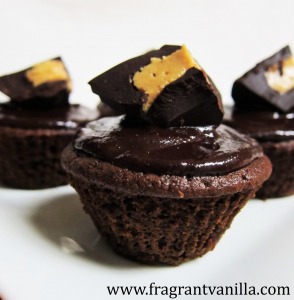 My favorite Halloween candy was always peanut butter cups. Not that I didn't love snickers and twix, because I did love anything chocolate.  There was just something special about the chocolate and peanut butter combination.  I would always trade for it if I could, but it was hard because my friends loved it too.
I like to make my own candy because then you can avoid the store bought stuff with mystery ingredients you might not want to be putting into your body. I made some peanut butter cups last week and they were so good I decided that peanut butter cupcakes would be even better.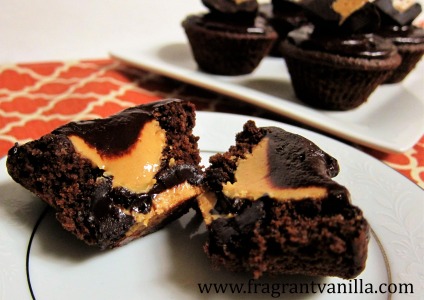 So I had to make some of course.  I decided a simple chocolate cake batter with a good sized dallop of peanut butter baked into it and topped off with chocolate ganache would be perfect.  Like a peanut butter cup in cupcake form.  They were pretty simple and fail proof to make, the hands on time was not much at all!  They smelled amazing and tasted even better.  I confess I did not let my cupcakes cool completely so that the peanut butter in the middle was still a little melty.  These were pure decadent deliciousness.  Possibly the one thing even better than a peanut butter cup itself. And the chocolate ganache was the perfect topper for it all, a little gooey since I enjoyed these warm.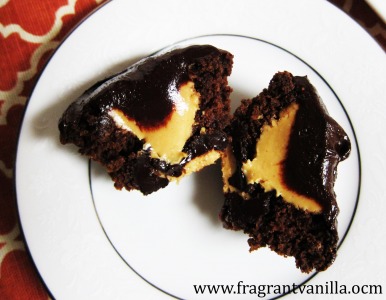 Vegan Peanut Butter Cup Cupcakes
Cake:
1 1/2 cups gluten free all purpose flour
1 cup coconut sugar
1/2 cup cacao powder or unsweetened cocoa powder
1 tsp baking soda
1 tsp baking powder
1/2 tsp sea salt
3/4 cup applesauce or pumpkin puree
1/4 cup olive oil
1 Tbsp pure vanilla extract
1/2 cup + 2 Tbsp filtered water
2 Tbsp apple cider vinegar
1 cup organic smooth peanut butter
Topping:
16 small vegan peanut butter cups (I use THIS recipe to make smaller ones and omit the maple and maca and buckwheat)
Instructions:
Preheat the oven to 375F degrees and position rack in center of oven.
Whisk flour, cacao powder baking soda, salt, and sugar in a large bowl to blend well. Whisk applesauce, oil, vanilla extract, and water together in small bowl to blend well, then whisk into the flour mixture until well blended. Whisk in cider vinegar until pale swirls form in the batter and it is well combined. (Optional, put a small vegan peanut butter cup into the bottom of each muffin tin, I did this because I had just made some). Transfer cake batter to standard sized muffin tins placed in a muffin pan to make them stable (I like to use silicone muffin tins or molds so that I don't have to keep buying new ones) and spoon 1 Tbsp peanut butter into the center of each one. Place in the oven and bake until tester inserted into center comes out clean, about 15-20 minutes. Cool completely.
Meanwhile, melt the chopped chocolate in the top of a double boiler until smooth with the coconut milk, and whisk until smooth.  Spread this ganache over the tops of the cupcakes.
(Visited 54 times, 1 visits today)