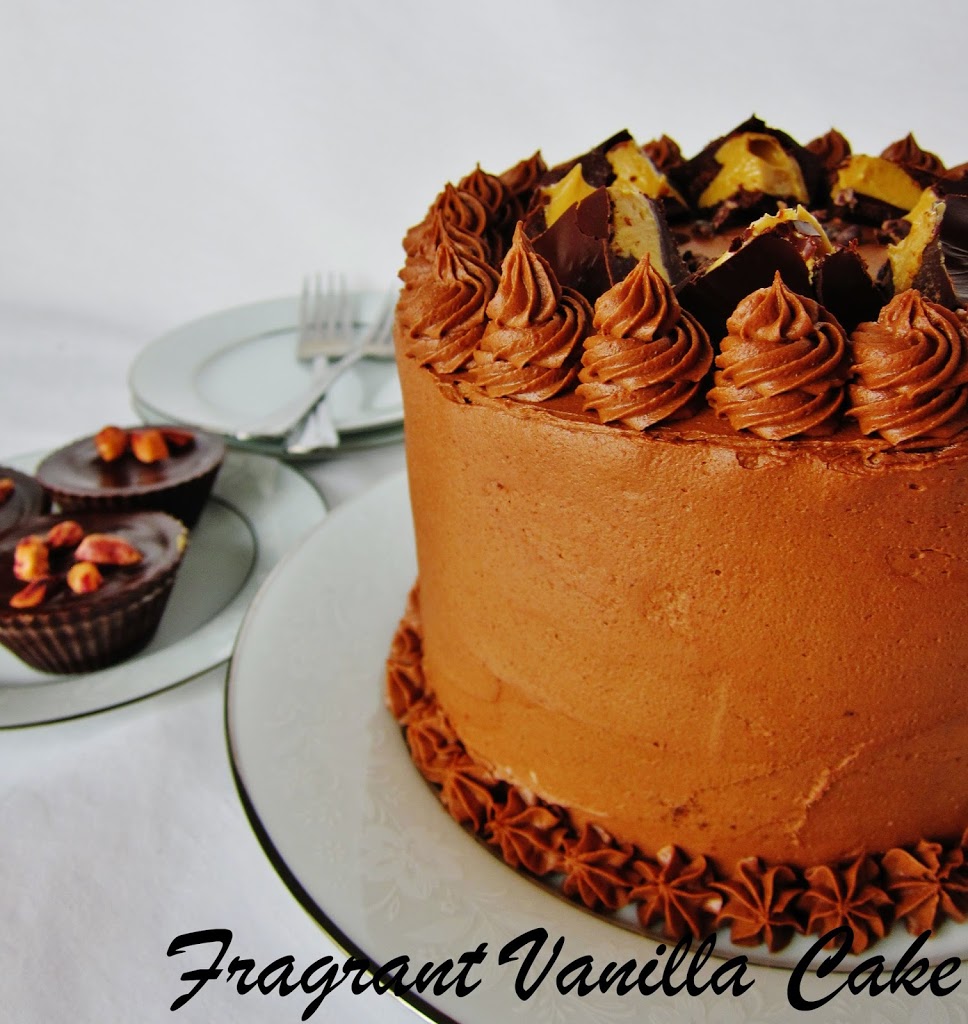 Vegan Peanut Butter Cup Cake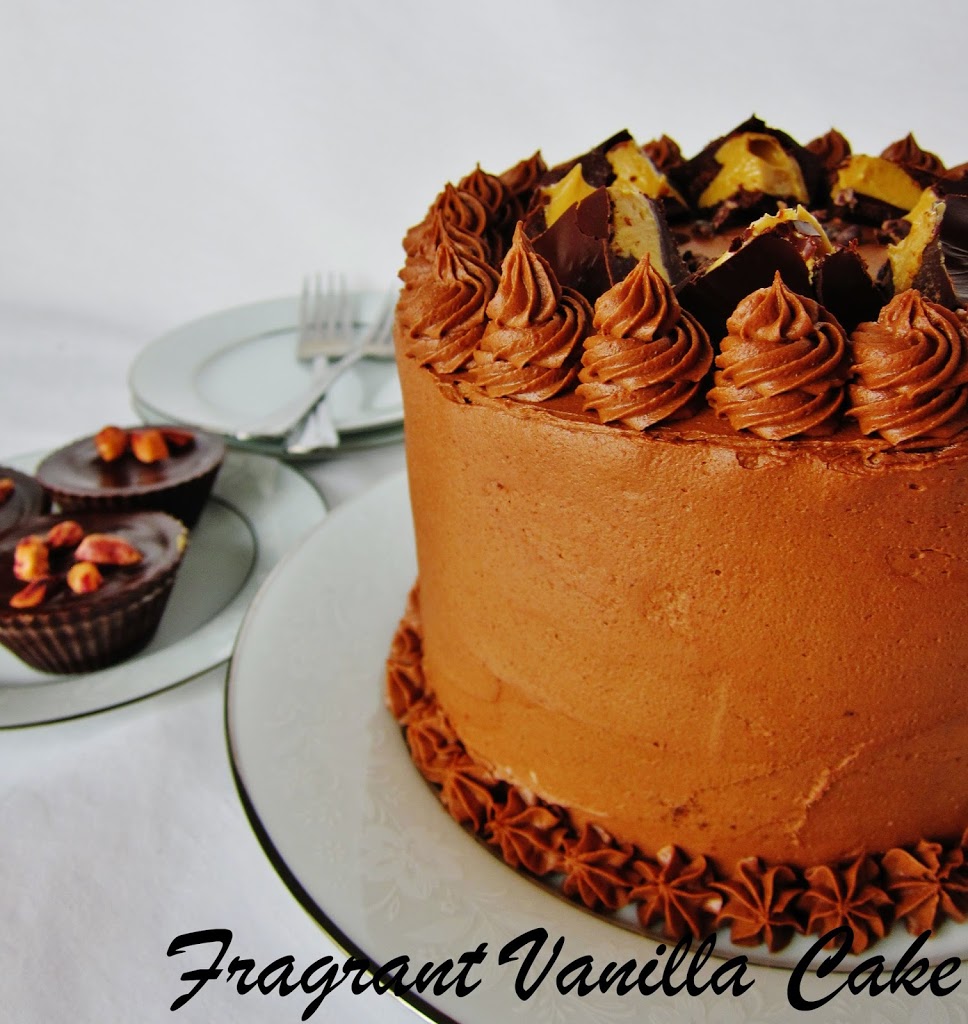 My boyfriend Eric (who I mention quite often on my blog) had his Birthday this week, and of course I had to make him a fabulous cake!  Now normally, I make raw cakes, but I told him this year I would bake him a vegan cake if he wanted that.  So, that is what I ended up doing since I have not baked a cake since before I met him and he wanted to taste one of my baked cakes.  He pretty much gave me free rein as to what I wanted to make, but since he is the biggest chocolate and peanut butter lover I know, I went with that.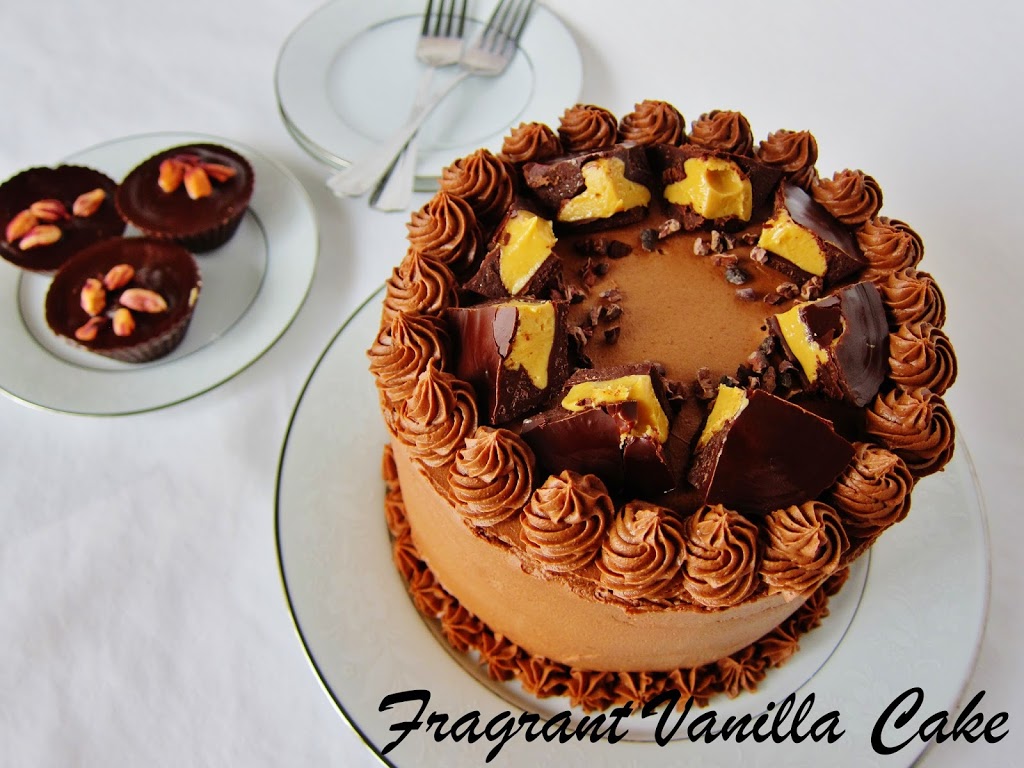 I made my classic vegan chocolate cake for the layers, a recipe that is simple to make and comes out perfect every time.  But I substituted coconut sugar for the maple sugar I used to use, and gluten free flour for the whole wheat pastry.  It turned out just as wonderful as it used to despite the substitutions.  I knew it was good when I was trimming the cake layers to make them even and I was sad when there were no more scraps.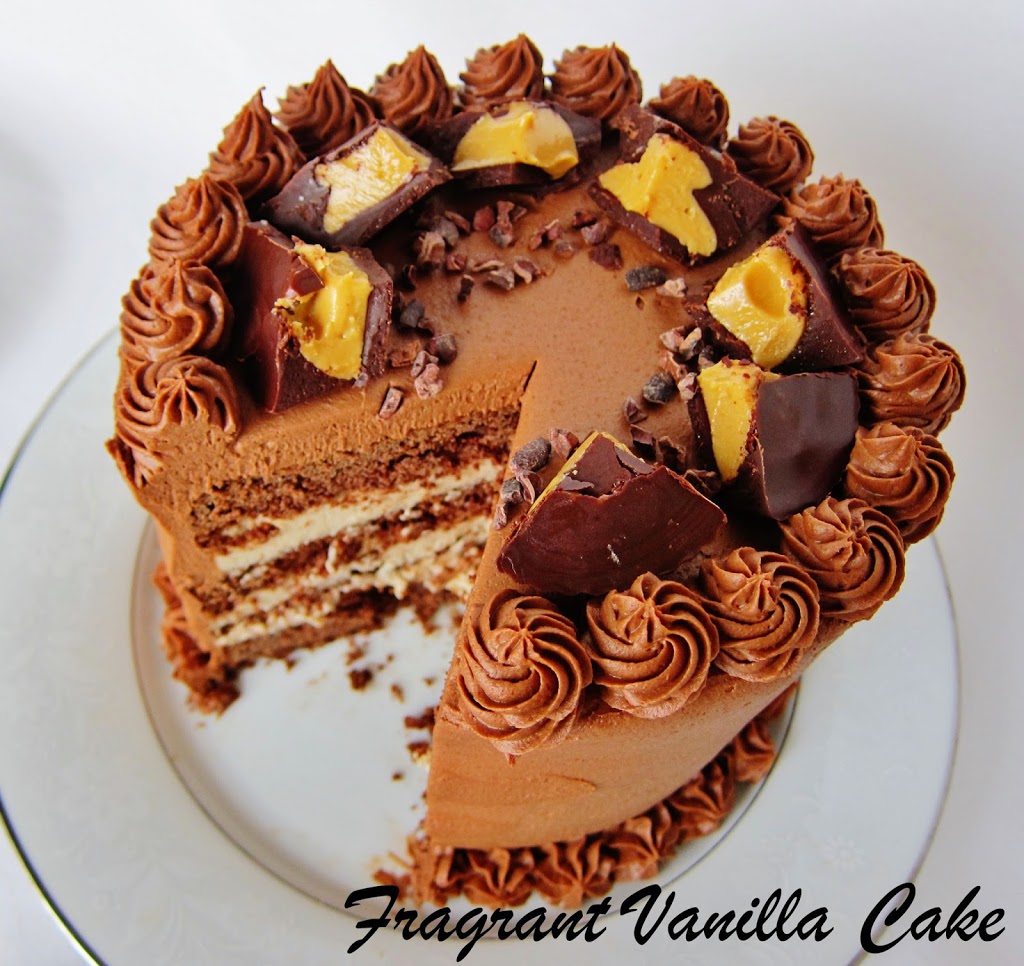 For the filling I made a rich peanut butter mousse, and it was pretty decadent, but so crave worthy!  The frosting was a simple coconut cream, peanut butter chocolate frosting that tasted like chocolate peanut butter butter cream. You would swear there was dairy in this cake if you tasted it and did not know it was vegan, it was that good.  I knew Eric would love it!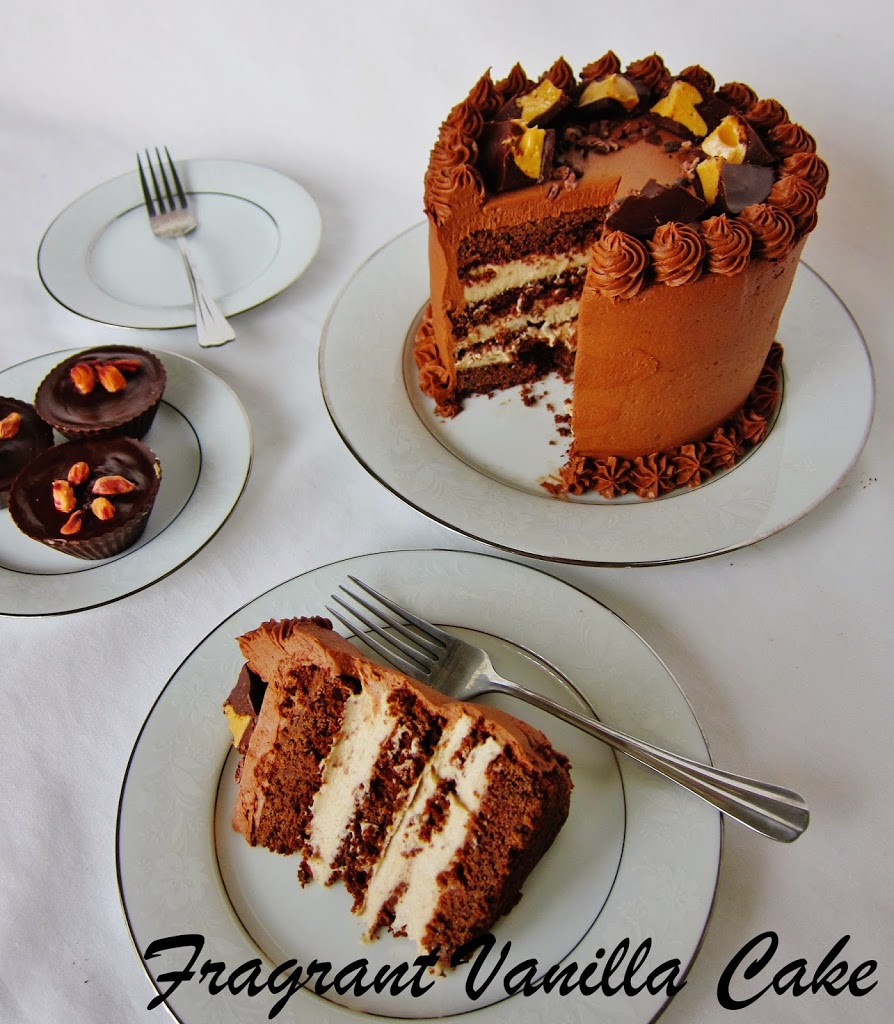 This is definitely an indulgent cake, not a diet cake, but when celebrating someones special's Birthday it is time to indulge not skimp!  Eric approved the cake, as did I.  It was a special cake for a special guy who happens to be one of my most important recipe testers!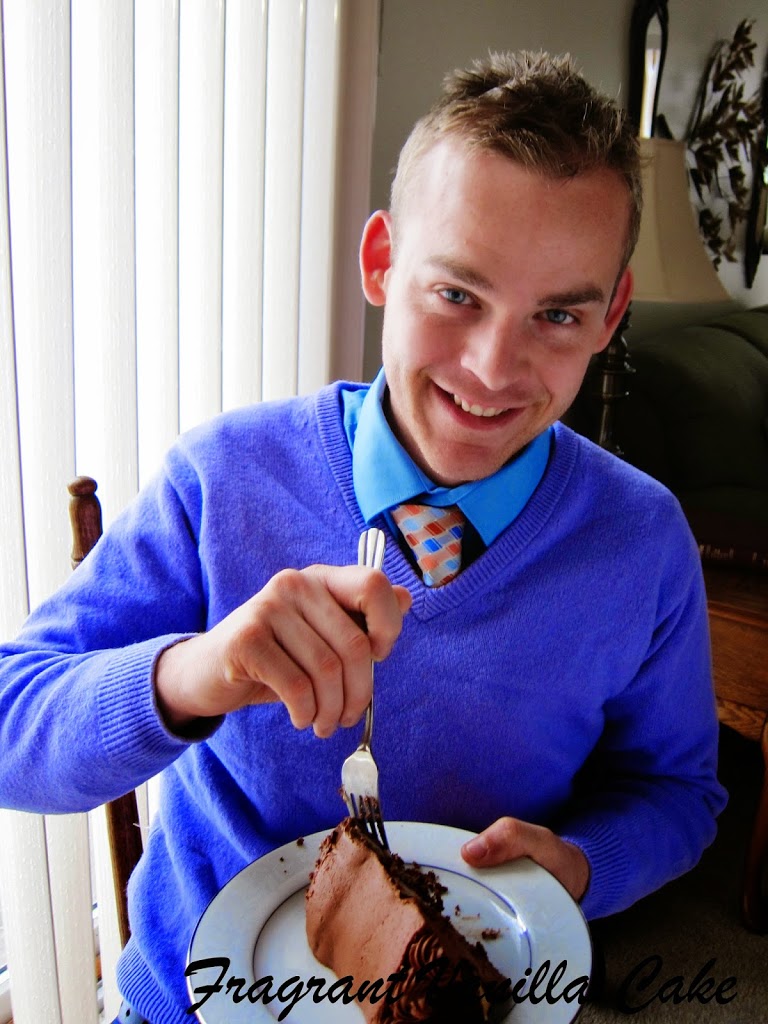 Vegan Peanut Butter Cup Cake
Makes 1 6 inch 4 layer cake
2 6 inch cake pans
Cake:
1 1/2 cups Bob's Red Mill All Purpose Gluten Free Flour
1/3 cup raw cocoa powder
1 tsp baking soda
1 tsp sea salt
1 cup palm coconut sugar
1/2 cup unrefined coconut oil
1 cup coconut milk
1 Tbsp maple extract
1 Tbsp pure vanilla extract
2 Tbsp cider vinegar
Filling:
2 cups raw cashews, soaked in water for 4 hours and drained
3 cups organic roasted peanuts soaked in water 4 hours and drained
1/2 cup plus 2 Tbsp filtered water
1/2 cup plus 2 Tbsp raw coconut nectar or raw agave nectar or your choice of liquid sweetener
1/4 tsp sea salt
seeds of half a vanilla bean, or 2 tsp pure vanilla extract
3/4 cup raw
coconut butter
, warmed to liquid
Frosting:
Coconut milk cream from 3 15 oz cans (2 cups)*
1/2 cup organic peanut butter
1/4 cup raw coconut nectar
1/4 tsp sea salt
1 tsp pure vanilla extract
2/3 cup raw cacao powder
6 Large Vegan Peanut Butter Cups, divided (use THIS recipe and omit the maple and maca and buckwheat)
Preheat the oven to 375 degrees and position rack in center of oven. Line two six-inch-diameter cake pans with 2-inch-high sides with parchment paper. Coat parchment paper and pan sides with nonstick spray. Whisk flour, cocoa powder, baking soda, salt, and sugar in a large bowl to blend well. Whisk oil, coconut milk, maple extract, and vanilla extract together in small bowl to blend well, then whisk into the flour mixture until well blended. Whisk in cider vinegar and stir quickly (pale swirls will be in the batter, which is the baking soda reacting with the vinegar, which allows the cake to rise since there are no eggs). Transfer cake batter to prepared pan and bake cakes until tester inserted into center comes out clean, about 25-30 minutes. Cool cake completely in pan on rack, about 1 hour. Cut around sides of pan to loosen. Turn cake out onto platter; peel off parchment paper. Let cool completely, then place in the fridge to chill until very cold to make slicing easier (since cakes with no eggs crumble easier). When chilled, slice cakes horizontally in half so that you have 4 layers. Keep chilled until you are done assembling the cake.
Meanwhile, to make the filling, combine all ingredients but the coconut butter in a food processor and process until smooth.  With the motor running, add the coconut butter and process a minute more.  Pour into a bowl, and place both bowls in the freezer until a whipped cream consistency (about 30 minutes).  Place one cake layer on a plate, and spread 1/3 of  the filling over it.  Top with another cake layer and then spread half of the remaining frosting over that. Top with the last cake layer and place in the fridge while you make the frosting.
To make the frosting, combine all ingredients in a food processor until smooth.  Place in a bowl.  Spread frosting over the top and down the sides of the cake, smoothing out.  Place the remaining frosting in a pastry bag, and pipe decoratively around the bottom and top of the cake.  Garnish with Peanut butter cups and Serve! Store cake in the fridge.
*if you would like a 4 layer 9 inch cake, double this entire recipe and bake in two 9 inch cake pans.
(Visited 571 times, 1 visits today)