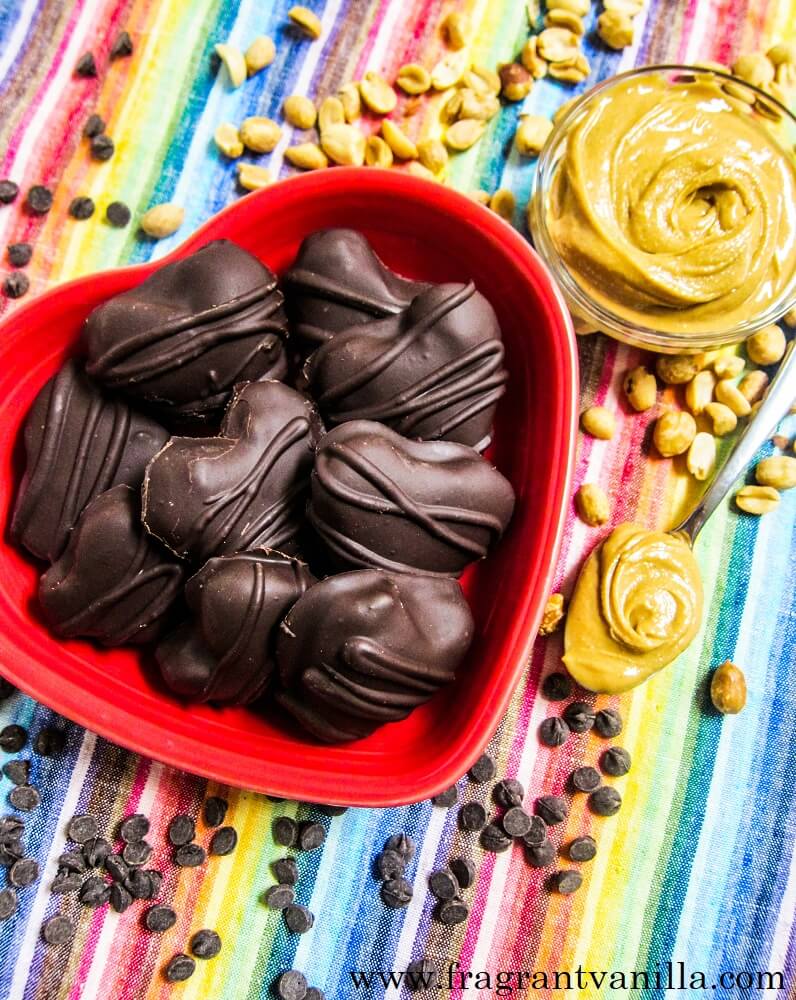 Vegan Peanut Butter Chocolate Hearts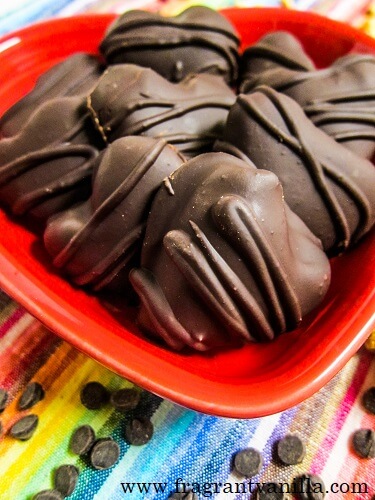 When it came to Valentine's Day candy when I was little, hands down the Reese's peanut butter hearts were my favorite.  You know, the giant ones that were almost the size of a candy bar, not just the little fun sized ones.  I always hoped to get those from my Grandma, who would every year give me a Valentine's candy stash that included a box of chocolates and a few bigger ones like the peanut butter hearts. In school we also made Valentine's boxes and gave out little Valentines to every one of our classmates.  Sometimes candy was included but of course it was usually the mini Reese's pb cups because that would be expensive to buy for all 30 other kids and we had to give one to everyone. I always got lots of suckers and hard candies, and those I ate first because I have always enjoyed saving the best for last which was the peanut butter filled ones.  I am still that way, I figure it always gives me something to look forward too. Now, I am even more picky about candy though, and I mostly just make my own because then I know I will get exactly what I want.  It is still lots of peanut butter cups, or in this case peanut butter hearts, because that is what I decided to make last weekend!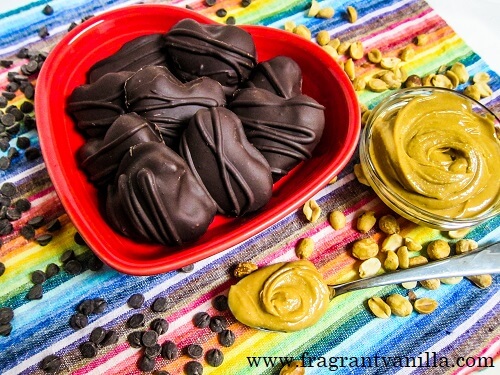 Honestly I got the idea from when Eric and I were in Target last weekend and I spotted the Reese's Valentine's hearts in the checkout line.  I began to remember how good they were to my 10 year old self and I really wanted one. But of course I wasn't going to buy one because they are not vegan, they contain artificial ingredients now, and refined sugars.  So I HAD to make some.  There was no way around this craving.  I much prefer my home made peanut butter to the sweet peanut butter in those store bought ones anyhow.  They ended up being really easy to make!  Now, they are slightly different than a peanut butter cup, because the filling has to be a little less soft so that you can shape it, so I decided to add peanut flour to it. I have had it in my freezer for a while, I had picked it up a long time ago because it sounded interesting, and this was the perfect use for it!  It make the peanut butter filling more firm without taking away the peanut butter flavor.  I added just a little maple syrup and it was perfect!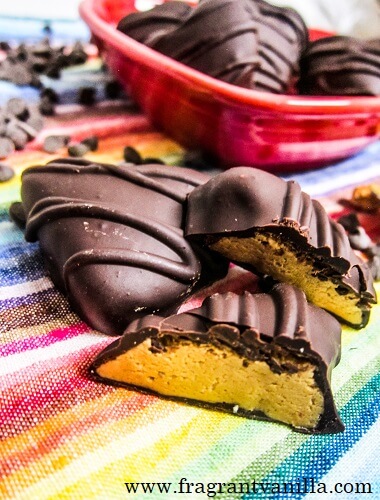 These actually only contain 5 ingredients including sea salt, so nothing too complicated here.  I used vegan chocolate chips for these instead of making my own chocolate so they were even faster to make than usual.  I like Lily's Chocolate Chips because they taste really good and they happen to be vegan too!  So that is what I melted down to dip the peanut butter hearts in.  OMG were they ever delicious when they were all finished!  It was so good to satisfy my craving for peanut butter chocolate hearts!  If you have ever loved that classic candy, you need to give these a try!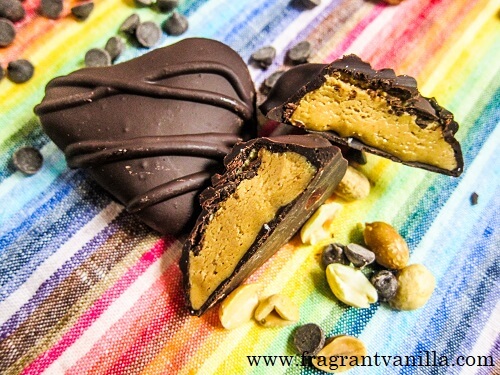 Peanut Butter Chocolate Hearts
Makes about 10
Ingredients:
Instructions:
In a bowl, mix together the peanut butter, peanut flour, maple syrup, and sea salt until smooth and well combined.  You want it to be the consistency of dough, if it is still too soft (since peanut butter may vary in how liquid it is), add a little more peanut flour.
Shape into hearts, and place on a parchment lined tray.  Place in the freezer to chill for 1-2 hours.
Meanwhile, when you are ready to dip the peanut butter centers, melt the chocolate in the top of a double boiler until smooth.
Dip each peanut butter heart into the chocolate (letting the excess drain off, I like to set mine on a fork to dip to make it easier) and place back onto the tray until they are all done.  Place in the freezer to set the chocolate until it is hard, which usually takes 5-10 minutes.  Enjoy!
Store any leftovers in the refrigerator in a container with a lid for up to a few months.
(Visited 175 times, 1 visits today)