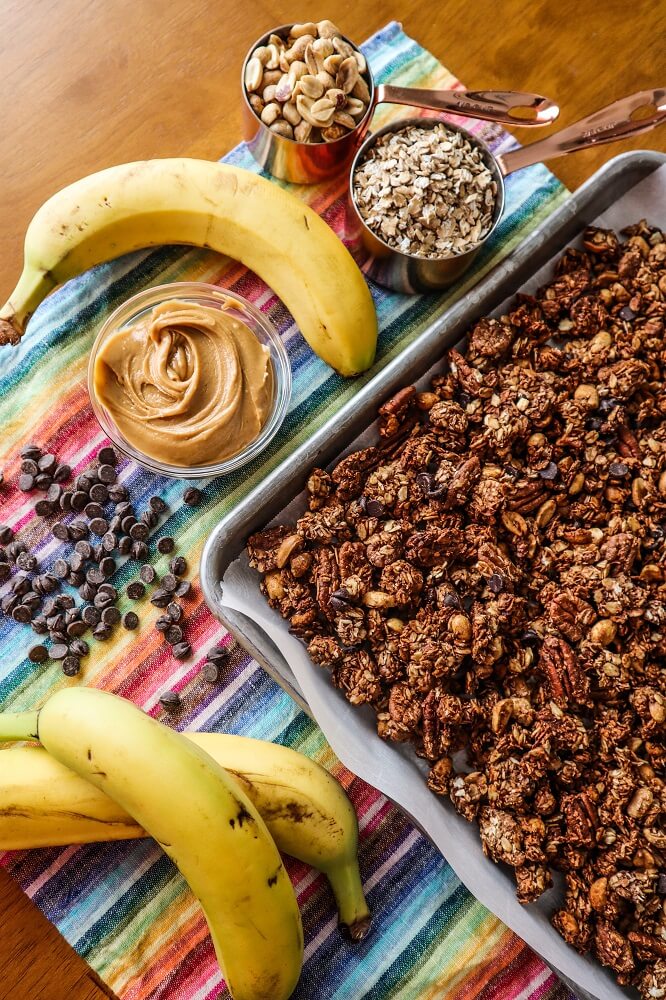 Vegan Peanut Butter Chocolate Banana Granola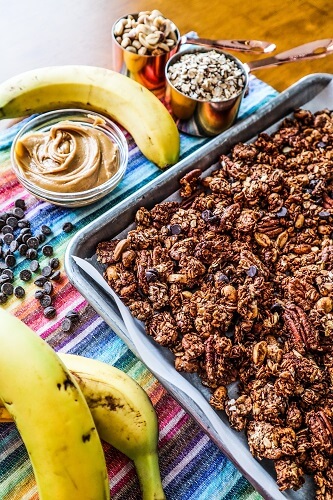 I made a chocolate peanut butter roll cake last week, and it was so good that I am keeping the chocolate peanut butter theme going. Not with a dessert this time though, with a delicious snack!  My last batch of granola was running low, and it is something that I need to keep in my pantry at all times for when the craving hits!  So it was time to make a new batch. I did not want to have to buy ingredients to make, it so I used what I had on hand. I always of course have chocolate and peanut butter, and I decided to add banana to the mix, because why not?  It is such a heavenly combo!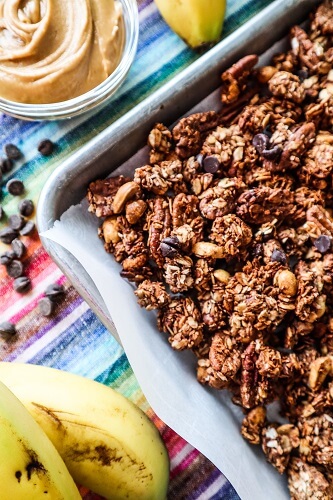 I have been making granola for about 15 years, ever since I discovered that home made was healthier than store bought, as well as fun because I can make my own flavors.  It is really easy to make as well!  I am a huge oat lover, so I always have plenty on hand to make stuff like this. I add coconut to the base as well to give it sweetness as well as extra crunch!  But of course if you are not a fan, you could just use additional oats.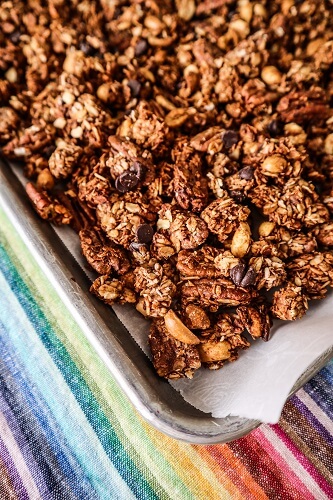 Instead of using oil to coat this granola like traditional granola, I prefer to use a nut butter and pureed fruit (or vegetable) mixture. In this case it was banana, but I have used pumpkin, apple and sweet potato purees before as well with good results! You wouldn't think that it would get as crispy, because sometimes when you sub them for oil in things like cookies they are soft, but this granola crisps up nicely!  I sweetened it with maple syrup this time.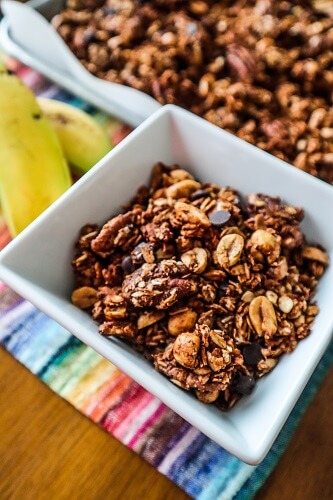 It smelled so good while baking!  Like chocolate chip peanut butter oatmeal cookies, which were one of my favorites growing up.  I added chocolate chips as well once it had finished baking (since they melt).  It was sooo good! This is one of those things that you can't stop sampling while it is cooling on the stove. Or at least I can't. It is so munchable!  If you are a granola fan, definitely give this a try!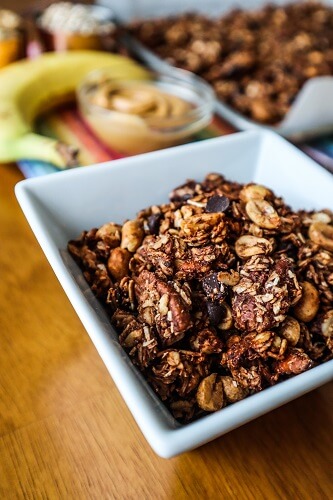 Vegan Peanut Butter Chocolate Banana Granola
Makes 6 cups
Ingredients:
3 cups organic gluten free old fashioned rolled oats
1 1/2 cups peanuts
1 cup pecans
1 cups finely shredded, dried unsweetened coconut
1/2 cup mashed bananas
1/4 cup maple syrup
1/2 cup peanut butter
3 Tbsp cacao powder
1/2 tsp sea salt
1 tsp pure vanilla extract
1 cup vegan dark chocolate chips
Instructions:
Line a large baking sheet with non-stick foil, and spray with cooking spray.
Preheat the oven to 350F and set rack at the medium position
In a large bowl, combine oats, nuts, and coconut, and set aside.
In another bowl, whisk together banana, maple syrup, peanut butter, cacao powder, sea salt, and vanilla extract until well combined, then pour over oat mixture and toss to coat until completely blended.
Pour out onto prepared baking sheet, and spread out evenly.
Bake for 35 minutes, stirring about every 10 minutes or so until the granola is evenly browned. Remove from oven and let cool.
Stir in chocolate chips.
Enjoy!
(Visited 697 times, 1 visits today)