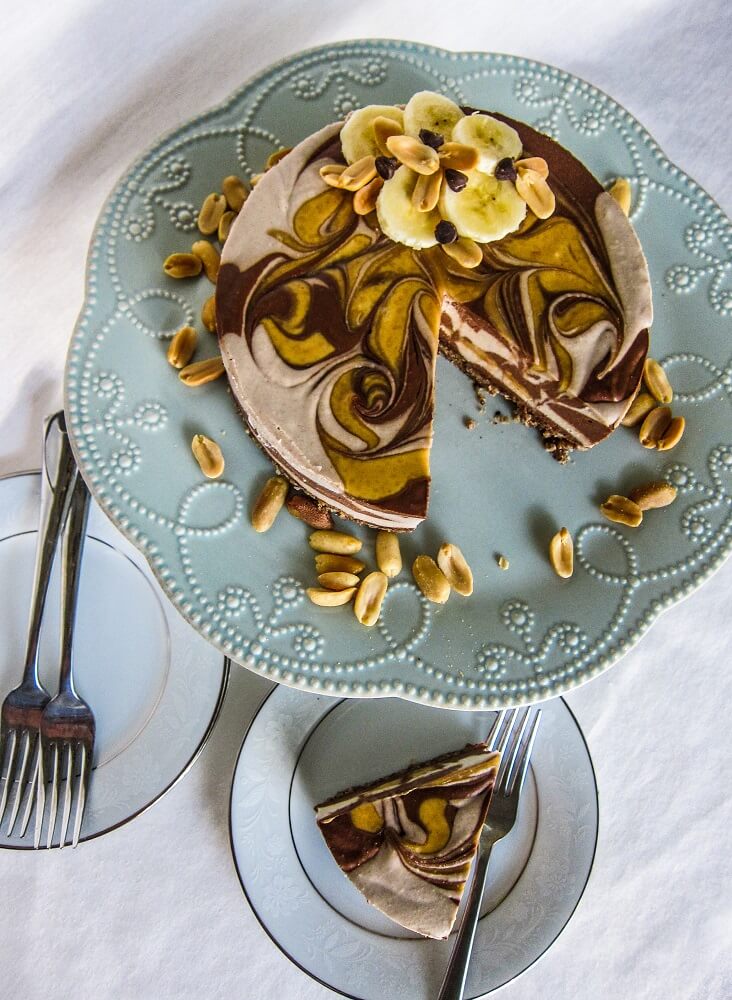 Vegan Peanut Butter Banana Chocolate Swirled Cheesecake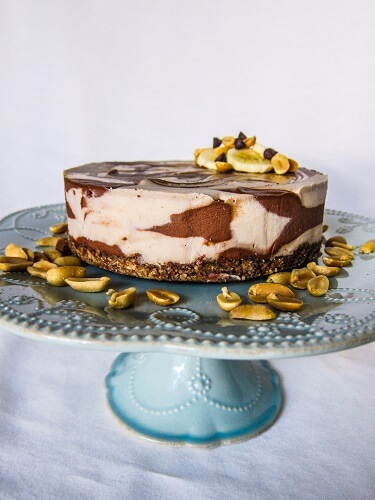 Back when I first went vegan, I was really into raw style cheesecakes.  I say raw style because they were not always technically raw, but they did not need cooking and many of the ingredients were raw.  I probably made at least 75 different ones, because there was a point at which I made one every weekend I loved them so much.  One of the first ones was a peanut butter banana chocolate cheesecake.  In fact, I think it was about the second one that I made.  It was amazing.  Rich and delicious with a peanut butter banana and chocolate swirl plus some more peanut butter swirled in since there can never be too much peanut butter as far as I am concerned.  Well, I decided last weekend that the recipe needed revamping.  I mean it was delicious with the raw coconut meat and all, but lets be real, most people do not want to crack open 4 young coconuts to make a cheesecake.  They are expensive, and not everyone has a Coco Jack.  So, I have revamped the recipe using coconut milk and easier ingredients to find.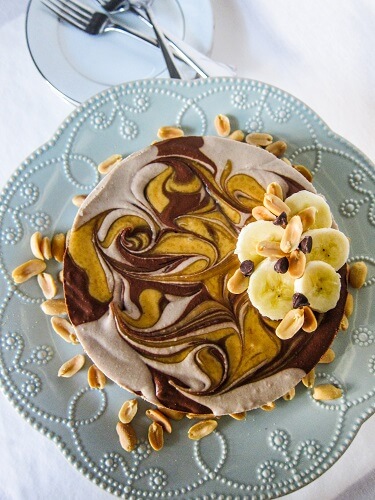 I am always trying to improve upon my recipes as I learn new things, so expect to see more of this sort of thing on my blog.  I have plenty of recipes I need to update and make even more delicious!  Back to that cheesecake, I was craving something with chocolate and peanut butter, and I had bananas on hand so that was what drove me to make it.  I haven't made cheesecake in a while also so it was about time.  The thing I love about these no bake cheesecakes though, is that they are fairly simple to make, and not fussy compared to say baking a cake and making a creamy frosting.  Just make the crust, make the filling, pour it in and chill!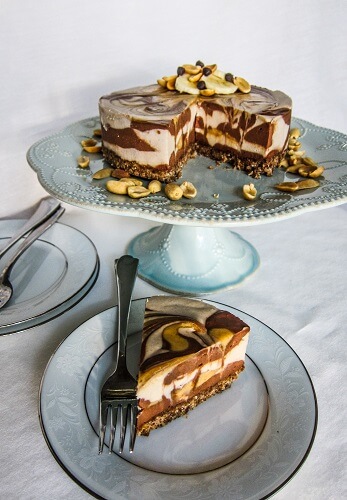 This one had more than one filling though, but no need to wash out the blender in between.  I made a creamy banana peanut butter filling, and a decadent chocolate peanut butter filling and they tasted amazing even before I poured them into the crust.  Yes, I always make sure I taste my filling while making things like this in case I forgot an ingredient (and because it is super delicious). One time I forgot to add my maple syrup, and it would have been kind of bland without it.  Yes, I make mistakes sometimes too, even though I have made hundreds of cakes. This one however had no problems with the filling and came out even better than I imagined!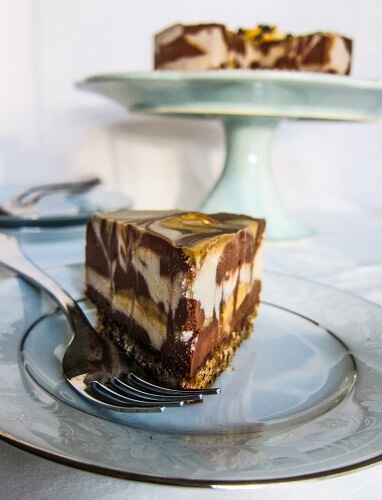 Once it was all set up I could not wait to try it!  It was rich and decadent, kind of like peanut butter cup flavored cheesecake but with the sweetness of banana added in.  Totally crave worthy!  I think the texture was even better than the other version I had made back in the day because it was a bit creamier like traditional dairy cheesecake and less stiff.  If you are a cheesecake lover like me, you totally need to give this a try! Trust me on this one, you will thank yourself later when you are enjoying it!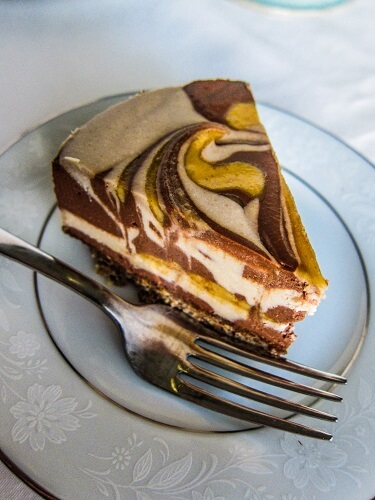 Vegan Peanut Butter Banana Chocolate Swirled Cheesecake
Makes one 6 inch cake
Crust:
3/4 cup organic roasted peanuts
1/4 cup pitted medjool dates (if not soft, soak them in filtered water first and drain well)
1 Tbsp organic peanut butter
1/8 tsp sea salt
Filling:
1 cup full fat coconut cream (I used the thick part of a can of Thai Kitchen organic full fat coconut milk*)
3/4 cup mashed organic bananas
1/4 cup maple syrup
1 tsp pure vanilla extract
1/8 tsp sea salt
1/2 cup plus 2 Tbsp coconut butter (NOT OIL), warmed to liquid
1/4 cup smooth organic peanut butter
1/4 cup cacao powder or cocoa powder
Swirl:
Garnish:
sliced bananas, chocolate chips, peanuts
Instructions:
Oil a 6 inch spring form pan, and line the bottom with parchment paper.
To make the crust, place all ingredients in a food processor, and process until crumbs and starting to hold together (if they are not holding together when squeezed, add a few tsp filtered water and blend). Press into the bottom of the prepared pan.
Meanwhile, to make the filling, combine all ingredients but the cacao powder in a high speed blender or food processor and blend until smooth.
Divide between 2 bowls.
Add one back to the blender with the cacao powder and blend until smooth then pour back into the bowl.
To assemble the cheesecake, drop half of each bowl of filling over the prepared crust by the tsp. randomly, then tap on the table, and drop some of the peanut butter over than randomly (but spaced out) by the tsp as well. Swirl with a knife a few times. Repeat with the remaining filling and more peanut butter.
Place cheesecake in the freezer until it is set for about 4 hours (or overnight in the refrigerator if you are not in a hurry).
Remove from the freezer, un-mold and enjoy!  Store any leftover cake in the refrigerator.
*I use Thai Kitchen full fat coconut milk.  If you are using a different brand, just make sure it is the thick type, 2/3 of the can at least should be very thick.
(Visited 1,139 times, 1 visits today)