Vegan Peanut Butter Banana Chocolate Chip Pancakes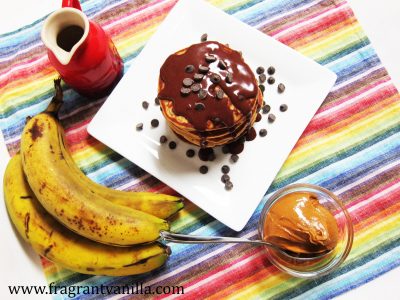 Banana pancakes were one of the first vegan recipes I made back in the day.  The Summer I was teaching myself to cook, and I had gotten a bunch of vegetarian and vegan cookbooks from the library to page through.  I was a pretty new vegetarian with not much cooking experience but I wanted to learn!  I made a different recipe every day.  The vegan pancakes seemed like a super easy recipe, and sounded really good so I went for it!  They were delicious!  I decided that those were one of the best uses for over ripe bananas.  To make them even more delicious I sometimes added chocolate chips.  A classic combo!  I thought to myself, vegan food isn't so hard, and it is good too!  I admit back then it was sort of a foreign concept to me, and I didn't understand why people went vegan (at the time oblivious to the fact that the meat, dairy and egg industry is horrible) besides just to eat healthier.  I was under the impression that vegan food was bland or gross, and everything needed cheese or dairy on it. Well, making recipes like the pancakes, got me to thinking otherwise and looking into it more.  I am really happy being vegan now, and I feel good too!  That is what counts.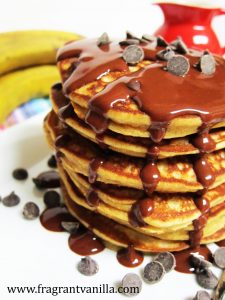 I have since made many vegan pancakes, and 99% of them have been delicious.  The other 1%?  I like to experiment with things and sometimes those experiments don't work out.  I made some pancakes a few days back and they were definitely a win, so I thought I would share the recipe with you all.  A co-worker and I had been discussing how good banana pancakes sounded, so I went home and made some.  I hadn't made any in a really long time.  I have come up with my own recipe since that first recipe I made so long ago, and I like to think it is really good.  They are oil free and quick and easy to make!  I decided to add peanut butter and chocolate chips this time, because it is such a delicious combo!  These are mixed in a blender, which makes them easier, and I like to cook them in a ceramic non-stick pan because then there is no need for oil.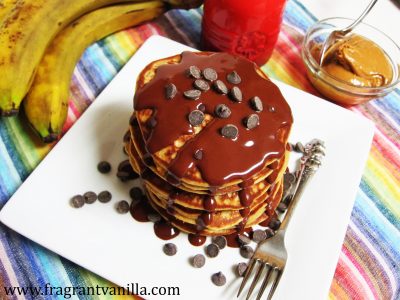 They smelled amazing while cooking, and I could not wait to try them. I decided to make a chocolate peanut butter fudge syrup to serve them with.  Talk about pure decadent deliciousness!  Of course if just plain old maple syrup is your jam go ahead and serve them with that. These are so good!  I think just about any adult or child would love them. I know my boyfriend Eric does.  If you are allergic to peanuts or not a fan, any other nut or seed butter will work in their place and give the recipe its own unique flavor.
Vegan Peanut Butter Banana Chocolate Chip Pancakes
Makes 12
Ingredients:
1 1/2 cups gluten free all purpose flour
2 tsp baking powder
1/2 cup mashed banana
1 cup filtered water
1/4 cup peanut butter
2 tsp pure vanilla extract
1/4 tsp sea salt
3 Tbsp maple syrup
1/2 cup vegan chocolate chips
Directions:
In a food processor, combine all pancake ingredients (except the chocolate chips) and process until just blended, pour into a bowl and set aside.
To cook pancakes, preheat oven to 110 degrees. Heat a large ceramic non-stick pan over medium heat. Once hot, add the batter in 1/4 cup amounts (I did 3 at a time, but it depends on your pan), and let cook for about 2-3 minutes on the first side until set and starting to brown, then flip with a spatula, press a few chocolate chips into the top (if you mix them in before hand they get all gooey on your griddle this is why I press them in), and cook another 2-3 minutes.
When cooked, place on a plate and keep warm in the oven while you repeat the process with the remaining pancakes.
*Note: If you do not own a non-stick pan, you may need to lightly oil your pan to prevent sticking, if you do not mind these not being oil free.
(Visited 79 times, 1 visits today)